RICO Suit Filed against Tucson Diocese, Lavender Mafia

By Michael S. Rose
Cruxnews.com
July 23, 2004

http://www.cruxnews.com/rose/rose-23july04.html

Claims of fraud, conspiracy, obstruction of justice...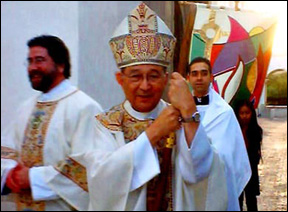 Bishop Manuel Moreno retired from the Tucson diocese in 2002 allegedly due to the stress of the sex abuse scandal in his diocese


(TUCSON, Arizona) -- A former Catholic seminarian is suing the Diocese of Tucson, its bishops, and Bishop Wilton Gregory, the president of the U.S. Conference of Catholic Bishops among other high-ranking American prelates. The suit alleges a pattern of racketeering activity exemplified by fraud and obstruction of justice.

Attorney Ivan Abrams filed the case under provisions of federal RICO - Racketeering Influence and Corrupt Organizations - statutes. The federal RICO law is a set of statutes that was initially directed at shutting down organized crime. Over the past two years, however, RICO has been used by some plaintiffs who argue that the Church cover-up of the clergy abuse crisis falls under RICO's provisions.

Philip A. Hower was studying at the Pontifical College Josephinum in Columbus, Ohio, when he was ousted from the Diocese of Harrisburg, Pennsylvania by now-Cardinal William Keeler of Baltimore. Hower claims he was essentially 'fired' and later blackballed from ordination in other dioceses because he 'blew the whistle' on the homosexual activities of priests with whom he resided as a priest candidate.

According to the federal lawsuit, filed in Tucson on July 16, Hower had satisfactorily fulfilled all seminary requirements to be ordained a transitional deacon, the final step on the path to ordination to the Catholic priesthood. In the summer of 1985, prior to completion of his Master of Divinity degree, Keeler assigned Hower to a parish in Selinsgrove, Pennsylvania to complete his required pastoral internship under the supervision of Father John G. Allen.

Although the seminarian resided with Allen at the parish, Hower claims he was ordered by the pastor to vacate the rectory on a regular basis. It wasn't long before Hower discovered the reason why. He said he learned from the parish deacon and several parishioners that Fr. Allen was involved in homosexual relationships with several young men who would come to visit him from the local college.

Hower subsequently complained to then-Bishop Keeler about Allen's illicit activities on parish property. According to the lawsuit, Keeler responded to the seminarian's concerns with retaliation. The bishop contacted the Josephinum and ordered that Hower be dismissed from the priesthood-program there and was expelled from the Diocese of Harrisburg so that he could "contemplate his commitment to God and to the Church."

In 2002, after diocesan officials confronted Fr. John Allen with an allegation of sexual misconduct with a minor, the priest resigned as pastor of St. Margaret Mary Alacoque Church. He reportedly remains on paid administrative leave.

Despite Hower's curt dismissal by Keeler so near to his date of ordination, he returned to the Josephinum to complete his M.Div. degree as an independent lay student without the sponsorship of a bishop, a requirement for ordination.

After a year of teaching religious education, Hower believed he still had a vocation to the priesthood and he wished to answer the call. He discovered it would not be so easy.

In 1987 Hower contacted Fr. Steven Stencil, then vocations director for the Diocese of Tucson and was invited out to Arizona for an interview. According to the lawsuit, Stencil contacted the Josephinum and the Diocese of Harrisburg, and was instructed to prevent Hower's ordination "by any means available."

According to the lawsuit, Stencil responded by placing Hower in a pastoral internship under the supervision of a priest who was allegedly known to Stencil and to Bishop Manuel Moreno to be an active homosexual.

Hower's complaint also documents a bizzare encounter he had with Stencil, the vocations director. According to the lawsuit, Stencil lured Hower into his own rectory on the pretense that he needed the priest-candidate's assistance. Once inside the rectory, Hower claims, Stencil allegedly attempted to sexually assault him, and told him that "it's OK to be a homosexual."

Hower emphasizes that he is not and never was a homosexual, and moreover, as a devout Catholic, he believes in and supports the promise of celibacy that every priest of the Roman rite is required to make upon ordination.

Hower claims he had to struggle to free himself from the vocations director, and once away from his would-be rapist, immediately left Stencil's rectory for safer territory. Due to his experience with Cardinal Keeler, Hower initially told no one about the alleged assault out of fear of Stencil's power to have him expelled from the Tucson diocese. The lawsuit states that Hower had learned in Harrisburg "that revelation to priests or bishops with management authority of the acts of predator priests was futile and counter-productive."

The bottom line: Hower knew that he would have no chance to be ordained in Tucson if he were to blow the whistle on the diocesan vocations director.

Shortly after Hower returned to his assigned parish he learned that Stencil was close friends with his pastor. He also learned that, like Fr. Allen in the Harrisburg diocese, this pastor was allegedly using his rectory for homosexual encounters. Around Christmas in 1987 Hower's suspicions were confirmed, he claims. Hospitalized due to the result of an alcohol abuse problem, the pastor was confined to a sickbed. When Hower visited him there, the pastor allegedly asked him to masturbate him. Hower says he was appalled and left.

This time Hower decided he was not going to remain silent. As he did in Harrisburg, Hower went through the proper channels in order to lodge an official complaint with Tucson's Bishop Manuel Moreno. The Arizona bishop didn't react any more favorably than did Cardinal Keeler.

Hower first met with Bishop Moreno's Vicar General, Fr. Richard O'Keefe. According to the lawsuit, O'Keefe admitted that he was aware of the pastor's "personal history of wrongful misconduct with church members and others," an apparent reference to the priest's homosexual proclivities.

When his pastor learned of Hower's complaint through O'Keefe, Hower claims that he and others at the Diocese of Tucson "discussed, contrived and concocted a false story that that [Hower] had been intimate with [his pastor's] homosexual lover, that is, with Bradley Jones, which story was later determined to be a cynical and manipulative fabrication created by [the pastor], his lover Bradley Jones, and others to cause harm to Mr. Hower."

Jones later admitted that he fabricated the defamatory and scandalous allegations about Hower at the behest of Hower's pastor, the suit states.

Around this time, Hower met with Bishop Moreno about the sexual activities of both Stencil and Hower's pastor. Moreno's response was to accuse Hower of "a loss of faith in God and Christ," and to state that Hower appeared to be unsuitable for the priesthood. Hower was first ordered to be evaluated by a psychologist and ultimately Moreno told Hower he would reconsider his suitability for ordination in five years.

The suit goes on to claim that "Moreno corruptly and with evil purpose cautioned [Hower] to be silent forever more about what he had observed regarding [the pastor] and Stencil, lest Mr. Hower ruin any remaining opportunity that he might have to be ordained."

What Hower didn't know at the time was that Moreno had no plans to ever reconsider a whistleblower like Hower. Ultimately, Hower was denied ordination not for reasons of religious belief or practice, nor for defects in his qualifications, but in furtherance of the 'conspiracy' described by Hower in these terms: to recklessly conceal criminal or immoral conduct; to defraud the members of the Church by failing to reveal the use of parishioner contributions to fund obstruction of justice; to defame beyond facile repair the reputation of those who have come forward to reveal abuses in the Church; to defraud the members of the Church and others by engaging in secret negotiations and settlements; to use the 'moral force' of the bishops to routinely banish those who complained of ongoing sexual harassment or revealed knowledge of depraved conduct of certain priests and bishops; to defame their good reputation by publishing false and misleading statements, comments, and innuendo about "whistleblowers"; and to periodically renew their defamatory conduct against "whistleblowers" so that the false and misleading statements remained new and current.

Meanwhile, Father Steven Stencil was suspended from the priesthood in February, 2001—two years after a 17-year-old male student lodged credible allegations of sexual molestation against the priest. In addition to serving as the Tucson diocese's Vocations Director during the late 1980's, Stencil also served as the head of the diocesan program for boys interested in the priesthood from 1986-94.

When the 17-year-old first made his accusation against Stencil, the Diocese of Tucson under Bishop Moreno dismissed the priest's actions as "accidental." The State of Arizona declined to prosecute Stencil, but the priest remains on paid administrative leave.

A pattern of deception

Hower's lawsuit not only details his own dismissal for 'blowing the whistle,' it also painstakingly documents other similar incidents in order to show a pattern of deception used by many American bishops and senior priests in order to cover up the misdeeds of fellow priests.

The ostracization and banishment of whistleblowers sends a strong signal to others that silence about sexual crimes and immoral sexual activities is to be rewarded while those who reveal clerical misdeeds are to be punished—or, effectively eliminated, as in Hower's case or in the recent case of Fr. James Haley in Arlington, Virginia.

(Haley was permanently suspended by Bishop Paul Loverde for testifying in a legal deposition about the immoral homosexual practices of his fellow diocesan priests. He was told that he was guilty of violating an order for him not to publicize priestly wrongdoing in order to "avoid scandal, to maintain ecclesiastical discipline and to protect the reputation and privacy of both the faithful and priests of this diocese." In other words, he was ordered to participate in a cover-up, while his bishop did nothing to remedy the situations of concern.)

Hower's own investigation, he says, has revealed the same pattern of deception in the dioceses of Boston, Los Angeles, Saint Louis, Minneapolis, Chicago, Manchester and Portland, Maine—to name but a few. Hower's treatment at the hands of Keeler and Moreno illustrates the modus operandi whereby whistleblowers are treated as criminals, while active homosexual priests are protected and promoted by their allies in what priest sociologist Fr. Andrew Greeley has dubbed "the Lavender Mafia."

"The pattern of job termination and banishment continues to underscore the Church's attempt to obstruct justice and to create a so-called stone wall between itself and civilian law enforcement authorities who seek the identification of perverted priests so that criminal prosecutions might ensue," the lawsuit states.

The suit also states that the U.S. Conference of Catholic Bishops under the leadership of Bishop Wilton Gregory assisted the defendants in the obstruction of justice.

In a paragraph that nicely sums up the nature of Hower's complaints, the lawsuit states: "The actions of which [Hower] complains were committed by persons in pursuit of their own secular interests, who used the structure of the Roman Catholic Church as a shield behind which they could conduct their affairs in wanton and intentional disregard of the criminal and civil law of the State of Arizona and the United States of America, and in contempt of the tenets of their faith, and in deliberate flaunting of their nominal positions as officials and managers within the Roman Catholic Church."

For the past month, the Diocese of Tucson has been considering filing for bankruptcy.

Michael S. Rose is the author a several books including the New York Times bestseller Goodbye, Good Men. He is Executive Editor of Cruxnews.com.