Two Removed from Priesthood

By Gregory D. Kesich gkesich@pressherald.com
Portland Press Herald [Maine]
March 1, 2006

http://pressherald.mainetoday.com/news/state/060301_priests.shtml

The Vatican has imposed its strictest penalty against two Roman Catholic priests from Maine who had been accused of sexually abusing children, Bishop Richard Malone of Portland announced Tuesday.

Christian E. Roy, 57, and John Shorty, 58, were permanently relieved of the rights and duties of priesthood, including wearing clerical clothing, using the title "Father" or carrying out any religious functions. They also lost the right to any pension or health benefits they would have earned.

Roy served parishes in Lewiston and Rockland from 1983 to 1990, when the abuse allegedly occurred. Shorty is accused of abuse from 1976 through 1981, when he was in Caribou and Portland.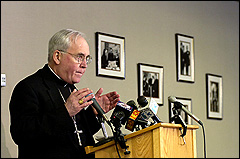 Bishop Richard Malone on Tuesday announces the Holy See's actions against three priests accused of molesting children. He said he's disappointed by the long wait for the decisions, but he won't release the 13 other accused priests' names without due process.
Staff photo by John Patriquin


A third priest, the Rev. John Audibert, 65, was permanently removed from ministry by Pope Benedict XVI, Malone said. He is still a priest, but cannot function as one or have unsupervised contact with children. He will retain his health and pension benefits.

Audibert lives in Maine, but the Diocese of Portland would not provide further information on where any of the priests reside.

Malone made his announcement during a news conference at his Portland office, the day before the beginning of Lent, a period of prayer and reflection for Christians in preparation for Easter. Malone said it was a good time to announce what he recognized would be the latest in a long string of unwelcome reports for many in his church.

"Most active and committed Catholics want to put this all behind us, but it's not all behind us," Malone said. "We have a lot of work to do and we all hope and pray at a time like this, if there are victims out there who haven't come forth, they will come forth."

The three are the first of 16 cases involving living Maine priests accused of sexual abuse that have been referred to church courts in Rome for action, under a policy adopted by American bishops in the wake of the clergy abuse scandal.

The process is slow and secretive, say canon law experts. But Malone said it is the way a final decision will be made on the fate of priests who have been accused of acts that often cannot be prosecuted in criminal courts because they are based on conduct that happened too long ago.

Roy is the first Maine priest in the history of the diocese to have been forcibly removed from the priesthood, a process known as "laicization." Shorty voluntarily accepted laicization, Malone said. Neither man had actively served as a priest since being accused of sexual abuse in 1993 and 1994.

Malone also added a 10th name to the list of deceased priests who would probably have been removed from the priesthood under current policies if they were alive today. The Rev. Louis Berube, who died in 2002, had been accused of sexual assault in 1954. He was accused again in 2002 of abuse said to have occurred in 1971.

Tuesday's announcement came just over three years after Audibert and the Rev. Michael Doucette were removed from ministry in Aroostook County parishes, based on sex abuse allegations that were known for several years to Malone's predecessor, Bishop Joseph Gerry.

Gerry announced at the time that any priest subject to a credible accusation of abuse would be removed from ministry and investigated. The diocese turned over to state prosecutors all of its records of abuse charges against priests and other church employees dating back 75 years.

Attorney General Steven Rowe issued a report in 2004 based on those records. He found that 20 living and 15 deceased priests of the diocese had been accused of abuse. Other allegations were made against teachers, members of religious orders and priests who were not under the bishop's leadership.

Not all of the people who were removed from the ministry have been referred to Rome for action, said Sue Bernard, spokeswoman for the diocese.

Malone said Tuesday that he'll identify the accused priests as their cases move through the church's court system. He said he'd hoped to announce them all at once, but the process moved more slowly than he expected.

That didn't satisfy Paul Kendrick, a critic of the church hierarchy who has been leading regular demonstrations outside the Cathedral of the Immaculate Conception in Portland, protesting Malone's decision not to identify every priest who has been the subject of a credible abuse allegation.

Kendrick and fellow protesters have urged Malone to "warn the community" about the men who in most cases cannot be criminally charged or sued in civil court because the alleged abuse occurred too far in the past.

Using the numbers compiled by the state Attorney General's Office and contact with victims who have reported abuse to the diocese, Kendrick believes that 20 priests are no longer active but could pose a danger to children. Kendrick said bishops in other dioceses have chosen to publicly identify all the priests who have been accused of abuse, instead of waiting for the Vatican's process to run its course.

According to experts in church law, the process of laicization, often called "defrocking" outside the church, was once unusual but has become much more common since the church abuse crisis in Boston exploded in 2001.

"We used to use a phrase, 'rarus rarisimus,' or only on the rarest occasions," said the Rev. Kenneth Lasch, a New Jersey canon lawyer. "We're seeing it used much more often now, and we'll probably see an increase in the next few years as these cases move through the system."

Canon lawyers estimate that hundreds of cases have been referred to Rome by American bishops since 2002. The cases can be decided based on documents alone, or referred back to the dioceses for trials in which the accused can call witnesses and confront evidence against him.

The outcome of the trials range from laicization to lesser penalties and restrictions.

It is difficult to know how many cases have already been decided, said Terrance McKiernan of Natick, Mass. He belongs to the group Bishop Accountability.org, which maintains an online archive of documents related to the abuse crisis.

Bishops in Boston and New Hampshire, among others, have already released the names of laicized priests in their dioceses, but there is not a central public record for the outcomes of all the cases, McKiernan said.

"The process is shrouded in secrecy," he said. "Even in the very famous cases, it was months and months before it was known what happened."

Malone said he supports letting an ecclesiastical court make a finding of probable guilt before the names are released because of the damage an unfounded allegation can cause. But he said he was disappointed by how long it takes to get results from Rome.

"I thought the process would move more quickly through the Holy See," he told reporters. "Originally the plan was . . . to get all of these cases together and give them all to you at once. But I have seen it takes longer than I expected it to. (As they are decided) we will notify you so that the public can be notified."

Staff Writer Gregory D. Kesich can be contacted at 791-6336 or at: gkesich@pressherald.com