Former Pastor Sentenced in Molestation Case

By Virginia Hennessey
Monterey County Herald [Salinas CA]
March 2, 2006

http://www.montereyherald.com/mld/montereyherald/news/14000845.htm

The former pastor of a Salinas Church was sentenced to 15 years to life in prison Thursday for molesting two of his young congregation members.

Donald Domelle, 65, apologized to his victims, his family and the Baptist Temple of Salinas before being led away in handcuffs. He will not be eligible to apply for parole for 15 years.

During Thursday's sentencing before Judge Russell Scott, Prosecutor Gary Thelander read an emotional letter from the mother of one of Domelle's victims. Like several of his church members Domelle had served in the role of grandfather to the developmentally delayed girl. According to Thelander, he began molesting the girl when she was 9 and initiated a sexual relationship with her when she was 13.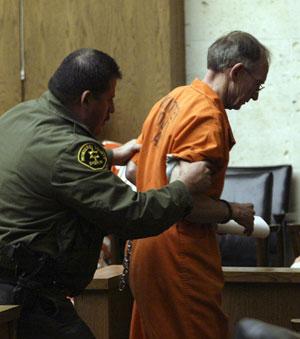 Donald Domelle, 65, is led out of the courtroom in Salinas after being sentenced to 15 years to life in prison Thursday.
VERN FISHER/The Herald


"I trusted him," said the mother, "and didn't realize that the one person who I needed to protect my children from was the one person who I believed was helping me protect them from others just like him."

When the molestation of "Jane Doe 1" was discovered, Domelle admitted molesting a second girl over a years-long period.

Virginia Hennessey can be reached at 646-4355 or vhennessey@montereyherald.com