Sexual Abuse Group Seeks Possible Victims of Former Area Priest

By Ra'Vae Edwards redwards@newstribune.com
News Tribune [Jefferson City MO]
March 5, 2006

http://www.newstribune.com/articles/2006/03/05/news_local/302news02.txt

Two members of SNAP briefly paraded in the front lawn of St. Joseph's Cathedral in Jefferson City on Saturday afternoon to encourage anyone who might have been sexually abused by a former area priest to come forward.

David Clohessy, national director of Survivors Network of those Abused by Priests (SNAP), and Hartsburg resident Don Asbee, Mid-Missouri SNAP director, said their mission is to help victims come forward and get healing from the traumatic childhood experiences.

"We would urge anyone who has witnessed or been a victim of a sex crime involving a priest to come forward," Clohessy said. "It's a long healing process. It has to start somewhere."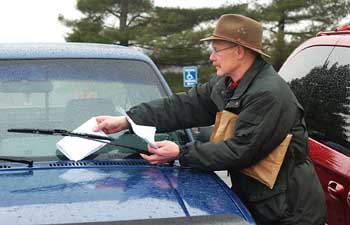 Don Asbee with the SNAP organization distributes flyers on cars parked in front of St. Joseph's Cathedral in Jefferson City on Saturday. (Deborah Cote/News Tribune photo)


The small demonstration was in response to a former Jefferson City Diocese priest, Father Robert Colbert, who was recently accused of sexual abuse that allegedly took place during a four-year period in the late 1980s.

In October 2005, Darren Boudreau, 34, Cheyenne, Wyo., filed a civil child sex abuse lawsuit again Colbert, whom Boudreau claims molested him while at Father Flanagan's Girls and Boys Town in Omaha, Neb., during the years of 1985-1989. Boudreau does not face criminal charges.

"Father Colbert also served in six Mid-Missouri communities while a part of the Jefferson City Diocese. We want the people here to know it's okay to come forward," Clohessy said.

At the time of Boudrea's accusation, he was serving in Warsaw and Cole Camp.

Mark Saucier, director of communications for the Jefferson City Diocese, issued the following statement Saturday morning: "There are no allegations of abuse against Father Colbert within the diocese in Jefferson City. There is a recent allegation in Omaha from a time prior to his service in this diocese. When the diocese learned of the allegation, we immediately notified his community superiors and he was promptly removed from his pastorate in Warsaw and Cole Camp. Father Colbert returned to his religious community in Liberty."

Saucier also said: "The diocese of Jefferson City continues to urge victims of sexual abuse by any representative of the Catholic church to report this abuse. SNAP is more than welcome to do the same."