Justice for Thomas Deary As Norwich Sex Abuse Case Closes

By Greg Smith
Norwich Bulletin
March 8, 2006

http://www.norwichbulletin.com/apps/pbcs.dll/article?AID=/20060308/NEWS01/603080357/1002

PUTNAM -- A decades-long struggle for accountability for abuse in the Diocese of Norwich and the Catholic Church has reached a conclusion for Gene Michael Deary of Brooklyn.

The priest who Deary said raped and molested his brother, Thomas Deary, in the 1960s has been removed from the priesthood.

Thomas Deary took his own life in 1991.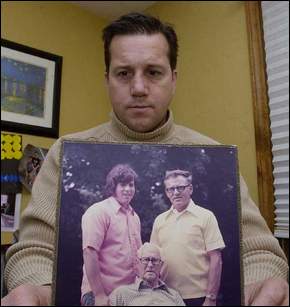 Gene Michael Deary, 43, of Brooklyn remembers his brother, Thomas Deary III, at top left in photo. Thomas Deary was molested by the Rev. Bernard Bissonnette, Gene Michael says, and later committed suicide. Also in the photo are their father, Thomas Deary Jr. and grandfather, Thomas Deary Sr.
John Shishmanian/Norwich Bulletin


The Most Rev. Michael R. Cote, bishop of Norwich, notified Deary in January that Pope Benedict XVI had dismissed the Rev. Bernard Bissonnette from the priesthood.

It ends a part of Deary's crusade, one that included countless meetings with two past bishops of Norwich and started in the 1980s to get the church to admit to wrongdoing.

"This has been 20 years in the coming," Deary said. "The fact is what Bissonnette did was wrong, but nobody was willing to say that for the longest time. Now they have."

Jacqueline Keller, spokeswoman for the Norwich Diocese, confirmed Bissonnette was defrocked May 20, 2005.

Cote had made a presentation in Rome to a congregation of cardinals, said Deary, who was notified in January. Cote declined comment.

An unknown number of civil cases are pending against Bissonnette by others claiming abuse.

Being removed from the priesthood is no small task, said David Clohessy, national director of the Survivors' Network of those Abused by Priests, a national, self-help organization of victims of sexual abuse by clergy.

It's a common misperception that priests accused of abuse are permanently removed from the church, Clohessy said. More often they are suspended because of church secrecy.

"(The church) tends to try to defrock only the most egregious violators under public criticism or pressure," he said. "Defrocking is the clearest sign that church officials, all the way to the top, believe a priest is dangerous."

Deary claims the church hid the truth and never confronted the issue, despite allegations of sexual abuse during Bissonnette's time at parishes in Moosup and Pawcatuck.

Deary's brother, a former altar boy, struggled most of his life with guilt, mental illness and other effects of being molested while Bissonnette was a priest at St. Mary Church in Putnam, Deary said.

The Deary family reported the incident to the Norwich Diocese in 1962, after which Bissonnette was sent for treatment in New Mexico.

Gene and brother John Deary went so far as confronting Bissonnette in New Mexico, where he said Bissonnette admitted to his wrongdoing. They also learned of at least nine other men who accused Bissonnette of molestation.

After meeting many times with former Norwich bishops Daniel P. Reilly and Daniel A. Hart, Deary said he was never able to get any resolution.

"The church was in denial for a long time. At least now the diocese has stood up and said Bissonnette is a bad guy. There's some justice in that," Deary said.

Deary said Cote did something no former bishop has been willing to do --apologize.

"How about the poor kid who nobody ever came back to and said 'You did nothing wrong,'" Deary said. "The moment a young person is molested they are stripped of their childhood and any sense of normalcy."

Reach Greg Smith at 425-4219 or gasmith@norwichbulletin.com