Ex-Elder Principal Stripped of Priesthood
Accused of Molesting 28 Boys

By Dan Horn
Cincinnati Enquirer
March 9, 2006

http://news.enquirer.com/apps/pbcs.dll/article?
AID=/20060309/NEWS01/603090346/1056

The Vatican dismissed Lawrence Strittmatter from the priesthood Wednesday, ending the career of a man accused of sexually abusing more than two dozen teenage boys in Greater Cincinnati.

Strittmatter's removal, or laicization, means he is stripped of all clerical functions and can no longer present himself as a priest.

The former principal of Elder High School is the first Cincinnati priest to be laicized since the clergy abuse scandal erupted four years ago. Two others, George Cooley and Keith Albrecht, were dismissed before 2002.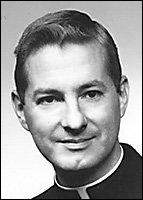 Lawrence Strittmatter


"Our fervent hope is it brings some peace, comfort or satisfaction to the victims," said Dan Andriacco, an Archdiocese of Cincinnati spokesman.

Church officials requested the laicization in 2002 after suspending Strittmatter because of at least two abuse accusations. They were aware of at least one accusation since 1988 but allowed him to continue to work as a priest.

One accuser, Dan Frondorf, is glad the Vatican acted but would have preferred the archdiocese report the priest to police in the 1980s.

"I wish it would have happened a long time ago," said Frondorf, who has accused Strittmatter of abusing him in 1983. "I think it's the right step, but it doesn't change much."

Twenty-eight men sued Strittmatter and the archdiocese following the priest's suspension in 2002, accusing him of molesting them throughout the 1970s and early '80s.

Many of those lawsuits have been dismissed because they were filed years after the abuse allegedly occurred - so time ran out under the statute of limitations. The accusers' appeals are pending before the Ohio Supreme Court.

Prosecutors also have said they could not pursue criminal charges because of the statute of limitations.

Konrad Kircher, the lawyer for many Strittmatter accusers, said church officials should have sought laicization years ago. He said bad publicity from the abuse scandal forced them to act.

"It wasn't that the diocese suddenly realized it was the right thing to do," Kircher said. "They suddenly realized the public wasn't going to let them get away with this."

Strittmatter, 73, could not be reached for comment. He retired after he was suspended in 2002 and will continue to receive his pension despite the Vatican's action Wednesday.

Strittmatter spent most of his career working in Cincinnati parishes and at Elder, where he was principal from 1970 to 1982.

Although it took the Vatican four years to approve Strittmatter's laicization, it often takes longer.

The process moved more quickly in this case because Strittmatter did not contest it.

Andriacco said church officials share the frustration of victims who want abusers removed from the priesthood as soon as possible.

Archbishop Daniel Pilarczyk personally appealed to Vatican officials to approve Strittmatter's dismissal during a visit to Rome in 2004.

"The archdiocese also is disappointed that this has taken so long," Andriacco said. "Obviously, this isn't anything we have any desire to prolong."

E-mail dhorn@enquirer.com