Parents Ask to Sit on Review Board for Archdiocese

By Janet I. Tu jtu@seattletimes.com
The Seattle Times [Washington]
March 13, 2006

http://seattletimes.nwsource.com/html/localnews/2002861643_alfieri13m.html

Three years after their son's death, Ralph and Sue Alfieri of Redmond still go to big gatherings of his friends.

Sometimes the gatherings are in Reno, Nev., in the casinos Jeff liked to visit now and then. There, they remember the strapping guy who loved to fish, work as a business agent for a local Teamsters union, and play chess with his many nephews and nieces.

Jeff Alfieri was 43 when he killed himself in the parking lot of Kirkland's Holy Family Church. In a lawsuit he had filed, he said that a Seattle priest, Gerald Moffat, had molested him in the early 1970s while assigned to Holy Family.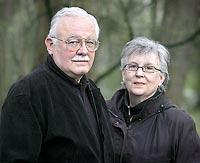 Ralph and Sue Alfieri have asked to serve on a new review board created by the Seattle Archdiocese.
STEVE RINGMAN / THE SEATTLE TIMES


These days, Ralph and Sue Alfieri hope to keep their son's memory alive another way: They've asked to serve on the Seattle Archdiocese's new review board, in part because they want to remain involved in the issue.

"We have a lot of unanswered questions — how the church is handling these things now," said Ralph Alfieri, 68, a retired attorney.

Seattle Archdiocese spokesman Greg Magnoni said Archbishop Alex Brunett has responded to the Alfieris' request but declined further comment, saying "he wants his communications with the Alfieris to be private."

The new board likely will take it up at a subsequent meeting, Magnoni said.

Last month, the archdiocese announced a decision by the Vatican to permanently bar Moffat from ministry. Moffat, through his attorney Steven Moen, has denied abusing Alfieri and another man who has sued him for sexual abuse.

The new board formed about a year ago and has met about four times, Magnoni said. He would not identify who is on it, saying Brunett wants to help members define their scope, roles and responsibilities "before anything public is done."

2 boards disbanded

The new board replaces two that disbanded: one that reviewed allegations of sexual misconduct and another that reviewed policy.

Church officials said the case-review board was dismissed because its job of reviewing 13 cases was done, and the policy board was disbanded because having two boards was costly and unwieldy.

Some of the 10 case-review-board members had expressed surprise at being dismissed, with seven sending Brunett a letter criticizing him for suggesting that future abuses by local priests were unlikely to happen, and for not releasing the names of offending priests until after the Vatican has decided their fates.

Members of the former boards were asked if they wanted to be on the new board, Magnoni said at the time. It's not known how many accepted.

The Alfieris want to join because they believe they would "provide a point of view they may or may not have," Sue Alfieri said.

After Jeff's death, they joined in his lawsuit, which was settled for $600,000 last June.

Another man had filed a lawsuit anonymously, alleging that Moffat had molested him while he was assigned to St. James Cathedral in Seattle. That suit was settled for an undisclosed amount, according to the plaintiff's lawyer, James S. Rogers.

Moffat denies those allegations as well, said his attorney Moen.

"With us all the time"

The Alfieris took their son's ashes to Italy, Ralph Alfieri's ancestral homeland, scattering them in the Tiber and Arno rivers and surreptitiously dabbing a little into the ears of statues in the Vatican. They celebrate his birthday each year with Jeff's nephews and nieces.

They have also established a scholarship in his name at the Teamsters Local 117, where Jeff worked, and an endowment fund at the Italian Studies program at the University of Washington.

Such efforts, including wanting to be on the review board, are not about "what they call closure," Ralph Alfieri said.

"It's like being shot in the back with a bullet. The bullet's been encapsulated by the body, but it's still there. That's the way it is with us. He's with us all the time."

Janet I. Tu: 206-464-2272 or jtu@seattletimes.com