Charges against Priest Detailed
An Arrest Affidavit Says Timothy Joseph Evans Tried to Buy the Silence of a Youth Who Accused Him of Sexual Abuse in Fort Collins

By Mike McPhee and Eric Gorski
Denver Post [Fort Collins CO]
March 14, 2006

http://www.denverpost.com/news/ci_3599620

A Catholic priest with the Denver archdiocese allegedly tried to buy the silence of a youth who accused him of child sexual abuse and also has been implicated in two other instances of sexual misconduct: one involving a minor, the other, an adult man.

Those allegations are spelled out in an arrest affidavit made public Monday in the case against Timothy Joseph Evans, 43.

Church officials denied a claim in the affidavit - levied by a man who was over 18 when he said Evans touched him sexually - that they moved Evans to St. Elizabeth Ann Seton Parish in Fort Collins after learning of allegations against him at his previous assignment in Arvada.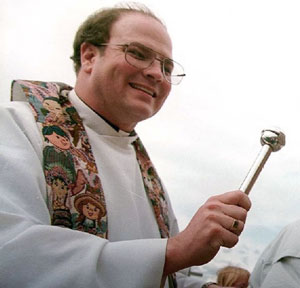 The Rev. Timothy Joseph Evans, 43, was removed from parish ministry in 2002.


Evans was removed from parish ministry in 2002, church officials said.

"The Archdiocese of Denver does not and will not transfer any member of the clergy who has been the object of a credible allegation of sexual misconduct with a minor," said the statement from Monsignor Thomas Fryar, the vicar general.

The child sexual-abuse charges against Evans involve one alleged victim: a man who said he was 17 years old when Evans groped him twice in 1999 at the priest's office at St. Elizabeth Ann Seton Parish. Evans has pleaded not guilty.

Denver archdiocesan officials say they promptly notified law enforcement when told of the allegations against minors, in keeping with state law and national and local church policy.

Revelations about Evans come at a critical time for the Denver archdiocese, which is staging a high-profile fight against legislation that would make it easier to sue institutions for child sexual abuse.

The archdiocese already is defending itself from more than two dozen lawsuits accusing it of covering up the actions of predator priests decades ago.

Evans' case is different because it involves recent events. He is the first Catholic priest in Colorado to face criminal charges since a wave of clergy abuse allegations shook the U.S. church to its foundation starting in 2002, leading bishops to adopt sweeping reforms.

The arrest affidavit states that Fryar contacted Fort Collins authorities in March 2004 about the allegation that ultimately led to the charges. That tip led investigators to the other claims against Evans.

According to the affidavit, a former employee at the Fort Collins parish told investigators that he reported Evans to the archdiocese in May 2002. The man said Evans, who had offered to be the man's spiritual adviser, groped and caressed him in 2000, the affidavit states. The court document indicates the man was over 18.

The following month, the affidavit states, Evans called the Fort Collins youth, told him he was being accused, then offered to give him money or "anything else he wanted" in return for making "it all go away."

In another case, the father of an ex-parishioner at Spirit of Christ Church in Arvada told church officials in 2003 that Evans had groped his son in 1996, the affidavit said. The archdiocese contacted Arvada police, but no charges were filed because the victim said he felt the archdiocese was handling the incident correctly, said the affidavit and police.

Evans' attorney, Erik Fischer, said Monday that Evans' accuser in the 2000 incident was 25 at the time and that the Arvada accuser was 18. The affidavit, however, suggests the Arvada accuser was a minor.

"We disagree with much of the information in the affidavit," Fischer said. "The allegations are of conduct six to nine years ago. I have a hard time understanding the delay in reporting these."

Staff writer Mike McPhee can be reached at 303-820-1409 or at mmcphee@denverpost.com.

Staff writer Eric Gorski can be reached at 303-820-1698 or at egorski@denverpost.com.