Bishop Asked to Start Defrocking Proceedings
Diocese Settled Lawsuit over Auburn Abuse

By Kathleen A. Shaw kshaw@telegram.com
Telegram & Gazette
March 22, 2006

http://www.telegram.com/apps/pbcs.dll/article?
AID=/20060322/NEWS/603220541/1116

Worcester — Paul A. Guries has formally asked Bishop Robert J. McManus to begin proceedings to remove the Rev. Gerard L. Branconnier from Catholic priesthood.

The Diocese of Worcester settled a lawsuit with Mr. Guries in 1993 in which he alleged sexual abuse by Rev. Branconnier, and he received an out-of-court settlement of about $35,000. The alleged incidents happened when Mr. Guries was 16 and a member of North American Martyrs Parish, Auburn.

Although Rev. Branconnier was removed from ministry and placed on leave in 1993 by then-Bishop Timothy J. Harrington, Mr. Guries told Bishop McManus that Rev. Branconnier continues to function as a Catholic priest.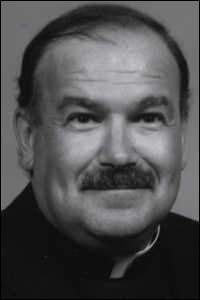 Rev. Branconnier


He said he had a recent "awkward" situation when he attended a wake at an Auburn funeral home. He found Rev. Branconnier there dressed in clerical garb and signing the guest book as a priest. Mr. Guries listed other reasons he believes Rev. Branconnier may still be functioning as a priest.

He sent a copy of his letter outlining his allegations to Archbishop Pietro Sambi, the Vatican's apostolic nuncio of the United States, Cardinal Giovanni Battista Re at the Vatican Congregation for Bishops and Cardinal Dario Castrillon Hoyos at the Vatican Congregation for Clergy.

Mr. Guries mailed and then hand-delivered a letter to Bishop McManus on Friday in which he stated his reasons Rev. Branconnier should be laicized — returned to the lay state; essentially the same as defrocking.

"If he is defying the mandate of his administrative leave from ministry, those actions are in violation and will warrant more serious penalties," said Raymond L. Delisle, diocese spokesman.

Mr. Delisle said several priests were referred to the Vatican for laicization but he does not know if Rev. Branconnier was among them.

"The Congregation for the Doctrine of the Faith treats each one individually, and it is impossible to say how long each one will take," Mr. Delisle said.

Mr. Delisle said Bishop McManus left Monday for Rome but he expects the bishop to answer Mr. Guries on his return. Archbishop Sean P. O'Malley and several other archbishops will be elevated to cardinals by Pope Benedict XVI.

"Father Branconnier does not have faculties," Mr. Delisle said. "He may not celebrate Mass or celebrate any public ministry. He may not present himself as a cleric (dressed as a priest). This has not changed since he was removed from his parish in 1993 by Bishop Harrington." The term "faculties" means the permission priests have from their local bishop to function as priests and administer sacraments.

"If he is presenting himself as a priest, then he is defying the bishop's mandate," Mr. Delisle said. He added that if Rev. Branconnier is celebrating weddings or performing Catholic sacraments, these sacraments and actions are not "valid in the eyes of the Church, regardless of the couple involved."

Mr. Delisle added that if a priest on leave presents himself as a Catholic priest, he most likely is violating another canon law called "simulation of a sacrament. This would again warrant further penalties from the bishop," he said.

Mr. Guries' letter mentions a video that he turned over to the diocese in 1993 that shows Rev. Branconnier, dressed in clerical garb, officiating at a 1989 Catholic rite wedding of two men, 15 years before such marriages became legal in this state.

Same-gender marriage has been legal here since 2004, but is not permissible in the Catholic church. Mr. Delisle said he believes the video would have been turned over when the initial allegations were made that led to Rev. Branconnier being placed on leave.

The video shows Rev. Branconnier conducting a Catholic marriage rite that included blessing the same-gender couple with sign of the cross, blessing the wedding rings, also with a sign of the cross, and blessing those assembled at the outdoor wedding.

When Rev. Branconnier was placed on administrative leave in August 1993, no reasons were given, leaving parishioners to speculate that he was removed because he would not approve diocesan plans to close one of the two churches of which he was pastor, St. Thomas Aquinas in West Warren and St. Paul's in Warren. Both churches are still open.

The filing of the civil lawsuit had not been publicly announced, and diocesan officials declined to state why Rev. Branconnier was placed on leave. Mr. Guries, now 40 and an Auburn resident, only recently began discussing what happened.

He was once a diocesan seminarian and was sent by Bishop Harrington to the North American College in Rome. He was dismissed from the seminary by Archbishop Edwin F. O'Brien, then the rector, four months short of being ordained a transitional deacon.

Mr. Guries said he is gay, and he believes this might have been part of the reason he was dismissed, although he maintains he was celibate during his years in the seminary, but he said indications were they thought he stayed up too late, was active on the Rome social circuit and may have had a personality conflict with a monsignor at the college.

He has since left the Catholic Church and is now a member of the Episcopal Church.

Attempts to reach Rev. Branconnier yesterday were not successful. No telephone listing could be found and he is not listed in the official diocesan directory.

Mr. Guries is the third known alleged area victim of clergy sexual abuse to make this request of the bishop.

A female victim of Monsignor Leo J. Battista asked Bishop Daniel P. Reilly to laicize Monsignor Battista.

The monsignor in the 1990s surrendered his state social worker's license after acknowledging sexual relations with a woman he was counseling.

Bishop Reilly said during a 2004 deposition that he sought laicization from the Vatican at the woman's request.

The Vatican recently told Bishop McManus Monsignor Battista would not be defrocked, but was not to function as a priest and should spend the rest of his life in prayer and penance.

George "Skip" Shea of Uxbridge has written to the bishops asking laicization of the Rev. Thomas H. Teczar and Robert A. Shauris, who he said sexually abused him as a youngster. Both priests have been on leave for several years.