From Psychiatric Unit, Onetime Priest Reaping Pain of Child Sex Abuse Cases

Daily Record [New Jersey]
March 23, 2006

http://www.dailyrecord.com/apps/pbcs.dll/article?AID=2006603230322

James T. Hanley, admitted child molester and former priest, answered the phone Wednesday at the voluntary psychiatric unit of St. Mary's Hospital in Passaic where he is a patient.

He had missed a morning hearing on aggravated assault charges in a Jersey City courtroom where TV cameras had been waiting for him. He said he could not get away. He said he expects to be in the hospital for the rest of the week.

Hanley, a former Mendham priest, has been in the news over the past couple months --confronting some of his victims on the Paterson street where he has been living, later getting charged with aggravated assault against three people at a Secaucus Hotel where he said he hoped to stay before moving. The Hudson County prosecutor decided not to downgrade those charges and a Superior Court judge said on Wednesday the case would now be sent to a grand jury.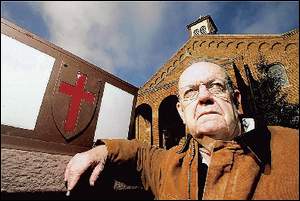 James T. Hanley, a former Mendham priest accused of abusing boys between 1968 and 1982, says he being forced to move by his Paterson neighbors.
Photo by the Daily Record


It is not clear why Hanley ended up at St. Mary's, which handles Passaic County's emergency psychiatric admissions. He said Paterson Roman Catholic Diocese officials had expressed concern about him after hearing about the Secaucus incident and that led to his going to the hospital. Marianna Thompson, the diocese spokeswoman, said she could "neither confirm nor deny" Hanley's assertions. The Paterson police simply said they had a call for an ambulance at Hanley's residence late Monday afternoon.

Hanley apparently has been trying to get out of the McBride Avenue neighborhood, where he has been living since late last year, after victims and their advocates handed out leaflets about him in late January. He said at first on Wednesday that he was moving because of a fear of crime. Then he talked about his neighbors, people who previously had been friendly, who invited him into their homes.

"I see them staring from windows," Hanley said.

"I can't wait until he moves the (bleep) out of here," said Ralph Pacelli, Hanley's landlord.

A move ahead

So it appears that Hanley is going to be pushed out of one neighborhood and into another. That is not necessarily the best outcome here. His victims said they leafleted Hanley's neighborhood because they were worried about children. They were told he was getting to be friendly with some neighborhood families. The former priest had been invited to one house for Christmas Eve. But now Hanley simply plans to move to another neighborhood. He said he plans to move to Caldwell but added that he won't give out an address. If victim's advocates show up at his door again, he said, he might consider moving out of the state.

"Or even out of the country," he said.

Persistent anger

Hanley continued to express anger toward his victims Wednesday. He admits to molesting a dozen children decades ago, many of them at St. Joseph's parish in Mendham, but claims the number of his victims has been exaggerated by lawyers and victims' advocates. He was angry when a photo appeared on a victim advocate's Web site claiming he was walking into a school, when he says he was going into a church. He talked about his anger over that photo. Then he talked about being sorry for what he had done. Then he talked as if he's been the victim. Here's what he said about some of his victims and their advocates:

"I have to forgive them," he said.

Forgive them? Pat Serrano, a Mendham mother whose son was abused by Hanley decades ago, heard that and suggested Hanley should ask for forgiveness. Not that she was surprised. She has heard Hanley's rants before. She was there when he confronted victims in Paterson. She talked about her "lovely little boy" who was molested decades ago.

"We have a lot to blame him for," she said of Hanley.

Paterson episode

On the streets of Paterson, at the end of January, Hanley walked up to the Serrano family and yelled at them. Even though he admits molesting their son, he called them liars. He said on Wednesday that he has been followed by the Serranos. Lou Serrano, Pat's husband, has said he will always find out where Hanley is living. Victims handed out leaflets and Hanley said he felt like he was being pushed out. Here's how he explained why he lashed out at them in January:

"You never corner a rat. A cornered rat will attack."

Some of his victims have said they were feeling a little sorry for Hanley, at least before the former priest went on the attack. They had been wondering whether he was going to counseling. Hanley said on Wednesday that he has been going to counseling, that he recently came out of a fog after his medication for bipolar disorder was changed. Then he said it's been a couple of months since he last talked to a counselor he'd been seeing.

He said he has been busy trying to move. He recorded a cell phone message, dated Feb. 2, that says he no longer lives on McBride Avenue. Yet, his car, with a God Bless America sticker, was still in the driveway Wednesday and some of his Paterson neighbors said he's been there all along. They didn't know he was moving. Some were not exactly sorry to see him go.

"We're concerned because we have five kids," said Anna Yacolca, 40, who lives across the street.

Secaucus incident

Hanley said he was trying to get out as fast as he could, so he took some of his belongings to a Secaucus hotel earlier this month. He said he was using a softball bat as a cane because of a bad knee. He said he didn't have a credit card and hotel workers wouldn't take a check. He said they wouldn't let him check in without paying in advance. So he said he waved his bat. The police complaint from March 9 alleges that he swung a bat at three people. Hanley said he expects to be vindicated by the hotel security tapes.

He was supposed to show up in court Wednesday but courthouse officials said no warrant would be issued for his arrest. It wasn't clear whether they knew why he wasn't in court. Hanley said a psychologist told him he'd call the court. Dennis McGill, the Superior Court judge, looked around at all the cameras and indicated he knew Hanley wasn't going to appear.

"Did anyone give them a heads up that this guy wasn't going to show?" McGill asked.

Hanley said he went to St. Mary's to take care of his physical problems. He has claimed he was injured during the arrest; Secaucus police won't comment on those allegations. Hanley said he is now in St. Mary's psychiatric unit because he's bipolar and there was some concern about the "trauma" of recent events. No matter the actual story, it seems he has had a rough couple of months. His victims say he has caused a lot of pain. It seems to be coming back at him.