Ex-Priest May Be Kept in Custody
The Attorney General Files to Have Convicted Child Molester Robert Larson Designated a Sexual Predator and Sent to Larned State Hospital

By Amanda O'Toole
The Wichita Eagle [Kansas]
March 24, 2006

http://www.kansas.com/mld/eagle/news/local/crime_courts/14174525.htm

Kansas Attorney General Phill Kline filed a petition Thursday in Harvey County to have Robert Larson designated a sexual predator.

If Kline's request is granted, Larson, an ex-priest who was convicted of child molestation in 2001, would go to a sexual predator treatment program at Larned State Hospital.

State law allows offenders who are designated sexual predators to be held in state mental hospitals to undergo treatment indefinitely, even after their prison sentences are up.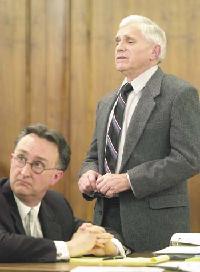 Robert Larson, left, shown in court in 2001, was scheduled to be released from prison this month. At left is his lawyer, Dan Monnat.


Larson, 76, was scheduled to be released from the Lansing Correctional Facility on March 29, but Kline made arrangements with Larson's lawyer, Dan Monnat, to keep Larson in state custody until the petition is accepted or rejected.

Kline said similar cases have taken about 60 days to resolve.

It will be a challenge for Kline to get Larson declared a sexual predator.

Larson, a longtime priest in the Catholic Diocese of Wichita, pleaded guilty in 2001 in Harvey County District Court to abusing three altar boys and a 19-year-old man while he was pastor at St. Mary's Catholic Church in Newton in the 1980s.

As part of the plea agreement, which was offered to Larson in 2001 by then Harvey County Attorney Matt Treaster, the state agreed not declare Larson a sexual predator.

Kline said only his office, and not a county attorney, has the power to waive such a declaration.

Now, Kline will have to prove that he is not bound to the plea agreement, and that Larson is not stable enough to return to society.

Kline said the evidence he has against Larson, which may include at least part of a psychological evaluation, will indicate Larson is likely to offend again.

Monnat said he expected the action to be resolved quickly.

"After all, 76-year-old Robert Larson has not committed an offense in at least 18 years, has been through extensive treatment at a renowned treatment facility and has been a model prisoner for five years." Monnat said.

Monnat would not say whether he believed Kline's petition would be accepted or rejected.