Perv Rev. Told to Avoid Kids

By Alex Ginsberg
New York Post
March 29, 2006

http://www.nypost.com/news/regionalnews/66195.htm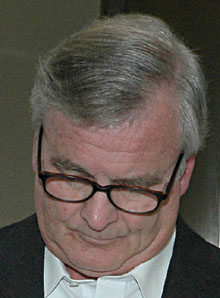 REV. BYRNS
Sentenced yesterday
Photo: Gregory P. Mango



March 29, 2006 -- A pervy priest who pleaded guilty to child endangerment in connection with the sodomy of an 11-year-old Brooklyn altar boy was sentenced to three years' probation yesterday.

The Rev. Joseph Byrns, 63, who pleaded guilty to the charge in January in exchange for the slap on the wrist, also was told by Brooklyn Supreme Court Judge Robert Collini that he's banned from working with or having any unsupervised contact with children.