Molester Now Resides in Belleville
Diocese Has No Record of Priest's Move

By George Pawlaczyk
News-Democrat
April 13, 2006

http://www.belleville.com/mld/belleville/14331855.htm

BELLEVILLE - The Rev. Real "Ray" Bourque, who admits that he sexually abused boys in the late 1970s and early '80s while serving as a priest on the East Coast, was transferred four years ago to a retirement home in Belleville.

During a brief telephone interview Monday, Bourque said that while he did sexually abuse children, he was himself a victim of molestation as a child by an attacker who was not a priest.

Asked whether he had sexually molested boys, Bourque responded: "Eventually I did." He declined further comment, saying, "I was a victim myself ... I'm retired. I'm 78 years old. I don't want to be part of a witch hunt."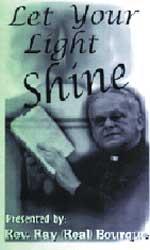 Bourque on his TV show. He admitted molesting boys.


A spokesman for the most Rev. Wilton Gregory, archbishop of Atlanta and former bishop of Belleville, said if Gregory had had any knowledge of Bourque's transfer or background, he would not have allowed the admitted child molester to reside within the diocese.

"Archbishop Gregory says he does not recognize the name. He does not recall ever seeing any documentation on him. And he would never have agreed to his assignment or residency in Belleville," spokesman Jessica Handley said.

The Rev. James Taylor, head of the St. Henry Oblate Retirement Home on North 60th Street, a few blocks from Althoff High School, said Bourque had admitted to his fellow retirees that he sexually abused boys more than 20 years ago while he was assigned as a priest in Maine and Massachusetts. He was never criminally charged, Taylor said.

Upon his arrival in Belleville in 2002, Taylor said Bourque was prohibited by direction of an Oblate official in Washington, D.C., from performing ministerial duties, including saying Mass, and was not allowed to wear a priestly collar.

"He admitted it (sexual abuse) to us. He has taken full responsibility for it. He wanted us to know," Taylor said on Tuesday.

Belleville Diocese Vicar General, the Rev. Jack McEvilly, said he will investigate to determine whether Bourque's residency at the Oblate retirement home presents a threat to area children.

"That's always the danger. He's somewhat isolated (at the home), but not that isolated," McEvilly said.

After a check of diocese records on Wednesday, McEvilly said that he could not find Bourque's name. He said a check of files revealed no letters about Bourque from officials of the Oblates of Mary Immaculate, a worldwide order of priests whose headquarters is in Washington, D.C. In Belleville, the Oblates operate the National Shrine of Our Lady of the Snows.

McEvilly said that letters of introduction regarding Oblate priests who will serve in the diocese or reside at the retirement home are normally sent to the bishop's office in Belleville.

"There is nothing in the files about him that we can find," he said.

However, the diocese's official Web site lists Bourque's name and address at the retirement home.

David Clohessy of St. Louis, director of the Survivors Network of those Abused by Priests, said the transfer of Bourque to Belleville "shows that very little has changed in the church hierarchy."

Despite Gregory's denial of any knowledge about Bourque, Clohessy blamed the former Belleville bishop for the transfer of an admitted child-molesting priest.

"This is not one of those 'he said, she said,' cases where perhaps the full truth will never be known. This is an admitted child molester. For four years, Belleville church officials have put Illinois kids at risk," Clohessy said.

"I find it very hard to believe that they (the Oblates) would not have told the diocese."

In 2002, when Bourque was transferred to Belleville, Gregory, as president of the U.S. National Conference of Bishops, helped hammer out a zero-tolerance policy for priests who sexually abuse minors.

The court file from a lawsuit targeting another priest for alleged sexual abuse included letters to officials of the Archdiocese of Boston complaining in 1994 that Bourque had sexually abused minors.

In that same year, a letter was received by Boston church officials from one of Bourque's alleged victims, who said he saw Bourque on the EWTN, the Catholic cable television network. Bourque had his own show, "Let Your Light Shine," but he was yanked from on-air duties after the victim's letter was received.

Bourque was then sent to a Catholic treatment center in Maryland and discharged after a review stated he was "not likely to re-offend."

He was then re-assigned to EWTN, based in Birmingham, Ala., but worked off air until his retirement and transfer to Belleville.

Contact reporter George Pawlaczyk at gpawlaczyk@bnd.com and 239-2625.