Fushek Sex Charges Aren't Tossed out
Lawyer Claims Talks with Boys Protected by Confessional

By Jim Walsh
The Arizona Republic
April 13, 2006

http://www.azcentral.com/arizonarepublic/mesa/articles/0413mr-fushek0413Z11.html

A judge Wednesday refused to throw out a series of sex charges against the former pastor of St. Timothy's Catholic Church in Mesa even though his attorney argued that the evidence was protected by the seal of the confessional.

San Tan Justice of the Peace Sam Goodman rejected arguments by Monsignor Dale Fushek's three defense attorneys that his conversations about sex with a series of victims were during confessions and protected by the First Amendment's right of free speech.

Goodman did not explain the reasons for his ruling, which leaves Fushek facing five counts of contributing to delinquency of a minor, two counts of indecent exposure and three counts of assault.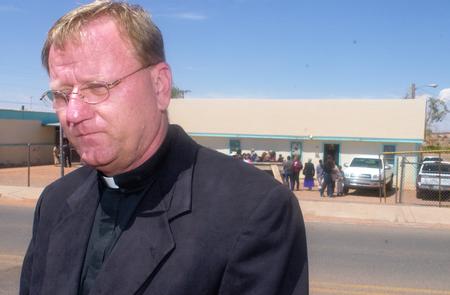 Monsignor Dale Fushek
Photo by the Mark Henle/The Republic


Goodman in February granted a defense motion freeing Fushek from wearing an ankle monitor.

Fushek's trial on the misdemeanors is scheduled for June 2, but Goodman must first rule on 14 motions filed by attorneys in the case, including one by defense attorneys to dismiss all charges based on the 20-year delay between the incidents and when charges were filed in November 2005.

Thomas Hoidal, one of Fushek's defense attorneys, promised to challenge Goodman's ruling in the Arizona Court of Appeals if the charismatic priest, known for founding the nationwide youth Life Teen program, is convicted of any charges.

Hoidal said the contributing to the delinquency charges are based only on conversations between Fushek and the victims, who were teenagers when the crimes are to have occurred, from Dec. 22, 1984, to Dec. 31, 1994.

"I think the charges in question should give a lot of people pause before they speak to minors about sexually related topics," Hoidal said. "I think the number of motions should indicate how far out there this particular prosecution is."

Hoidal said Fushek has received no plea-bargain offers from prosecutors.

Deputy Maricopa County Attorney Barbara Marshall argued in court paperwork that Fushek was hiding behind the Catholic sacrament of confession to excuse inappropriate speech and behavior.

She wrote that Fushek was obsessed with sex, asking the boys for intimate details of their sex lives and what they dreamed about while having sex.

Marshall said in the documents that Fushek would walk around the rectory naked, kissing and cuddling the young men, inviting them to sit nude in his hot tub.

"Nothing in the statute prohibits professionals from having appropriate conversation with children about sexual topics," she wrote.

"The statute does prohibit conduct such as the adult initiating inappropriate sexually explicit discussions, which would debase or injure the morals, health or welfare of the targeted child."

Hoidal argued that Fushek's discussions with the boys were protected by free speech, or the freedom to exercise religion.

If the judge were to reject both of those arguments, he said, the Arizona delinquency statute is unconstitutionally vague, giving no definition of what is appropriate or inappropriate.

Fushek is on administrative leave from the Diocese of Phoenix and was a top adviser to former Bishop Thomas O'Brien.