Provincial of Jesuits Deals with Charges

By Lisa Demer
Anchorage Daily News [Alaska]
April 17, 2006

http://www.adn.com/news/alaska/story/7636255p-7547876c.html

Allegations of sexual abuse against priests began heating up around the country about the time the Rev. John D. Whitney became head of the Society of Jesus Oregon Province in 2002.

Whitney, a graduate of Georgetown University, is responsible for about 240 Jesuit priests and brothers in Alaska, Oregon, Washington, Idaho and Montana, plus spiritual support for two universities, four high schools, one middle school and seven parishes. Officially, he's known as the provincial.

Whitney, silver-haired at 48, sat down April 10 for an interview with Daily News reporter Lisa Demer in which he talked about priests, their sexuality and how he is handling the sexual abuse cases.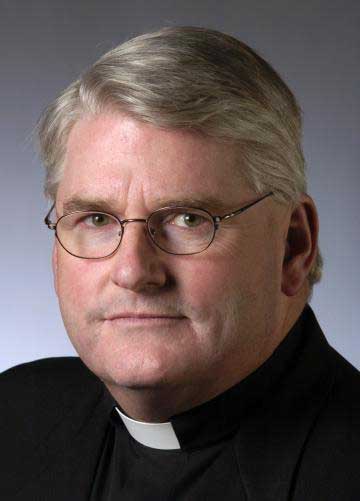 Rev. John D. Whitney


Jesuit priests from Alaska have been accused in about a dozen lawsuits, he said. At least four, the Revs. James Poole, James Laudwein, James Jacobson and Richard McCaffrey, have had their priestly duties restricted because of the allegations, Whitney said.

Early on in responding to accusations, Jesuit leaders bumbled a bit in what Whitney called "Keystone Cops" maneuvers over requests for documents. Records were disorganized. They've since been cataloged. Now the approach is to be upfront, he said.

The Jesuits are actively fighting lawsuits that accuse the late Catholic volunteer Joseph Lundowski. He was never a Jesuit and they don't believe they are responsible, Whitney said.

The interview has been edited for length and clarity.

Q. Is the number of suits against Jesuits in Alaska considered high?

A. It is. It is against a relatively small number of men but it's definitely a high number of allegations.

Q. Why do you think that is? I've seen you address the perception at least that Alaska is a dumping ground.

A. That, I know, is untrue because in order to get to Alaska people had to really request it. ... They really wanted to do missionary work. They wanted to go someplace challenging. You're talking sometimes when they came 60 or more years ago. ... It was never a dumping ground. That is just so contrary to all of our experience.

Q. Why do you think Alaska ended up having this number of sexual abuse allegations?

A. The conditions under which people lived, under which Jesuits lived, the remoteness, the lack of contact. ... Things that could have perhaps been small issues became huge issues over time.

Q. What do you mean?

A. Things that started off perhaps as a small psychological problem or emotional problem became large problems. I'm not a psychiatrist so I don't want to speculate but I think that conditions that may have been latent became active because of the pressure of loneliness and disconnection.

It was a pretty rugged life for some of these men who left their homes. A number of these men who have been accused have come originally from other countries. ... And their own demons sometimes got the best of them. It was very tragic, very tragic for everybody.

Q. Is there any sign that any had prior incidents?

A. No indication that prior to coming to Alaska that there was any indication of this.

Q. Although once in Alaska they seemed to cycle through more than one village or location, and some of the problems occurred in more than one spot.

A. It wasn't like there were reports. People moved around because there were very few people covering a large amount of territory. It's very normal for Jesuits to move often. ... None of these men were moved because of accusations from village to village. Again, the records just don't show that.

Q. Was there something about coming here to a place they knew was remote and isolated? That they thought it was a place where they wouldn't get caught?

A. These men all came up with high ideals. ... They weren't trying to hide from anything. I'm actually quite proud of the record, certainly of the Oregon Province. ... I was looking into a case recently where a man was dismissed from the Society because there was an indication he couldn't live his vow of chastity, 30 or 40 years ago. So there wasn't that sense of we have to keep these guys in no matter what.

(Pat Walsh, a public relations consultant to the province, was sitting in on the interview and asked Whitney to address how it is now more difficult to become a Jesuit priest, a process that can take more than 10 years counting university studies. Whitney described how priest applicants must pass four interviews, including one with a woman, and a series of psychological tests plus criminal background checks.)

And that's just admission. Once he's in, there's a two-year (period) in which the vocation is tested and during that period there's a whole ... sense of sexual history, identity. Do you understand your own sexuality? ... Can you make a commitment to chastity?

Whereas in the old days, this whole sense of sexuality was seen as sort of a moral decision. ... It was a matter of prayer and clean living. ...

We've been doing this for over 20 years ... in making sure men know how to deal with their issues and that they talk them through and that they have people to talk to. The idea that it should all be internal to you and you should work it out with God ... is something we try not to teach. We try to encourage people to be more self-revelatory, working things out; if they need help, to seek that help out.

Q. What is going to happen financially to the Province because of the lawsuits?

A. It's obviously hit us pretty significantly. ... I'm asking Jesuits to make sacrifices in order that we carry the brunt of this and acknowledge that these were our brothers, these were other Jesuits, and if we are making settlements, we should be the ones who take the brunt of the suffering (not donors). ... And it may come that we do have to sell the property we do have and live a little more poorly.

Q. How much have you paid in settlements of abuse accusations?

A. In my time as provincial, it's been several million dollars (throughout the Northwest).

... Not all of that has been because of court cases. ... There are a lot of people who don't want to file cases. ... It just feels so painful for them to go public and yet they call our victim assistance coordinator or they may call the province directly. If they are willing or their desire is to meet with me, I sit down with them and we've settled quite a few cases that way. ... This can be very, very healing experiences.

... Sometimes there's pastoral decisions that are made that may not always give us the full establishment of what happened exactly. ... That happened in some of the situations ... when you have many accusations against someone who has been dead. ...

I think sometimes I get Jesuits mad at me. ... It's a complex call. All I have is prayer. (Laughs)

... Early in my time as provincial, I was talking to a provincial from another province who said to me -- he had had some cases -- and he said 'Either you can let your lawyers run this, or you can run it. They will take it as a very legal thing. You can take it as a pastoral thing.'

... Ultimately I try to base my decision (on whether to pay to settle a claim) on what I think is really the right thing to do.

Q. What do you think the long-term impact of the sexual abuse scandal will be on the church?

A. It very much depends on how leaders in the church handle it. ... It was something that was a deep wound that needed to be opened. ... We have to face up to the fact this happened. We have to face up to the fact that there are people who have suffered. We have to face the fact that men who we knew have actually done this, when we never knew that it was going on. And we have to face up to our own sense of how could this happen when we thought we knew these people. And we have to face it honestly and ask forgiveness and seek forgiveness. If we do that, the church will come out stronger and cleansed. ...

This was the real crisis in my opinion in certain other places in the United States. The first response was always the legal stonewall and the denials. ... Priests will fail, just as teachers fail and parents fail, and they will hurt. But the terrible thing here was that very often the children felt they couldn't tell anybody. They had no voice.

Q. Are your interests in some of these cases different than the Fairbanks Diocese, which has been sued along with the Jesuits in some cases?

A. Part of it is personality. ... I think we come at it from a different perspective. ... I think we've settled quite a few more cases than the diocese has. ... I think they are just trying to figure out what their best lights are. The Jesuits are stuck with my best lights. (Laughs)

... In terms of who people look to blame, because most people don't know what the heck a provincial is ... bishops around the whole world have gotten a lot more heat.

... The young people who were abused were innocents and there's no excuse for the behavior. So we can look and say well, there's all these psychological factors that contributed to it. But ultimately people failed and they failed to live up to the commitments they'd made. ... There's explanations but there's no excuse.