The Passion of the Court
US Supreme Court's Silence Forces Mahony to Turn over Files of Accused Ex-Priests

By André Coleman
The Pasadena Weekly
April 20, 2006

http://www.pasadenaweekly.com/article.php?id=3335&IssueNum=16

The day after Easter, the otherwise joyous mood around the Archdiocese of Los Angeles turned sour after the US Supreme Court declined to hear Cardinal Roger M. Mahony's request to keep secret the files of two priests whom authorities suspect of molestation, a decision that could open the floodgates for more civil litigation against the Catholic Church and, some Church critics hope, leave Mahony open to criminal prosecution.

Tod Tamberg, a spokesman for the Archdiocese of Los Angeles, called the high court's decision not to hear Mahony's plea to keep the files of ex-priests George Miller and Michael Baker out of the hands of the grand jury investigating sexual misconduct by priests "disappointing."

However, Tamberg, who was contacted at his Los Angeles office but declined to speak on the record, referred all comment to a prepared statement, which states the ruling "will have no effect on the ongoing efforts of the Archdiocese of Los Angeles to settle the civil cases through mediation."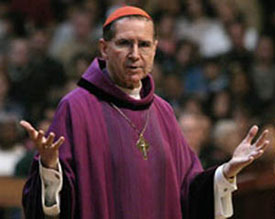 Cardinal Roger M. Mahony


Critics of the Church, Mahony and his handling of the sex-abuse scandal, on the other hand, were elated with the court's decision.

"We are grateful that the nation's highest court, like so many California courts, is telling the cardinal to abide by the laws of the land," said Mary Grant, head of Survivors Network of those Abused by Priests, or SNAP. "We are encouraged that, once again, Mahony has been rebuffed in his desperate and ongoing drive to create a law unto himself."

Mahony, she said, "has spent hundreds of thousands of dollars, donated by generous Catholics, on far-fetched and increasingly unsuccessful legal maneuvers to keep hidden the secrets about abusive priests and complicit bishops."

Over the past several years, Mahony has refused to release the personnel files of dozens of priests to authorities, although he initially agreed to turn over those documents to prosecutors shortly after he was subpoenaed by the grand jury in 2002. Mahony claims that releasing the files to prosecutors violates the confidentiality of the priests involved and the religious protections afforded them, Mahony and the Church under the First Amendment.

Apparently, the Supreme Court disagreed, letting stand the ruling of an appellate court.

"This is a decisive victory for victims of clerical abuse," Los Angeles District Attorney Steve Cooley said in a prepared statement. "It's unfortunate that it took four years of litigation to reach this day of justice for victims. The US Supreme Court's denial to review this matter establishes an important principle that evidence of criminality be made available to appropriate authorities."

Cooley's office will now be able to obtain documents related to cases involving Miller and Baker, who is presently in custody at Men's Central Jail awaiting a preliminary hearing on May 10 on eight counts of oral copulation with a person under the age of 18. According to DA spokeswoman Jane Robison, Miller is part of an ongoing criminal investigation.

Monday's decision could also lead to the release of more documents relating to sexual abuse at the hands of priests and former priests. More than 500 people say they were molested by priests with the Archdiocese of Los Angeles. Most of those cases have been resolved through mediation, but 44 could still go to trial, according to published reports.

Victims claim that Mahony wants the documents to remain in his care because they reveal that he knew about allegations of molestation and not only failed to notify authorities but kept pedophiliac clergymen in leadership positions, moving some of those priests to other parishes where their alleged molestation of young people continued.

"[Mahony's refusal] was really about protecting Cardinal Roger Mahony, the Church's image and his role," said Grant. "It has nothing to do with freedom of religion or being a good Catholic. Mahony has admitted that he knew. We believe he's making these desperate attempts because the documents will provide a full scope of his role of aiding and abetting. It's one step closer to the truth."

Baker's documents could definitely be damaging to Mahony and the Church. According to an Oct. 12 disclosure by the Los Angeles archdiocese, Baker confessed the relationships he had with young boys to Mahony 20 years ago, but he was still allowed to continue his work as a priest.

The report gave specific details about the Baker case, including the fact that Baker had "then approached the archbishop to discuss his relationship with two boys from 1978 to 1985."

After that apparent admission, Baker was sent for psychological treatment and given duties in which he was supposed to be restricted to ministering only to adults, according to the report.

"[Mahony] has fully acknowledged that this was a terrible mistake," states the report. "The lesson is that either much closer monitoring is needed, which is practically impossible, or [an accused] priest must be removed from the ministry."

Baker later admitted to molesting several other children, including Matt Severson, who still carries around a letter from Baker in which the former priest apologizes for molesting him.

In 2002, Cooley's office charged 11 priests with sex-related crimes, including Baker, who was charged at that time with 29 counts of sexual misconduct against a minor.

However, all charges were dropped and the investigations were halted in 2003 when the California Supreme Court ruled that the Legislature could not abolish statutes of limitations for sex crimes.

The court struck down a law that retroactively erased the statutes of limitations on certain sex molestation cases, which allowed prosecutors to charge clergyman with crimes that were allegedly committed years ago, when the statute of limitations was three years in some cases.

Baker was arrested again on Jan. 19 and charged with 18 counts of child molestation, including incidents involving Severson, which the 30-year-old Severson claims occurred from 1984 to 2000.

Soon after the archdiocese report was released in October, victims blasted the document, claiming it was an attempt to appear transparent without turning over the documents, which consisted of 21 pages of material.

Severson told the Weekly that he was satisfied with Monday's decision by the high court to not hear Mahony's plea.

"I am grateful that the Supreme Court is allowing the criminal investigation of former priests of the LA archdiocese to continue," said Severson. "Hopefully, Cardinal Mahony will finally get the message that the Church is not above the law. Also, for myself and for other victims of these pedophile priests, I hope that this means that finally, after four years of Mahony's smokescreens and legal tactics, the police and district attorney can finally put the wheels of justice in motion."