Priest's Exit Stuns Staff

By Brooks Egerton begerton@dallasnews.com
The Dallas Morning News
April 21, 2006

http://www.dallasnews.com/sharedcontent/dws/news/localnews/stories/042206dnmetramon.20d10d54.html

The pastor of Dallas' Cathedral Shrine of the Virgin of Guadalupe suddenly left his high-profile post this week, stunning staff members and leaving fellow clergymen in the dark.

Catholic Bishop Charles Grahmann has tightly guarded news about the Rev. Ramon Alvarez's departure, which the priest disclosed to some church staff Monday.

By late this week, many other local clerics didn't know it happened, or why.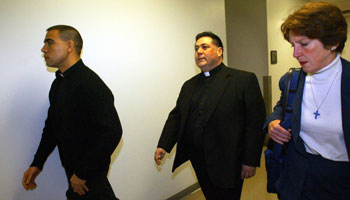 Father Ramon Alvarez (center) appeared before a Dallas County grand jury last year in connection with another priest's child-pornography case.
File/DMN



Father Alvarez – a potential witness in two child sex-abuse cases who has admitted misconduct with an adult – drove away from his mother's home without commenting to reporters Friday.

Bronson Havard, the bishop's spokesman, declined to answer when a reporter asked whether the priest was in trouble.

He later released a statement saying the departure was "not related in any way to inappropriate conduct with a minor."

Mr. Havard said the cathedral's new rector will be the Rev. Eduardo Gonzalez, who has been serving at St. Edward Church in East Dallas.

Father Alvarez told cathedral staffers that he was leaving for health reasons.

He cited high blood pressure and diabetes but no medical crisis, a lay employee familiar with the situation said.

The priest didn't say where he was going or how long he'd be gone, the employee said, speaking on condition of anonymity for fear of being fired.

"It could be months," the layperson said, recounting Father Alvarez's statements. "It could be a year."

In such situations, diocesan leaders "usually send out an e-mail," one clergyman said. "It's kind of strange."

One abuse case in which Father Alvarez may have to testify is set for trial May 1.

It is a lawsuit in which he and other church employees are accused of ignoring warnings in the 1990s about two child-care workers at Dallas' St. Pius X Church, where Father Alvarez was pastor.

Both workers admitted molesting girls there and were sentenced to prison.

Church officials have denied wrongdoing.

The other case, set for trial June 12, is a criminal prosecution of Father Alvarez's longtime close friend the Rev. Matthew Bagert on child pornography charges.

Father Bagert is contesting the charges.

Father Alvarez appeared under subpoena before a Dallas County grand jury last year, a month after police seized images of naked young boys from a computer at Father Bagert's church in Grand Prairie. Police arrested Father Bagert shortly after he returned from a weekend trip with Father Alvarez.

Patrick McLain, one of Father Bagert's attorneys, has said Father Alvarez came under legal scrutiny because he was told that his friend ordered a video with images of nude children.

In 2002, diocesan officials said Father Alvarez admitted "inappropriate contact" with a middle-aged man who sought a blessing from him in 1991. The man said the priest groped and propositioned him.

Mary Edlund, the diocese's chancellor, characterized the encounter as consensual and said Father Alvarez was told to resume counseling, which he'd previously undergone voluntarily, about "boundary issues." The priest declined to comment then.

Bishop Grahmann left Father Alvarez on duty, despite calls from Dallas Coadjutor Bishop Joseph Galante to remove him from the cathedral. "This is not something we should brush aside," Bishop Galante said at the time.

The Vatican, after this and other conflicts between the two prelates, moved Bishop Galante to New Jersey. He now heads the Camden Diocese.

Father Alvarez, 50, a Dallas native, has led the historic downtown Dallas cathedral since the late 1990s.

It is, according to the Dallas Diocese's Web site, "the largest cathedral congregation in the United States – as well as the largest Latino parish congregation – with more than 50,000 registered households."

Church leaders recently used the pulpit to urge the faithful to march for immigration reform, feeding a Palm Sunday demonstration that began at the cathedral and was the largest in Dallas' history.