Witnesses Recall Scene in Priest's Murder Trial
Testimony Begins in Nun's Slaying

By David Yonke
Toledo Blade
April 25, 2006

http://toledoblade.com/apps/pbcs.dll/article?AID=/20060425/NEWS02/604250400

In the first day of testimony in the Rev. Gerald Robinson's murder trial, a nun said the killing in 1980 appeared to be "ritualistic," and a retired police officer said Father Robinson lied when he told investigators that the killer had confessed to him.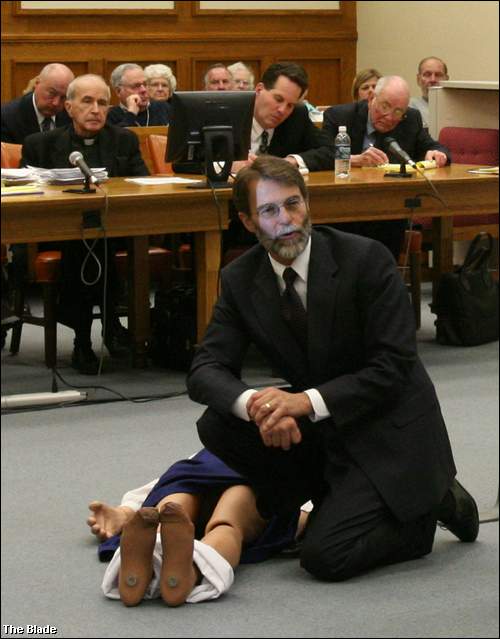 Assistant county prosecutor Dean Mandros questions a witness and uses a mannequin to illustrate how the victim's body was found in the 1980 slaying of Sister Margaret Ann Pahl.
Photo by The Blade/Andy Morrison


Sister Phyllis Ann Gerold, a nurse and administrator who lived and worked with the victim at the then-Mercy Hospital, told a Lucas County Common Pleas Court jury yesterday that she has seen "quite a few" deaths in her career but none like that of Sister Margaret Ann Pahl.
The April 5 crime scene filled her with horror, the nun said under questioning by Dean Mandros, a Lucas County assistant prosecutor.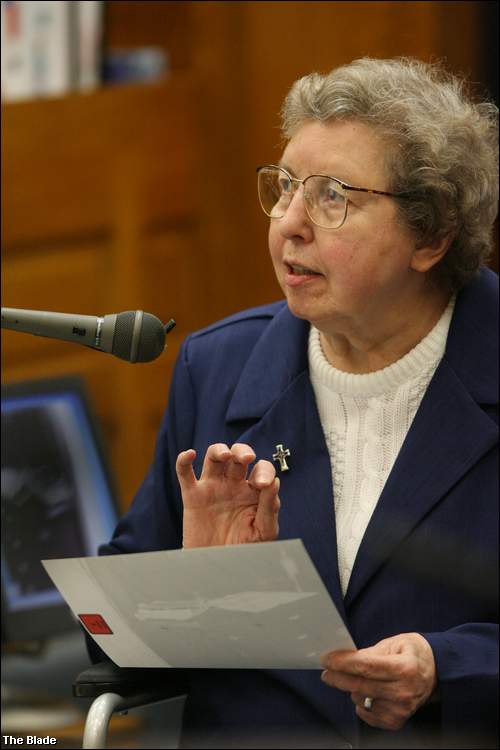 Sister Phyllis Ann Gerold said the murder scene was sad and horrifying.
Photo by The Blade/Andy Morrison


"It was terribly strange and sad and horrifying," Sister Phyllis Ann, 76, said.

Sister Margaret Ann had gone into the sacristy - where the Holy Eucharist is kept between Good Friday and Easter Sunday - to prepare for the evening's Mass.

The nun, described as a "perfectionist" who would have turned 72 the next day, was strangled nearly to death, then stabbed 31 times. Her blue uniform jumper was pulled up around her chest and her undergarments were pulled down around her ankles, exposing her nakedness, Mr. Mandros said.

The nun's arms were at her sides and her legs were extended straight out.

"I felt horror," Sister Phyllis Ann said. The victim's body was lying "so straight ... people usually don't die so straight."

Mr. Mandros used a mannequin, with gray hair and a blue jumper like Sister Margaret Ann's, to illustrate how the victim's body and clothing were found.

The prosecution team showed some photos of Sister Margaret Ann and a 1980 picture of Father Robinson, maps of the hospital's floor plan, and some grisly black-and-white crime scene photos.

Sister Phyllis Ann said she tried desperately, but in vain, to find the sacristy's phone to call for emergency help.

Her memories of that moment are vivid even 26 years afterward, she said. She noticed that the victim's face was "very swollen," which she said happens when a victim is stabbed in the chest and air is sucked into the body.

Defense attorney Alan Konop challenged the accuracy of the witnesses' memories and, at one point, shouted at retired Toledo police Lt. William Kina, saying angrily that his testimony was based not on his own notes, but on "recall and reports supplied to you by the prosecutor's office."

"That's true," the retired police officer replied.

Sister Phyllis Ann also said she was surprised that she did not see any blood at the scene, although crime scene photos showed blood on Sister Margaret Ann's jumper in the chest and neck areas.

Sister Phyllis Ann said she believed the killing was "ritualistic."

Under cross-examination by Mr. Konop, one of Father Robinson's four defense attorneys, the nun said she did not have experience with ritual killings but that the "weirdness" of the scene gave her that impression.

It was "unnatural," she said.

In opening statements Friday, Mr. Mandros said Sister Margaret Ann had been strangled with such force that the killer broke two bones in her neck and burst blood vessels in her eyes.

The nun, barely alive, was laid on the floor and stabbed nine times over the heart in the shape of an upside down cross. The killer then covered her body with an altar cloth and stabbed her 22 more times, according to the prosecution.

The retired police lieutenant said yesterday that investigators in 1980 quickly decided that the killer must have known the victim because, he said, "it would take somebody with a vendetta to kill someone in such a ferocious manner."

He also said a police examiner told him the nun's wounds were made by a knife-like object at least three inches long with a blade no wider than half an inch.

When Lieutenant Kina and Detective Art Marx went to Father Robinson's apartment, they opened a desk drawer and found a "saber-type letter opener" about a foot long with a narrow, four-sided blade, a knuckle guard, and a medallion, the lieutenant said.

Lucas County's cold-case squad used blood-transfer pattern analysis to link the letter opener to the murder, Mr. Mandros said.

Lieutenant Kina and Detective Marx interviewed Father Robinson about two weeks after the killing and said during questioning the Toledo priest claimed that another person had confessed to him that he killed the nun. When pressed, Father Robinson "admitted it was a lie," Lieutenant Kina said.

The retired police officer also said that two witnesses told police they heard someone running in the hallway - one called it "frantic footsteps" - around the time of the murder and that they stopped in front of Father Robinson's apartment.

Sister Madalyn Marie Gordon, the first person to find Sister Margaret Ann's body, said she noticed a small man "in a big hurry" going down a hallway toward an exit around the time of the killing.

Sister Madalyn Marie said she went to the chapel to help Sister Margaret Ann get ready for that evening's Holy Saturday Mass. The nun, who was the chapel's organist, said she entered the sacristy to call Father Robinson about the music for that evening's Mass.

Speaking softly and sadly, her hands folded in her lap, Sister Madalyn Marie said when she walked into the room, her "first thought" was that someone had left a CPR mannequin on the terrazzo floor. She also noticed that there was no blood. But when she bent down to take a closer look, she realized her friend had been killed.

"I was in there a matter of seconds. Then I ran out of the sacristy and screamed," the nun said.

Her screams brought doctors, nurses, and nuns to the scene, but it was too late to save Sister Margaret Ann's life.

If convicted, Father Robinson faces a possible sentence of life in prison.

Contact David Yonke at:
dyonke@theblade.com
or 419-724-6154.