Hardwood Babylon
A Decade Later, Mater Dei High School's Still Protecting a Coach Accused of Sleeping with Students

By Gustavo Arellano garellano@ocweekly.com
Orange County Weekly
April 27, 2006

http://www.ocweekly.com/news/news/hardwood-babylon/25016/
[See also other articles by Gustavo Arellano.]

Editor's note: The names of the alleged victims and students in this story have been changed.

In the spring of 1996, an English teacher at Mater Dei High School in Santa Ana snatched the following note as students tried to pass it across her classroom:

Linda,

Charles told me, did you hear about Coach Andrade & I said no, what? He goes coach fucked a girl that comes here & I play it off, like Naah. I go who? He goes I don't know. Some junior. I guess he doesn't know or maybe he knows that I know. But I swear to God I didn't tell anyone.

* * *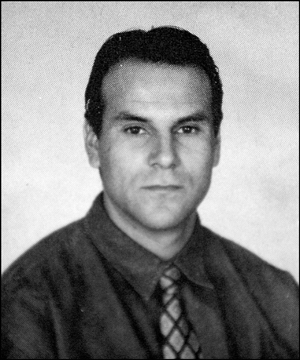 Andrade. Photo from 1995 Mater Dei yearbooks


The coach in question was Jeff Andrade, a popular teacher who moonlighted as an assistant coach on Mater Dei's powerful boys' basketball program and sold hot dogs from a cart during lunch. The teacher immediately turned over the note to Mater Dei administrators, who summoned Linda for questioning. Linda alleged that Andrade was having an affair with her best friend Nancy—had been since the beginning of the school year. School officials then confronted 15-year-old Nancy and 34-year-old Andrade; both denied any relationship other than teacher and student: Andrade was once Nancy's driver's education instructor, and they occasionally talked to each other in the school's weight room. Mater Dei closed the investigation without taking further action. They never told Nancy's parents about the note or contacted Orange County Child Protective Services, as they are obligated by law to do.

But by that spring, most of Mater Dei suspected something was going on between Nancy and Andrade. The rumors started in late 1995, when students and Mater Dei staff, including then-principal Pat Murphy, saw the two meet in the lobby of a Las Vegas hotel during a Christmas basketball tournament. Murphy was disturbed enough by the meeting that according to a police report he ordered head basketball coach Gary McKnight to warn his team about allowing guests in their rooms. That same police report also quotes a fellow basketball coach told Andrade to stop talking to Nancy because "people might get the wrong idea."

But the two didn't stop and the rumors continued. The seized note didn't help matters, and in November 1996, Andrade and Nancy fought in the Mater Dei parking lot after school officials caught Nancy in the girls' restroom with a boy. Internal Mater Dei documents show that Andrade allegedly accused Nancy of "sucking dick" and called her a "fucking whore" in front of other students. Nancy responded by flinging a bag of M&M's at Andrade and running to her car. Andrade followed and banged on her windows, demanding to talk.

Still Mater Dei officials did nothing.

It wasn't until April 1997 that Mater Dei finally dismissed Andrade after an anonymous tipster asked them to reopen their original investigation. Andrade once again denied the accusations, but Nancy now claimed to Mater Dei officials and the Westminster Police Department that they were sexually involved—that they allegedly had sex in McKnight's office, in classrooms, at Andrade's house. That he supposedly pressured her to perform oral sex, and that he ejaculated in her mouth. And Nancy also told police that Andrade allegedly admitted to her he had a previous affair with another student. Westminster police turned over their case to the district attorney's office, which didn't press charges. Nevertheless, Mater Dei officials asked Andrade to leave.

Mater Dei has tried to keep the Andrade affair under wraps ever since. But a lawsuit filed last year winding its way through Orange County Superior Court seeks to publicize the story and hold Mater Dei responsible for what Nancy's lawyer says is "a pattern and practice of protecting sexual abusers." And, of course, Mater Dei is doing everything it can to stop it.

* * *

Founded in 1950, Mater Dei has long been the crown jewel of Orange County Catholicism, a school county Catholics sent their children to as much for its powerful alumni network as its scholastic and athletic departments. Orange diocese auxiliary Bishop Jaime Soto graduated from the Santa Ana school, along with a slew of businesspeople, lawyers, and other movers and shakers of Orange County. And its boys' football and basketball programs—in the latter of which Andrade served—are nationally known.

In the past decade, however, allegations of teachers who carried on improper relationships have sullied Mater Dei's once-immaculate image. Andrade's case isn't the first time Mater Dei officials have tried to hush up improper relationships between teachers and students at their school. In December 2004, the Catholic Diocese of Orange settled for $100 million 90 cases alleging sexual abuse at the hands of church employees. Eleven of the cases pertained to Mater Dei, far more than any other Orange County Catholic institution.

The Mater Dei instructors named in the settlement ranged from former principal and Republican darling Michael Harris to counselors to other administrators. But most of the accused were teachers: choir director Thomas Hodgman, accused of impregnating a student during the 1980s. Cross-country track coach Robert Richardson, whom San Bernardino County sheriffs arrested in 1984 after he orally copulated a boy in his Big Bear cabin. Priests Bertrand Horvath and G. Patrick Ziemann.

Documents released after the 2004 settlement showed Mater Dei officials strained to cover up its employees' indiscretions. For instance, a 1984 letter regarding the Richardson case had Harris fretting to an unidentified superior, "So far we have managed to keep the situation under control, but I live with a certain anxiety that we may have to deal with the media and subsequently more public concern."

Andrade wasn't part of the 2004 settlement. But a couple of months after the deal's announcement, the Orange diocese secretly settled a suit filed against them by Andrade. In 2003, Mater Dei officials admitted to Orange County Register reporter Jim Hinch that they dismissed Andrade because of his relationship with Nancy. Andrade sued Mater Dei and the Orange diocese shortly afterward for invasion of privacy, stating in his argument that "the disclosure of any facts pertaining to [Andrade's] employment at Mater Dei is not newsworthy." The diocese shot back in a demurrer that Andrade "had no reasonable expectation of privacy. Andrade had been accused of a sexual relationship with a student. He could not reasonably believe that the mandatory reporting of this conduct would remain private." The suit was resolved but the outcome remains confidential, and the local media never reported on the case.

It's this background that has John Manly infuriated with his alma mater again. Manly, who graduated from Mater Dei in 1982, was one of the lead attorneys in the 2004 Orange diocese settlement, representing more than 30 clients, seven of whom were abused while attending Mater Dei. He refused to settle until Orange Bishop Tod D. Brown agreed to release personnel files Manly claimed would prove church officials knowingly shielded pedophiles within their ranks. The release of those documents in mid-2005 proved Manly's thesis. His crusade continues: on April 24, Manly filed a motion in Orange County Superior Court that made public almost all documents pertaining to Mater Dei's investigation of Andrade.

Nowadays, Manly spends most of his time pursuing clerical sex abuse cases across the country and even the world—just last week, he flew to Australia to depose a witness for a case against the San Diego diocese. So when Nancy contacted Manly in mid-2005 with her story, the Newport Beach attorney made the now-26-year-old Nancy go through the same procedure he uses for all potential clients. Manly's firm has a policy of extensively interviewing potential clients and conducting factchecks prior to filing any lawsuit involving allegations of sexual misconduct. Manly questioned Nancy with help from partners Ryan DiMaria, a victim of clerical sex abuse himself, and former Benedictine monk Patrick Wall.

Ultimately, Manly took on Nancy's case because "she's believable, she's forthright, she's honest, and she's been terribly hurt. Her innocence was stolen from her. As someone who attended Mater Dei, her abuse is anathema to me."

Manly filed the suit against Andrade and Mater Dei last July and had deposed just two school employees before Mater Dei lawyers tried silencing him. On April 19, longtime Orange diocese law firm Callahan, McCune & Willis filed a motion asking Superior Court Judge Jonathan Cannon to prohibit Manly from asking future witnesses whether they knew if other Mater Dei employees besides Andrade ever faced molestation charges.

"Plaintiff wants to broaden the scope of discovery by hoping to prove that Mater Dei had a history of 'employing molesters,'" wrote diocesan attorney Thomas Rutherford. Later in his filing, Rutherford claimed Manly filed the suit against Andrade "as a vehicle to locate potential clients." As proof, Rutherford included Exhibit A: a full-page ad Manly took out in the Weekly earlier this year asking former Mater Dei students to contact his office with any information about alleged sex abuse at the school during the 1990s.

Andrade's attorney didn't return a call for comment.

Manly dismisses the ambulance-chasing charge as the same slur the Orange diocese deploys against all litigants. "We don't know yet if there were other allegations against teachers while Andrade was there," Manly admits. "But I think a jury is entitled to know that. I would be an absolute fool as an advocate if I didn't request the identity of other child molesters at the same time. The fact that the diocese and Mater Dei don't want this disclosed is indicative of the fact they have something to hide."

Manly points to a Sept. 21, 1993, memo that Mater Dei officials disclosed only a couple of months ago. In it, a Mater Dei administrative board addressed an incident with Andrade in his science class where he talked explicitly about sex. "If the report is accurate," the memo says, Andrade "has moved one step beyond the [redacted] incident. The next step may require placing Mr. Andrade on probation."

Mater Dei officials and lawyers refuse to tell Manly the nature of the redacted incident. Manly suspects it's another abused student.

"It's pretty clear the Orange diocese has taken one giant step backward in their willingness to be cooperative with civil and criminal authorities on child molesters," Manly seethes. "They promised in 2004 that they were going to stop this nonsense. You'd think $100 million and a good public flogging was enough, but it wasn't. Nothing has changed."