Troubled Image — Yakima Diocese Wrestles with Allegations

By Jane Gargas
Yakima Herald-Republic
May 4, 2006

http://www.yakima-herald.com/page/dis/286013177315129

In many ways, it's a dilemma that won't go away.

How to handle allegations of priest sexual abuse that have arisen around the country continues as an issue nationally and here in the Catholic Diocese of Yakima.

Members of the local chapter of Voice of the Faithful, a group advocating reforms in the Catholic Church, say not enough has changed since the scandal erupted nationally in 2002.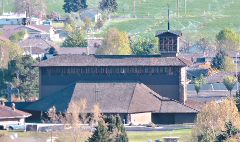 The Catholic Diocese of Yakima has its offices at the Pastoral Center near Holy Family Church off Tieton Drive.
Photo by Sara Gettys/Yakima Herald-Republic


They also claim that accusers have leveled more allegations against local clerics than the diocese is admitting.

Further, they say, the national image of the church is in trouble, partly because of the actions of two former Yakima bishops.

The Yakima Diocese has said six local clerics have been accused of abuse.

Voice of the Faithful members believe there may be several other instances of abuse in which no charges or lawsuits have been filed.

"We keep hearing information that there are more people out there who have been abused and more priests," said Dan Thibault, a VOTF member and recent pastoral-council chairman from St. Aloysius Church in Toppenish.

Thibault believes as many as four clerics since 1999 have quietly disappeared from the diocese with no public explanation.

When contacted Wednesday about that allegation, Bishop Carlos Sevilla reacted strongly, saying "changing priests is a normal part of Catholic life. If there were a violation of diocese policy, I would account for that."

Meanwhile, three priests who worked in the Yakima Diocese have been named in lawsuits. None had previously been identified as abusers by the diocese.

A 66-year-old man from Western Washington claimed in a Superior Court lawsuit that he was repeatedly molested by the Rev. David King in Yakima when he was a 13-year-old student at Marquette High School (which no longer exists). King died in Spokane in 2002.

Last month, more than one claim was filed against the Rev. John Morse, a Jesuit priest from Moses Lake. The charges stem from when Morse served as pastor at St. Mary's Mission in Omak 35-40 years ago. That church is part of the Spokane Diocese.

Two adult sisters have filed suits against the Yakima Diocese involving the now-.deceased Rev. Michael J. Simpson, saying they were sexually abused by the priest when they were children in Zillah.

The diocese has previously named the Revs. Dale Calhoun and Richard Scully, who are no longer practicing priests; Deacon Aaron Ramirez, who is believed to be out of the country; and the late Monsignor Joseph Sondergeld.

VOTF members argue that there may be more victims who are reticent to come forward, partly because they fear going through protracted court battles.

Thibault would like to see Sevilla follow the Spokane Diocese's example and seek out victims in each parish.

"Bishop Sevilla hasn't talked about this to any parish I know of. He won't talk to anyone; there have been no open discussions at all," Thibault said.

He added, "The bishop acts more like a CEO than a pastor; a pastor listens and talks to people."

But Sevilla doesn't think meeting with the Voice of the Faithful is his job. Instead, he said Russ Mazzola, head of the Diocesan Lay Advisory Board, which investigates any allegations of sexual misconduct in the church, has talked to Thibault and others.

VOTF members also believe that all allegations against clerics and any history of moving them from parish to parish need to be disclosed.

They'd like to see more detailed background checks for candidates for the priesthood, and they eschew cases where gag rules have been imposed on settlements made with alleged abuse victims.

Sevilla said Wednesday that he is "in consultation" about changes.

Finally, VOTF members here are edging toward taking a public stand on actions they believe Bishop William Skylstad and Cardinal Francis George, who heads the Archdiocese of Chicago, should take.

Both men, who previously served as bishops of the Yakima Diocese, have recently been under fire by church reform groups for their handling of abuse cases.

The national Voice of the Faithful has called for George to step down as vice president of the U.S. Conference of Catholic Bishops. This follows revelations that George failed to remove a priest even after he knew about his past sexual misconduct.

Thibault agreed with this stand, noting that George has been accused of not following his own guidelines. Though he stopped short of calling for Skylstad's resignation as president of the bishops' group, Thibault said that if Skylstad were in a civil situation, he would probably be forced to step down.

Secrecy in cases of church matters is unacceptable, Thibault added; openness with parishioners is the clear path to solving abuse problems, he said.

"It's the only way to heal," Thibault said.