Former Priest Arrested for Child Abuse

WUSA [Maryland]
May 13, 2006

http://wusa9.com/news/news_article.aspx?storyid=49295

Detectives from the Montgomery County Police Family Crimes Division have been investigating the report of sexual abuse by a priest that occurred 26 years ago, but was reported to them in March of this year.

The investigation revealed that the now-42-year-old male victim from Silver Spring, had been abused by his priest when he was 17 years old. In 1980, he had sought counseling from the priest who served St. Peter's Catholic Church in Olney, because the victim was going through a difficult time in his life. A meeting was scheduled with the priest in his rectory which was then located in a single-family home at 104 King William Drive in Olney.

When the victim arrived, he was escorted by the priest to his bedroom which he also used as an office. After an initial verbal discussion, the priest offered the victim a massage which escalated to a sexual act. The victim continued to attend the church but avoided contact with that priest. On March 11, 2006, the victim reported the previous sexual assault to police because he had just recently come in contact with him while the victim was working at a local store, and the now former priest had requested by note that they meet socially.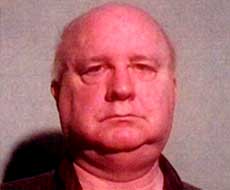 William McSherry Stock


Today, William McSherry Stock, age 63, of the 13800 block of Parkland Drive in Rockville, was arrested and charged with custodial child abuse. He is currently being held at the Montgomery County Detention Center on $100,000 bond.

Stock was ordained as a priest in 1969. In the course of his priesthood he served at St. Jane de Chantel in Bethesda, Mt. Calvary in Forestville, at St. Peter's from January of 1974 through December of 1983, Our Lady Queen of Peace in Washington, D.C., and St. Paul's in Damascus. He has not served as a priest since 1985. He registered to be a substitute teacher for the Montgomery County Public School system in the fall of 2003, but was only listed for possible employment by them through March of 2004.

Anyone who has information about any improper conduct involving Stock is asked to call the Montgomery County Police Family Crimes Division at 240-773-5400 and ask for Detective Louvenna Pallis. Those who wish to remain anonymous should call Crimes Solvers of Montgomery County at 1-866-411-TIPS (8477).