80-Year-Old Catholic Priest in Gates Charged with Sex Abuse

WROC [Gates NY]
May 17, 2006

http://www.wroctv.com/news/story.asp?id=23014&r=l

Reverend John J. Steger, pastor of St. Jude the Apostle Church on Lyell Road in Gates, is accused of sexually abusing a 12-year old girl inside the church rectory on two separate dates.

Steger is charged with two counts of sexual abuse and two counts of endangering the welfare of a child. Her turned himself into police Wednesday afternoon.

The Roman Catholic Diocese of Rochester has placed Steger on administrative leave. Steger will not be allowed to engage in any public ministry.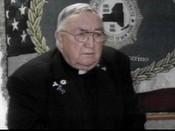 Reverend John J. Steger


Rev. Steger has served with the Diocese of Rochester since 1951. Before becoming pastor at St. Jude the Apostle in 1968, he served at St. Theodore Church in Gates, St. Alphonsus Church in Auburn and St. Joseph Church in Wayland.

Victims of abuse by any representative of the Church are being encouraged by the Diocese of Rochester to contact civil authorities. For help and guidance, call Barbara Pedeville, victims' assistance coordinator, at 585-328-3228, extension 1215.