Archdiocese Offers Mediation to Sex Abuse Victims
Chaput Hires Firm to Seek Settlements in Alleged Abuse Cases

By Jean Torkelson
Rocky Mountain News [Denver CO]
May 24, 2006

http://www.rockymountainnews.com/drmn/local/article/0,1299,DRMN_15_4725648,00.html

The Archdiocese of Denver is offering to mediate settlements with 30 adults who have filed lawsuits claiming that they were molested as youths by two former priests, Archbishop Charles Chaput said Wednesday.

Chaput has hired a mediation firm that will try to reach settlements with plaintiffs who said they were assaulted between 27 and 50 years ago by either of two priests, one now dead and the other defrocked.

"I cannot say often enough or strongly enough: We sincerely want to help any victim of clergy sexual abuse heal," Chaput said during a news conference.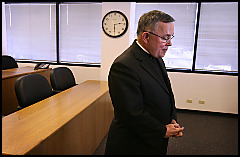 Archbishop Charles Chaput, in announcing an offer to mediate settlements with 30 adults who claim they were molested as youths by priests, said, "I cannot say often enough or strongly enough: We sincerely want to help any victim of clergy sexual abuse heal."
Photo by The Maria J. Ávila/News


One attorney for a group of plaintiffs declined to comment. Another called Chaput's actions a ploy by the church to escape accountability for its actions.

The mediation process, which has been tried in other dioceses, will be led by former Judge Richard W. Dana of Judicial Arbiter Group, Inc. Also serving with Dana are Heather Coogan, a former Denver deputy police chief, and John E. "Jack" Dahlberg, a rehabilitation consultant.

Plaintiffs have 90 days, beginning immediately, to contact Dana and begin the process. It will conclude no later than 150 days from today. Dana said the archdiocese has given the mediation panel total control over each case, including the amount of compensation for each.

Chaput said the amount of money the archdiocese has dedicated to the mediation process is "significant" and "a very large sum," but he wouldn't say how much.

Dana and Chaput said that the archdiocese wouldn't require confidentiality in the settlements, though plaintiffs might. Chaput added that the archdiocese would turn over any documents that the judicial services firm needs to do its work.

Dana said the offer was sent Wednesday morning to the plaintiffs' attorneys, who are variously based in Denver, St. Paul, Minn., and Miami. The archbishop said the attorneys did not respond to several previous offers of mediation.

Jeffrey Anderson, a St. Paul-based attorney who is handling 15 of the Colorado cases, said Wednesday that he will leave it up to his clients to decide if they want to take advantage of the offer.

But Anderson said the offer doesn't address a major objective: to open the church's personnel files so plaintiffs can search for evidence beyond the current cases involving the two priests, the Rev. Leonard Abercrombie, now dead, and the defrocked Rev. Harold Robert White.

However, Chaput added, "just as the media doesn't release the personnel files of its employees, we don't either."

Chaput said he had instructed the mediation panel not to consider the statute of limitations when deciding the cases - in other words, to proceed even if the claim might be found by a court to have exceeded the deadline for filing a lawsuit.

That issue became a huge battleground during the state legislative session when lawmakers offered bills that would have removed the civil statute of limitations for filing lawsuits involving long-ago allegations. Those bills failed.

The archdiocese wants to compensate victims, no matter how old the cases, Chaput said, even though it was church leaders of the 1960s and '70s who figure in the lawsuits.

Said Chaput: "If this neutral mediation process works, which is my great hope, the healing process for plaintiffs can begin now, not years from now."

Miami-based Adam Horowitz, who represents 13 plaintiffs who were allegedly abused by White and six allegedly abused by Abercrombie, declined to comment on the archdiocese's move or how his clients would likely react.

"We're going to discuss this proposal with our clients on a case by case basis," he said.

Anderson represents 14 alleged victims of White, and one who claims to have been abused by Abercrombie.

"This action by the archdiocese to make public this initiative is simply an attempt to avoid having to answer questions in open court on what he (Chaput) knows and what he's done to protect known pedophiles," Anderson said.

"By making an overture to settle for money with these folks is really a clever attempt by him to avoid the process that would require him to come clean with all the secrets he's kept for so many years."

Chaput has been archbishop in Denver since 1997.

While the attorneys said they represent a total of 34 clients, the archdiocese can account for 30 lawsuits that actually have been filed against it, said Jeanette DeMelo, Chaput's spokeswoman.

Dana said that if additional people come forward, their claims also will be considered by the mediation panel.

In the meantime, the next court date for both attorneys is May 31 in Denver.

David Clohessy, executive director of Survivors Network of Those Abused by Priests, said that because Chaput arranged the mediation, Clohessy doesn't have confidence that the results of the Judicial Arbiter Group would be fair and impartial.

"As long as one side is picking the people, it's hard to consider it independent," Clohessy said.

The Diocese of Pueblo, meanwhile, is in the initial stages of considering a mediation process, said diocesan spokesman Monsignor Mark Plewka. That diocese faces 17 complaints from alleged victims against Brother William Mueller while he was teaching at Roncalli High School, which closed in 1971. Mueller denies the allegations.

A variety of backgrounds

The three people who will try to reach settlements with plaintiffs in sex-abuse lawsuits against the Denver Archdiocese have varied backgrounds: courts and arbitration, law enforcement, and rehabilitation.

Richard W. Dana, a former Boulder District Court judge, co-founded the Judicial Arbiter Group Inc. in 1984. JAG deals with civil cases involving personal injuries, professional malpractice, product liability, domestic relations, employment and other such disputes.

Dana, a native of Illinois, grew up in Texas and received his undergraduate and law degrees from the University of Colorado. He began practicing law in Tucumcari, N.M., where he also worked as a part-time prosecutor.

Dana has also been a deputy DA in Arapahoe County and an assistant district attorney in Boulder County.

He was appointed as a Boulder County Court judge in 1972 and was appointed as a District Court judge in 1972. He was the chief judge of the 20th Judicial District in 1983. He resigned from the bench in 1984, just before launching JAG.

Heather Coogan is chief of the Auraria Campus Police and a former Denver deputy police chief who retired from the department in 2000.

She grew up in north Denver's Quigg Newton housing projects. She became a policewoman at age 18 and, after three years on the force as a traffic and DUI enforcement officer, decided to make police work her career.

Coogan later worked auto theft, property crimes and burglary investigations, rising through the ranks to detective, sergeant, lieutenant, captain and division chief before becoming deputy chief of administration in 1999.

John E. "Jack" Dahlberg, a Minnesota native, is a certified rehabilitation specialist and president of Dahlberg and Associates, a firm specializing in rehabilitation consulting for people with catastrophic injuries. Dahlberg has worked in the field of disability and rehabilitation management for 30 years and was co-founder of the Spinal Cord Injury Fertility Clinic at Craig Hospital.

Dahlberg, who earned his undergraduate degree at the University of Minnesota and his master's degree in vocational counseling from the University of Northern Colorado, suffered a broken neck in a skiing accident in 1968. The accident left him a quadriplegic, and he decided to turn his experience to helping others cope with their injuries.

He has extensive experience as an expert witness on the effect of injuries on individuals, their future needs and how to compensate victims who have filed lawsuits.

torkelsonj@rockymountainnews.com or 303-892-5055.