Accused Priest Cannot Minister
Sex-Abuse Claim Deemed 'Credible'

By David Yonke
Toledo Blade
May 24, 2006

http://toledoblade.com/apps/pbcs.dll/article?AID=/20060524/NEWS10/605240350

A Toledo priest who spearheaded a $60 million capital campaign for the diocese in 2001 has been barred from ministry over allegations of child sexual abuse.

The Rev. Robert J. Yeager, 68, is accused of molesting a boy nearly 30 years ago.

The diocese said in a statement yesterday that the abuse allegations first surfaced in 2004 but that it took until now for its review board to obtain "specific information sufficient to conclude that the allegations [are] indeed credible."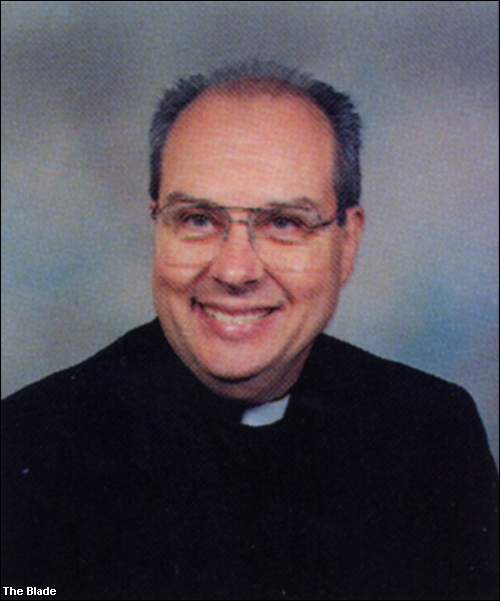 Rev. Robert J. Yeager


Father Yeager, who led the diocese's "One Faith ... Many Blessings" fund-raising campaign in 2001 and 2002, worked as a "planned giving consultant" for the diocese from 1997 until his retirement in July, 2005.

He is still listed as executive director of Diocesan Fiscal Management Conference, a private firm based in Waterville that provides dioceses around the country with advice on financial investments and spiritual growth.

Father Yeager could not be reached for comment yesterday.

"We are delighted," said Catherine Hoolahan, a Toledo attorney who represents the victim. "My client was very happy to have the allegations deemed credible and feels that children are safer today."

Ms. Hoolahan said she also represents another man who alleges he was abused by Father Yeager in the 1960s.

The two victims and Ms. Hoolahan have been meeting with attorneys for the diocese since 2004 but neither man has filed a lawsuit or criminal charges against the priest.

The other victim was a student at a Catholic school in Delphos, Ohio, in the 1960s when the alleged abuse took place. Contacted yesterday, the second victim said he would not comment.

Ms. Hoolahan said the diocese should have acted sooner in taking action against Father Yeager. "I wish they had done it two years ago, but I'm glad the church did it, even if it is late."

Claudia Vercellotti, of the Toledo chapter of the Survivors Network of those Abused by Priests, also was critical of the diocese's timing.

"What happened in the intervening 24 months? Why wasn't he placed on administrative leave while they investigated?" Ms. Vercellotti asked. "Bishop [Leonard] Blair failed the community miserably because they did not name him in 2004."

She said the diocese knew of allegations against Father Yeager for years.

Father Yeager is the 10th Toledo diocesan priest to be barred from ministry and the first since Gerald Robinson was placed on leave after his arrest on murder charges in April, 2004. Robinson was convicted May 11 in the 1980 ritual killing of Sister Margaret Ann Pahl.

Father Yeager, ordained in June, 1962, has spent much of his career in the priesthood as an educator and has a doctorate in education.

He served as principal and pastor at four Catholic high schools in the diocese: St. John, Delphos, from 1965 to 1967; Saint Mary, Sandusky, 1967 to 1973; Tiffin Calvert, 1973 to 1980, and Cardinal Stritch, Oregon, from 1991 to 1997.

He also served as pastor, assistant pastor, chaplain, or in other capacities at Immaculate Conception Parish, Ottoville (1963-1964); St. Vincent de Paul, Toledo (1964-1965); St. Charles, Toledo, and St. Mary, Sandusky (June to September, 1968); Tiffin State Hospital (1973-1979), and Tiffin Ursuline Sisters (1963-1980).

Father Yeager was vice president for development for the National Catholic Educational Association and executive director, secondary schools, from 1980 to 1987.

Contact David Yonke at:
dyonke@theblade.com
or 419-724-6154.