More Church Ladies in 'Scandal'
5th Ave.'s Randy Rev. Lured Others: Suit

By Dareh Gregorian
New York Post
May 27, 2006

http://www.nypost.com/news/regionalnews/69217.htm

A randy reverend who was having an affair with a parishioner to whom he was giving "marriage counseling" tried to tempt other female members of his flock as well, court papers charge.

The Rev. Thomas Tewell - who's being sued by former Fifth Avenue Presbyterian Church parishioner Joseph Vione for carrying on trysts with his wife while he was supposedly counseling them - allegedly tried the same maneuver on others.

In court filings made public yesterday, Vione said that in 2002, three anonymous church members complained to a church official that Tewell "had exploited his position" at the East Side church "to prey on women to whom he was providing spiritual and marital counseling for the covert and clandestine purposes of surreptitiously engaging in illicit relationships."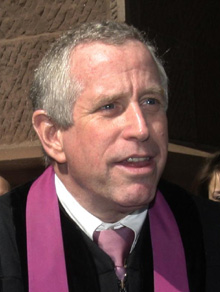 TRYST-SLAP: Presbyterian minister Thomas Tewell (above) seduced Rachel Vione while giving her marriage counseling, her husband Joseph claims. His suit says the church looked the other way.
Photo by Dan Brinzac


The church "failed and/or refused to investigate" the allegations - allowing Tewell, 56, and Rachel Vione, 42, to carry on their affair for years, the suit says.

Tewell's lawyer, Herb Teitelbaum, scoffed at the new allegation. "This is a trumped-up case, from beginning to end," he said.

But in a landmark decision released yesterday, Manhattan Supreme Court Justice Shirley Werner Kornreich allowed Vione's $6 million suit against the priest and the church to move forward. The judge found that the suit "alleges acts of disloyalty and injurious conduct" and that church officials could be culpable for looking the other way.

Kornreich wrote that the legal claims could prove Tewell was "deceiving plaintiff and undermining his marriage, while continuing to act as his marriage counselor."

The unholy communing apparently started in January 2002, which is when Vione's suit says his leggy blond wife started attending more and more of Tewell's church "meetings."

That May, Tewell asked the couple to come over to his house to tell them three anonymous church members had alleged to church officials that Tewell and Rachel were having an affair, the suit says. Both denied the charge to their spouses.

Vione said he wanted an investigation done to clear their names, but a church clerk talked him out of it, the suit says. Tewell "urged [Vione] to continue to attend marital counseling" and urged he and Rachel "to attend more of the weekend long 'marriage retreats' in upstate New York," the suit says.

Rachel came clean about her relationship with the reverend in January 2005, and Vione is now suing her for divorce.

Vione's lawyer, Francis Fineo, said his client was pleased with Kornreich's ruling.

Teitelbaum said he planned to appeal. He noted that Kornreich had dismissed some of the claims against Tewell and the church, and predicted that the whole case would eventually be tossed because Tewell "never counseled" Vione.

dareh.gregorian@nypost.com