Hard Call for Church Accusers
Victims of Alleged Priest Abuse Weigh Mediation Offer

By Eric Gorski
Denver Post
May 28, 2006

http://www.denverpost.com/news/ci_3873615

The 30 adults who have taken the state's largest religious institution to court face a difficult decision in the coming weeks.

They can make peace with the Catholic Church, take home a check and, most likely, never learn more about their alleged perpetrator. Or they can take their chances in court and possibly walk away with an even bigger payout and a stack of documents - or nothing at all.

By hiring a mediator to negotiate with plaintiffs who allege they were sexually abused as minors by priests, Denver Archbishop Charles Chaput has proposed a solution that could save the church money and public embarrassment while giving accusers privacy, money to heal and a quicker resolution, experts say.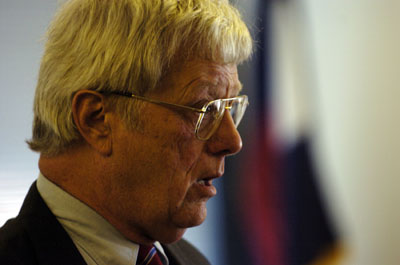 Former state District Judge Richard Dana leads an independent three-person panel.
Photo by The Post/Hyoung Chang


"It's a double-edged sword," said Matt Garretson, a Cincinnati lawyer who has brokered settlements with clergy sex-abuse victims in Cincinnati and Louisville, Ky. "A private process will give some victims peace. The downside is it allows a very bad situation to go without a full accounting or full accountability for what occurred."

Chaput last week announced that the archdiocese has hired mediator Richard Dana, a former state district judge, to head a panel that in the next five months will seek to settle all 30 lawsuits against the church.

Tom Koldeway of Anchorage, Alaska, among the first men to sue the archdiocese alleging child sexual abuse at the hands of former priest Harold Robert White, said he wants more information before deciding to meet with Dana. But Koldeway, like others, said he is interested in more than money.

"I still want to know what they knew and when they knew it," Koldeway said. "This all began to remove the cloak of secrecy."

Dana said the archdiocese has agreed to give him access to church records he needs.

But that doesn't mean victims will see them in mediation. Fran Maier, chancellor of the archdiocese, said the archdiocese would need to authorize such disclosure and that's unlikely because of the pending litigation and because the church has consistently protected the privacy of all those involved.

"I can't see how we can give up privileged information in the process of having to defend the people of the archdiocese," Maier said.

Saving money, time, pain

Dana, who helped negotiate settlements with the families of victims in the 1999 Columbine High School massacre, describes mediation as the best approach for all parties, a way to save years, legal expenses and emotional wear.

In most mediation scenarios, the parties split the cost. But in this case, the plaintiffs' lawyers rejected the church's previous offers to mediate.

Although the archdiocese alone is paying Dana - he charges $350 an hour - the former judge said that does not influence his decision-making.

"My emotional job-satisfaction comes from getting cases resolved," Dana said. "I'm neutral by both long experience and all my training."

Dana's Judicial Arbiter Group, a prestigious collection of former state and federal judges, recently could boast that 90 percent of its cases were settled out of court, but Dana said the rate has risen with more complex cases.

In determining a just settlement, Dana said he will weigh the cost of medical treatment and counseling as well as damage done to each career and quality of life, among other factors. He said the panel will not seek to prove or disprove allegations.

Dana also will consider how much the archdiocese has agreed to pay, which church officials will only describe as a "significant sum."

If other U.S. dioceses' experiences are any indication, the sky is not the limit.

A victim's fund established in 2003 as part of a plea bargain in a criminal case against the Cincinnati archdiocese was limited to $3 million because of a provision of canon law, or church law, that restricts how much money can go into such funds without special approval from the Vatican, said Dan Andriacco, spokesman for the Ohio diocese. The limit since has been raised to $6 million, he said.

The Diocese of Albany, N.Y., hired a mediator to distribute $5 million to victims of clergy sexual abuse, whether they've sued or not. Payouts there have ranged from $40,000 to $70,000 each.

Settlement limits unclear

Jeanette DeMelo, spokeswoman for the Denver archdiocese, said in an e-mail that a diocese's size also plays a role in how much it can set aside without Vatican approval. While DeMelo said the archdiocese has "had ample time to meet Vatican requirements," she would not say whether local church officials sought special approval.

"We hope to start the healing process now rather than years from now," DeMelo said. "We hope that we can offer healing to victims without having to go through a long adversarial process that can prolong the hurt and retraumatize victims."

By settling out of court, the archdiocese also could avoid disclosure of internal church documents that have badly damaged the church in Boston and Philadelphia, said Marci Hamilton, a New York law professor who testified in favor of a failed bill that would have made it easier to sue the church in Colorado.

If the accusers refuse mediation, they run the risk of walking away with nothing if their lawyers' creative arguments around the state's statute of limitations restrictions fail to work.

"Many victims are going to take the mediation," predicted David Clohessy, executive director of the Survivors Network of Those Abused by Priests. "Victims feel pressure from family members, loved ones, saying: 'This might be as good as it gets. Take it and run. Your other noble goals - why don't you let that all rest?"'

Also part of the equation are the plaintiffs' attorneys. Doug las Laycock, a law professor at the University of Texas and former counsel to the U.S. bishops' conference, said lawyers tend to want a big payout and larger client base by getting church files, while their clients are often more ambivalent.

Plaintiffs "want compensation, but they want assurances the system has been fixed and bishops won't stand by while something like this happens again," Laycock said. "They're often more interested than their lawyers in a solution that works for both sides."

As in Denver, the mediation in Albany is led by a former judge. Retired appeals Judge Howard Levine has mediated deals with about 35 victims since 2004, awarding $1.65 million.

"For most victims, the money was not necessarily the primary reason for going through it," Levine said. "They really wanted to get some kind of closure and some kind of resolution from the diocese taking responsibility and expressing remorse."


Staff writer Eric Gorski can be reached at 303-820-1698 or egorski@denverpost.com.