'He Preyed on the Weak Ones'

By Rita Savard
Lowell Sun
May 29, 2006

http://lowellsun.com/front/ci_3877861

David Lyko measures time through his trailer windows.

When sunlight streams in, he knows it's time to wake up. When it grows dark, it's time to sleep.

It's Saturday. But Lyko asks what day it is. He no longer keeps track of calendars or schedules. Days and nights blend together, like the succession of rings swirling around him from the Marlboros he chain-smokes.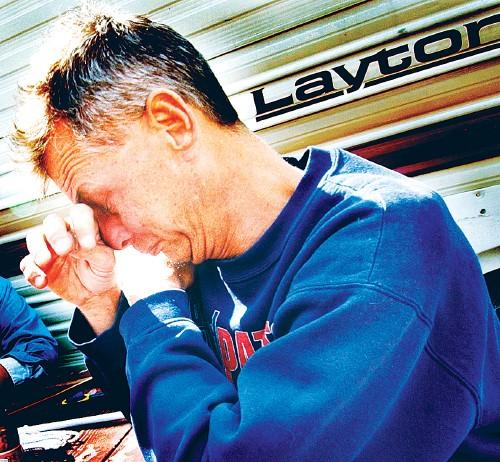 David Lyko of Brookline, N.H., breaks down while talking about the abuse he suffered as a child at the hands of a priest in Lowell. Lyko has been in and out of jail and rehab, and battles depression.
Photo by The SUN/DAVID H. BROW


For two years, Lyko's house on wheels carried him from one Wal-Mart parking lot to the next. He defecated in pizza boxes and went on binges during which his only food was beer. He was running, trying desperately to escape a childhood nightmare. Except the monster under his bed eventually caught up to him. And broke him.

The boogeyman was his childhood priest, the Rev. Joseph Birmingham -- the one man Lyko's parents always told him was his closest connection to God. Lyko was one of several altar boys at St. Michael Parish in Lowell who were fondled or raped by Birmingham. He was also one of the first to come forward about his molestation, helping to unveil decades of sexual abuse committed by priests and covered up by the Roman Catholic Archdiocese of Boston.

In 2003, Lyko was among the first group of more than 552 people abused by priests to split an $85 million cash settlement from the archdiocese. Lyko says his share was about $100,000 after lawyer fees. After the check was cut, Lyko says the church lost touch. Three years later, the money is gone. So are his wife, his two children, his Dracut home and his postal job of 20 years.

Tall and thin, with an ashen pallor, Lyko is a ghost of the man he used to be.

Bound by depression and an addiction to alcohol, Lyko remains in limbo. He learned he cannot hide from the images that haunt his nightmares and daydreams. His home is a trailer park in Brookline, N.H., where he is trying to survive.

He has company for the first time in months and offers to give a tour of his newest luxury: a trailer that he labored over for hours to gain an extra 8 feet of living space.

The 38-foot Citation trailer took Lyko and a friend three days to disinfect. The mobile home was his for free on the condition that he clean it.

"I'll actually be able to have a couch and a chair," Lyko says proudly. "I haven't sat on a chair with arms in about two years."

The trailer was owned by a park resident who disappeared without paying several months rent. When the landlord entered the abandoned vehicle, he discovered a makeshift outhouse.

Lyko said the cleanup has made him sick more than once, but he says being able to watch TV while sitting on a chair instead of his mattress will be worth it.

"It's going to be like a palace compared to what I'm in now," he says.

Olan Horne of Lowell listens to Lyko talk about his move. Horne smiles at his friend's enthusiasm. He likes to see Lyko smile. They are best friends.

During the past four years, Horne has watched Lyko go in and out of jail and rehabs, all the while battling depression. In 2005, Horne feared the worst when Lyko stopped eating, continued drinking and grew too weak to get out of bed. At his lowest point, Lyko lost his will to live and requested that a priest give him the last rites.

The two men have known each other since childhood. They were both molested by Birmingham.

"He preyed on the weak ones," says Horne.

While attending St. Michael's, Lyko's father died of cancer. Birmingham took Lyko under his wing. Then the touching began. Lyko was fondled in the sacristy after serving morning Mass. He was 10.

Horne was the same age. After he was sexually abused by a family member, Horne went to Birmingham for help. The priest drove a nice Cadillac and took Horne out for ice cream.

"I thought he cared about me," Horne says.

But it didn't take long before Horne became another of Birmingham's young victims.

Birmingham served at St. Michael's from 1970 to 1977. He served in five Massachusetts parishes from 1961 to his death in 1989. About 120 people have come forward with claims that Birmingham sexually abused them.

Thirty years after their abuse at the hands of Birmingham, Horne, Lyko and some others from St. Michael's saw Birmingham's picture on the front page of The Sun after the first allegations of abuse were publicized. In 2002, the first meeting of the Survivors of Father Joseph Birmingham was held on the back porch of Lyko's former Dracut home.

Horne's father is buried 20 stones away from Birmingham in St. Mary's Cemetery in Tewksbury. Birmingham's grave is also visible from family graves of at least a half-dozen more survivors abused by the Lowell priest.

A report released by the Roman Catholic Church in 2004 states that more than 4,550 priests across the country have had more than 11,000 allegations

of abuse levied against them since 1950. Since 2003, more than 200 Massachusetts priests have been investigated for sexually abusing children.

Horne, who has become an outspoken activist against the sexual abuse of children, says children who are molested grow into adults who wrestle with substance abuse, mental disorders, depression and suicide.

Horne is outraged that the Roman Catholic Church -- the largest religious body in the world -- hasn't done more outreach work to help survivors.

"If I didn't have my wife and kids supporting me in this, I would be just like David Lyko," Horne says, adding that countless others are living lives similar to Lyko's.

"Someone else dies every month," Horne says. "What do you think happens when you hand a check to drug addict or a drunk? You can't just cure years of abuse with a check and have it be over."

Lyko says the archdiocese helped put him in a rehabilitation program after he spent some time in jail. But Lyko turned back to alcohol in a bout of depression, and he says the archdiocese refused to pay for further treatment because he had a relapse.

The archdiocese says the church has made a commitment from the heart to help heal and comfort survivors.

"The office of pastoral outreach and support strives to find what survivors would find most meaningful," says Ann Carter, spokeswoman for the Boston Archdiocese. "The church has conducted, and will continue to conduct, healing Masses requested by survivors and their families."

During the next nine days, Cardinal Sean O'Malley will lead services in parishes where children were sexually abused by priests. He will appear at St. Michael's tonight.

"Publicly acknowledging the church's faults and failures is an important element of asking forgiveness of those who have been harmed by the church," O'Malley says in a statement.

Carter says the archdiocese spends about $1 million each year in therapy to survivors and their families. Since 2002, more than 400 people have received therapy, she adds.

Horne says he believes O'Malley is trying to do something good by publicly acknowledging the abuse, but he feels victims will need more to recover than a week's worth of Masses.

Bernie McDaid was molested by Birmingham at St. James in Salem, Mass. McDaid's mother was one of four mothers who came forward with complaints against Birmingham. The priest was shuffled from Salem to Lowell.

McDaid walked Lyko's path about 30 years ago. From the age of 14 to 24, McDaid says he didn't know what it was like to take a sober breath. Years of therapy has helped him curb his addiction and rage. At 49, he's still coping.

"When you're raped by your priest, it blows a fuse in your mind," McDaid says. "You have to question God, your father and your mother because of their belief in their institution, and the priest that is supposed to be the closest thing to God. Everything you thought you knew shatters."

By confronting the past, Lyko's life as he knew it came undone. His drinking ended his 30-year marriage to his high-school sweetheart, Sheryl. When he mentions his two sons, he starts to sob.

"I didn't want to leave them without a father," he says.

Lyko's face is kind. His words are sincere. His hands are always in motion, whether guiding a cigarette to his lips or helping him illustrate a story. When he shows off his collection of items found at the local dump or in the woods, including antlers shed by deer, sticks chewed by beavers or the board game Operation, his eyes light up with the enthusiasm of the boy still inside. In all his accounts, he never utters a negative word against the Catholic Church.

He tells his story of meeting Cardinal Bernard Law before Law resigned as archbishop of Boston and was appointed archpriest of St. Mary Major Basilica in Rome by Pope John Paul II. Lyko liked Law, describing him as "one of the guys you could drink a beer with."

One day, while driving by protesters on their way to meet with Law, Lyko saw an old man holding a sign that read: "Law is a pimp."

"I felt sorry for him," Lyko says. "Imagining the weight he must have been carrying."

Rita Savard's e-mail address is rsavard@lowellsun.com.