Priest Resigns over Allegations of Sexual Misconduct

By Brandie Meng
WNEP [Pennsylvania]
May 31, 2006

http://www.wnep.com/Global/story.asp?S=4966521&nav=5ka4

A Roman Catholic priest in Luzerne County has resigned after allegations of sexual misconduct involving two women years ago.

Monsignor J. Peter Crynes was most recently the pastor of Saint Therese Parish in Shavertown. The bishop of the Diocese of Scranton said the monsignor has moved out of the parish and is no longer involved in any church assignments. An investigation into the allegations continues.

Msgr. Crynes also served as assistant pastor at St. Patrick Church in White Haven and Holy Rosary Church in Scranton. He was administrator and pastor of Corpus Christi Church in Montdale from 1988 to 1994.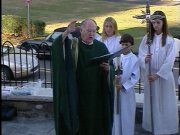 Monsignor J.Peter Crynes, seen here last year at a church blessing, resigned as pastor of a church in Luzerne County after allegations of sexual misconduct arose.


The sound of music rang from the Saint Therese Church in Shavertown as the choir rehearsed Tuesday night.

It was as if it was a sign that the parish is staying strong despite the announcement that their pastor resigned.

Many in the parish were surprised to learn the news. The announcement of the allegations was made during the weekend masses. Parishioners were also informed that Msgr. Crynes had already moved out of the rectory and was no longer involved in church assignments.

"I had a total meltdown at Mass. I had to walk off the altar. I was cantering Mass and I had to have someone come up and finish the last song. I couldn't deal with it anymore," said Wayne Williams of Trucksville.

"I think a lot of parishioners will rally right behind him. He's a great man and done a lot for the church. He's just a great man," said Jeanne Kapral of Shavertown.

Some parishioners said their thoughts and prayers are with Monsignor Crynes and they pray that one day he will be able to join them again in Mass.

"I would want him back in a heartbeat. Absolutely," Williams added.

"I would love him to come back. He will always be the pastor in my heart," said Nancy Balautis of Dallas.

One parishioner said despite his support for Msgr. Crynes his prayers are also with the two women who are making the allegations.

Counseling will be available for parishioners at Saint Therese. Counselors from Mercy Consultation Center will be at the parish hall Wednesday, May 31 after 9 a.m. Mass and at 7 p.m.