Healing, Helping
Support Group Looks to Assist Victims of Clergy Abuse

Press-Enterprise [Long Beach CA]
June 5, 2006

http://www.pe.com/localnews/inland/stories/PE_News_Local_D_snap05.db81cec.html

Pat Olivas reluctantly agreed to accompany his mother to a Long Beach potluck meeting of clergy-abuse victims, fretting that he would be pressured into discussing the childhood molestation he says he claims to have suffered at the hands of an Inland priest.

Instead, the 41-year-old Ontario man found himself unchaining the painful private memories that he struggled to bury for three decades, sharing his experiences with others who had been abused by Roman Catholic priests.

The cathartic moment last year proved a turning point.

"It was comforting that I could talk to other people who understood what had happened and what I had gone through without any judgment," Olivas said of the gathering, organized by the Survivors Network of those Abused by Priests, or SNAP, a nationwide self-help and advocacy group.

Inspired by the experience, Olivas recently formed the first Inland chapter of SNAP to offer help and support to other victims of clergy abuse.

"Being around other survivors is all about acceptance, and that's been a tremendous help to me," said Olivas, who describes his volunteer work as SNAP's Inland director as his own form of therapy.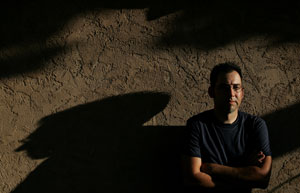 Pat Olivas, 41, of Ontario, a divorced father of three, recently has formed the first Inland chapter of the Survivors Network of those Abused by Priests, a nationwide self-help and advocacy organization.
Photo by Stan Lim/The Press-Enterprise


Mary Grant, western regional director of the 6,600-member SNAP, said she urged Olivas to form the Inland chapter. She said she was impressed by Olivas' compassion and ability to work with other victims even as he struggles with his own past.

"There was a great need for it in the Inland Empire, but one of the things that is so challenging in starting SNAP work groups is that we recognize how wounded we all are," Grant said. "It's like we are wounded, and we are out there still trying to get the bodies out. It feels like a triage unit."

Grant said California's eight SNAP chapters have about 1,500 members, many in groups operated in Los Angeles, Orange and San Diego counties.

SNAP frequently criticizes Catholic church leaders, accusing them of shielding pedophile priests and failing to do enough to protect children since the clergy-abuse scandal became public three years ago.

Diocese's Response

Officials with the Diocese of San Bernardino have had little direct contact with SNAP, said the Rev. Howard Lincoln, spokesman for the million-member diocese that encompasses Riverside and San Bernardino counties.

"We have with SNAP the common goal of promoting healing and closure for victims of sexual abuse, and we continue to urge anyone who has been abused to come forward and begin this process," Lincoln said.

The diocese is named in at least 20 lawsuits that allege sexual abuse by a priest or religious brother.

Olivas and his younger brother are suing the Diocese of San Diego, alleging that they were molested by the Rev. Edward Anthony Rodrigue in the late 1970s at St. George Catholic Church in Ontario. The San Diego Diocese managed Inland parishes until 1978.

Rodrigue, who has told authorities that he had molested five or six boys annually during his 20 years as a cleric, voluntarily left the priesthood in 1992. Six years later, he pleaded no contest to charges of molesting a developmentally disabled boy in Highland. After serving several years in prison, Rodrigue was paroled to San Bernardino in January.

After his release, Rodrigue expressed regret for his involvement with the Olivas brothers and asked for their forgiveness.

Olivas says he was about 11 when he was molested. He said he largely kept the abuse a secret, revealing it to his parents about five years ago.

"I always felt a tremendous amount of guilt after finding out my brother had been molested. If I had said something, maybe his abuse wouldn't have been so severe," said Olivas, a divorced father of three.

Leaflets and Demonstrations

Olivas said he became increasingly active with SNAP during the past year, attending demonstrations and helping distribute leaflets warning about accused priests at several Inland and Los Angeles-area Catholic churches.

In some instances, parishioners angrily asked the SNAP volunteers to leave, accusing them of spreading lies.

"The resistance we got -- they thought we were there to target the church, (to) slander the name of church.

"The purpose we were there for was to provide options and opportunities for victims to come out and seek help," Olivas said.

Olivas has not yet organized a SNAP meeting in the Inland area, but he has fielded calls and e-mails from some area residents who said they were molested by priests in the past.

One of those who have contacted him accuses Rodrigue of abuse.

Olivas said he is trying to find that man a therapist.

Isolation and Shame

Grant said sharing experiences of abuse can help shatter the feelings of isolation and shame that grip many victims.

"It takes a tremendous amount of courage for a victim to take the step to go to the support-group meeting and talk to other survivors," Grant said.

"That can be really freeing... Pat's courage to be vulnerable and share his experience with others is a gift to victims who are suffering in shame and silence."

Reach Michael Fisher at 951-368-9470 or mfisher@PE.com