After 83 Years, Dover School to Shut Doors
Sacred Heart Parish Blames Close on Sinking Enrollment

By Daily Record
Daily Record
June 6, 2006

http://www.dailyrecord.com/apps/pbcs.dll/article?
AID=/20060606/COMMUNITIES13/606060358/1203/NEWS01

DOVER -- The 83-year-old Sacred Heart School will close its doors to students this month, after projections for this fall's enrollment show a 50 percent plummet since 2000.

Despite a campaign to boost enrollment by offering parents more after-school activities and a new math and science course for gifted students, the school had just 109 students enrolled in grades K-8 for next fall, down from 229 in 2000. The school needed 142 students next school year in order to remain open.

In a letter to parents dated June 1, Rev. Joseph Farias said there was little to no response from the 1,000 mailed postcards or church bulletin ads about the school's open house. The prekindergarten-through-eighth-grade school was losing 13 students and rumors were that another 12 would follow, leaving the school with fewer than 100 students, Farias said.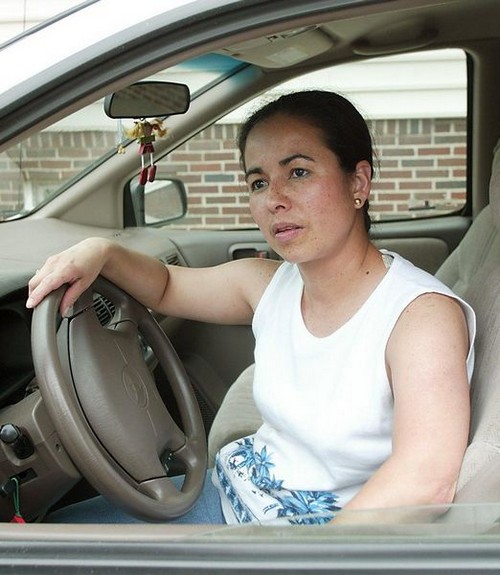 Melba Nieto of Dover, who has three children attending Sacred Heart School, talks about the news of the closing. 'I don't know what we're going to do. It's not easy for us to have the kids go here.'
Photo by Dawn Benko/Daily Record


"Despite our hard work and promises, our enrollment was reversed," Farias wrote. "Since we are already giving the school much more than $100,000, the added cost would force me to close most parish programs, lay off the parish staff and maybe even bankrupt ourselves."

Parents and students said Monday they were aware of the school's enrollment and financial difficulties, but expected to have another year to mount a comeback.

"We were under the impression the school would give it one more big chance and stick it out one more year," said Ronald Pellegrino, president of the Sacred Heart Home and School Association.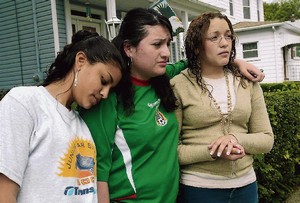 Sacred Heart School students, from left, Lia Weber, Guadalupe Barrios and Temarah Santana react to news the elementary school was shutting its doors after 83 years. The Rev. Joseph Farias, Sacred Heart parish pastor, cited a failed enrollment campaign for the decision to close.
Photo by Dawn Benko/Daily Record


It was only a few months ago that enrollment and fundraising committees were formed, Pellegrino said. And the Dover father recently made next fall's first tuition payment for his 10-year-old daughter.

'Heart-wrenched'

"I'm heart-wrenched," Pellegrino said. "This really is the hidden treasure of Dover ... the teachers and staff, each is nicer than the next."

Melba Nieto, a Dover mother who sends her three children to Sacred Heart, said she hasn't slept since receiving the news Friday.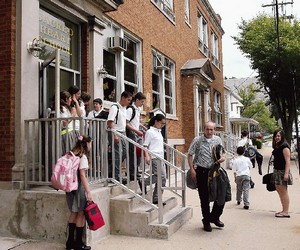 Students leave Sacred Heart School at the endof classes on Monday in Dover. The school had just 109 students enrolled for the next fall.
Photo by Dawn Benko/Daily Record


"I don't know what we're going to do," Nieto said. "It's not easy for us to have the kids go here. We saved, we didn't spend on other things because, for us, education is very important."

Nieto, who works as a housekeeper, and her husband, who works in printing, checked the tuition rates at nearby Catholic schools in Rockaway and Wharton this weekend and found they were more expensive than Sacred Heart. Tuition for one child at Sacred Heart is $3,080. Nieto said she believes the couple may have to send their children to Dover's public schools.

Meanwhile, students said they were trading e-mails all weekend, trying to find out where their friends were going to school next year.

"I feel bad because the school has 80 years and lots of generations have gone here," said Fernando Barrios, 12, of Dover, who attends Sacred Heart with his 14-year-old sister, Guadalupe. "We're sad we don't have enough of a budget and we're also sad because we're going to miss our teachers and classmates -- they're family."

Some students said the short notice about closing in two weeks was unfair. They said the parish should have given the school another year to work out its difficulties.

Unfair to kids

"I think it's unfair for all the other kids who want to graduate from this school," said Gabriela Menna, 13, a seventh-grader from Dover. "I've been here since pre-K and I wanted to graduate from here. I don't know what school I'm going to now."

In his letter, Farias explained that the only way to balance the budget for next year was to enroll at least 142 students. The parish also considered raising tuition by $300 to cover costs, Farias wrote. At the same time, the school was searching for a new principal since the current principal, Sister Johnice Thone, was leaving after 16 years to take on a ministry role at St. Francis Residential Community in Denville.

When the enrollment numbers came in so far short of their goal, Farias said he asked the diocese to agree to close the school. Bishop Arthur Serratelli accepted the recommendation.

"Too many other factors were more powerful than I and those factors are closing the school," Farias wrote.

Farias did not elaborate on the factors for the shrinking enrollment. Marianna Thompson, spokeswoman for the Paterson Roman Catholic Diocese, chalked up the main problem to the "poverty in the area."

Thompson said the key to saving the school was to increase enrollment. The parish was already subsidizing the school at $100,000 a year and could not engage in more deficit spending.

"You have to increase enrollment," Thompson said. "This is not the kind of thing you can do with a bake sale."

The diocese denied that the removal of the parish's former pastor, Msgr. Ronald Tully, had any impact on the school's enrollment difficulties in recent years. Tully was removed as pastor in 2004 and no longer was allowed to function as a priest when sexual abuse allegations dating from 1979 in Long Island, N.Y., resurfaced.

"Parents made other choices or were forced to make other choices because of economics," Thompson said.

No more in Morris

No other Catholic schools in Morris County are slated to close, but the diocese is consolidating schools in Passaic County. St. George and St. Anthony in Paterson are closing and their students will be taken in at the regional Pope John Paul II School in Clifton. Holy Angels School in Little Falls will close to merge with St. James in Totowa to become The Academy of St. Francis of Assisi. St. Nicholas will be merged with Our Lady of Mount Carmel in Passaic.

Thompson said the diocese took stock of its resources and decided regionalizing made more sense because several of the Passaic school buildings were in bad shape.

It is unclear how Sacred Heart will use its school building, but Farias wrote that he hopes to use the building as "an education center for people of all ages." The school's teachers will be placed on a diocesan preferred hiring list and will be considered first for any job openings in diocesan schools.

A meeting will be held at Sacred Heart at 7 tonight for parents to ask questions and get information about other Catholic schools in the area.