Officials Fault Bishop in Abuse Case
Law Requires Prompt Report; New Details of Sonoma Allegations

By Guy Kovner
The Press Democrat
June 22, 2006

http://www1.pressdemocrat.com/apps/pbcs.dll/article?
AID=/20060622/NEWS/606220302/1033/NEWS01
[See below for a chronology of the case and a summary of the reporting law.]

Santa Rosa Bishop Daniel Walsh failed to file a timely report with authorities about possible child abuse by a priest who may have used the delay to flee the country, officials said Wednesday.

New details of serious sexual misconduct allegations against the Rev. Xavier Ochoa, 67, also emerged Wednesday, and authorities are expected to decide today whether to file charges against the priest.

Ochoa, who most recently was assistant pastor at St. Francis Solano Parish in Sonoma, is believed to be in Mexico.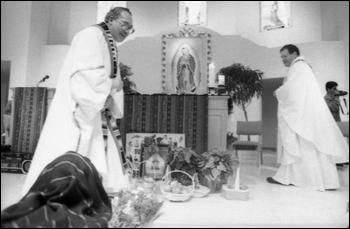 The Rev. Xavier Ochoa, shown here at Windsor's Our Lady of Guadalupe Church in 1994, is believed to be in Mexico.
Photo by The Press Democrat

A chronology of the case shows Ochoa hastily left town between the time he admitted misconduct to Walsh and three other priests and the delivery three days later of the church attorney's report to civil authorities.

The failure to file a more immediate report appears to violate state law, as well as the diocese's well-publicized policy for quickly handling complaints of sexual abuse.

"I don't think it meets the requirements" of the law, said Carol Bauer, director of the county Family, Youth and Children's Services.

Walsh, who consistently has refused to discuss priest misconduct cases, could not be reached for comment Wednesday. He was attending a retreat with diocese priests this week, a church official said.

The District Attorney's Office is expected to decide today whether to file charges against Ochoa, a popular priest known for his service to the Latino community.

Court records showed Ochoa is suspected of molesting or engaging in misconduct with two teen-age boys and a 12-year-old boy, with the most recent case occurring in April.

In an earlier case, Ochoa allegedly showed gay pornographic videos to a 14-year-old boy and taught him how to masturbate at Ochoa's home in Cotati 13 years ago.

In all three cases the children came from Catholic families the priest had befriended.

A chronology of the investigation, provided by Sonoma County Sheriff's detectives and church officials, shows Ochoa admitted improprieties and was suspended by Walsh on April 28. But no report was made to authorities until May 1, three days later, and that report did not meet state standards.

Bauer said a telephone report should have been made within 24 hours to the county's Child Protective Services agency, which maintains a 24-hour hot line. The report should have been made by the priests who learned of Ochoa's alleged crimes, not by an attorney.

Clergy members are among the those required by law to report suspected child abuse or neglect.

By the time sheriff's detectives began looking for Ochoa, he was on his way to Mexico or already there, the court records show.

"We were three days behind and in that period he (Ochoa) was headed south," Sheriff's Sgt. Dennis O'Leary said.

Investigators would have appreciated a more timely report from the church, but O'Leary said he could not be sure it would have changed the current status of the case.

O'Leary said if charges are filed, investigators could ask Mexican authorities for help finding Ochoa, who was ordained as a Jesuit in Mexico in 1969 and became a diocesan priest when he arrived in Sonoma County in 1988.

"We've got a little more digging to do to find out if he's down there," O'Leary said.

On May 4, Ochoa called a fellow priest, the Rev. Frank Epperson, who also worked at St. Francis Solano Church, and left a message saying he was in a Tijuana hospital, according to court records.

Failure to comply with the mandated reporting law on child abuse is a misdemeanor punishable by up to six months in jail, a $1,000 fine or both.

Assistant District Attorney Larry Scoufos said prosecution for a tardy sex abuse report is "highly unlikely" because authorities don't want to discourage people from filing the reports.

Dan Galvin, the diocese attorney, said Walsh took immediate action in suspending Ochoa from all clerical duties. Galvin said he spoke by phone with Walsh on April 29, the day after the bishop and other clergymen met with Ochoa.

Galvin said he did not think the Child Protective Services office was open that day, a Saturday, and faxed the letter to the agency on Monday, May 1.

Then at the agency's direction, Galvin said, he faxed the letter to the Sheriff's Department on May 2. His letter was handed to detectives on May 3, and by that afternoon they interviewed one victim, the 12-year-old boy who allegedly stripped naked for Ochoa after a Sunday church service in April.

About 11:30 p.m. the same day, Ochoa called the Rev. Michael Kelly, pastor at St. Francis Solano Church, and said he was in San Diego, court records said. Ochoa said he was "tired and scared" and asked Kelly for advice.

Kelly told Ochoa to "rest and return to Sonoma," the court record said.

Galvin defended the church's handling of the matter.

"We reacted as quickly as we could and did what we felt we needed to do," he said. "If it wasn't totally in compliance with the law, I guess we'll have to live with that mistake."

Walsh, who came to the sex abuse scandal-plagued Santa Rosa Diocese in 2000, has said appropriate policies for dealing with abuse allegations have been implemented, including training for all church employees and priests.

The diocese's standards, posted on its Web site, say that anyone who is required by law to report sexual abuse "immediately or as soon as is practicably possible by telephone."

Ochoa is the 17th priest from the diocese to be accused of molesting a total of 62 children. In all, the diocese has paid or promised to pay dozens of people nearly $20 million since 1990.

Cindy Vrooman of Sonoma, a Catholic member of Voice of the Faithful, a group of Catholics dedicated to changing the church, said she was unsettled by the Ochoa case.

"My question is did the lag time allow him to get away to Mexico? If he confessed to this and then after that left the country, that's a problem for me," she said.

Vrooman said she wrote a letter to Walsh that said: "You can't say that this is behind us.' "

A national sex abuse victims advocate said the Ochoa case showed Walsh and the Catholic Church have "learned nothing" about handling sexual misconduct by priests.

Walsh should have called police on April 27, rather than conduct his own inquiry, said David Clohessy, national director of the Survivors Network of those Abused by Priests, or SNAP. "He didn't and that's why the priest was able to flee. That's the real crime here."

American priests accused of sexual misconduct have fled to Third World countries, including Mexico, to escape prosecution, Clohessy said.

The Dallas Morning News reported in 2004 that dozens of priests who no longer are eligible to work in the United States have found sanctuary abroad and are working in settings that bring them into contact with children.
APRIL 27: Ochoa tells the Rev. Frank Epperson about "an instance of abuse." Epperson calls the Rev. Daniel Whelton at diocese office, who arranges meeting the next day that includes Ochoa, Epperson, Bishop Daniel Walsh and Msgr. James Pulskamp.
APRIL 28: At meeting, Ochoa admits sexual misconduct with 12-year-old boy. Walsh relieves Ochoa of his priestly duties.
MAY 1: Diocese attorney faxes letter to Sonoma County Child Protective Services regarding possible abuse. Ochoa puts personal property in a storage unit.
MAY 3: Detectives begin investigation and interview boy and his mother. About 11:30 p.m. Ochoa calls a priest and says he is in San Diego.
MAY 4: Detectives visit Ochoa's home, find his clothes gone. Ochoa leaves message on a priest's phone saying he is in a Tijuana hospital.

California's Child Abuse and Neglect Reporting Act requires priests, medical workers, child-care workers and certain other occupations to notify authorities when they know or reasonably suspect cases of child abuse or neglect.
"The mandated reporter shall make a report to the agency immediately or as soon as is practicably possible by telephone." Also, a written report is due with 36 hours.
Failure to report as required under the law is a misdemeanor punishable by up to six months in jail and/or a fine of $1,000.