Accuser Urges Action against Abuse by Priests
Court Decision Gives New Hope, He Says

By Jason Rosenbaum
Columbia Daily Tribune [Missouri]
June 23, 2006

http://www.columbiatribune.com/2006/Jun/20060623News001.asp

As a young boy, Don Asbee said, he suffered stinging anguish at the hands of Catholic priests. But he didn't remember any of it for decades.

"It was my coping mechanism," said Asbee, a 51-year-old metal worker from Hartsburg. "I knew something was wrong from a very early age, but it was just pretty well tucked away until I was quite a bit older."

Asbee said priests at St. Joseph's Parish in Milton, Pa., started molesting him when he was 9 and continued for four years.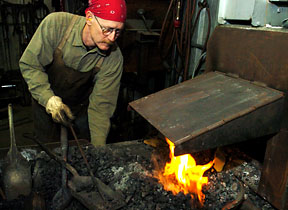 Don Asbee, a Hartsburg blacksmith, works in his shop in April. Asbee, who said he was abused by priests as a child, says people who have recovered memory of clergy sexual abuse should take legal action.
Photo by Don Shrubshell


Asbee said he started having terrifying flashbacks when he was in his 40s. Each one gave insight into what had happened to him.

"Then, little by little, I started realizing it," Asbee said.

Even after he recovered his memory, Asbee could not sue or press charges against the priests or the church because the statute of limitations had run out in Pennsylvania.

In late 2004, the Missouri Supreme Court allowed criminal charges in a Missouri case to go forward against the Catholic Church and its officials years after the alleged abuse transpired. On June 13, the Missouri Supreme Court disposed of the time limit for civil cases.

Asbee, a Mid-Missouri director of the Chicago-based Survivors Network of those Abused by Priests, or SNAP, and others within his organization are urging people with experiences similar to his to come forward.

"The biggest advantage to this Supreme Court ruling is that more survivors will possibly have their day in court," said Judy Jones-Spaner, a SNAP leader from Ohio.

There have been thousands of lawsuits filed against the Catholic Church and its diocese by people who have recollected abuse allegedly perpetrated by clergy members. In some cases, cash settlements reaching millions of dollars have been awarded to victims, plunging some congregations into bankruptcy.

Arthur Andreas, a representative for SNAP in St. Louis, said repressing the memory of sexual abuse can be devastating, even if the victim later recalls the abuse.

"Unfortunately, by the time they get later on in their life, they've lost jobs, had trouble with their families, they've had run-ins with the law or even, in some cases, they've become predators themselves," Andreas said.

Besides urging abuse victims to receive psychological treatment, Andreas urged law enforcement officials and prosecutors to study the ruling to present people with the proper options. "These court decisions will only help victims if victims learn about them," Andreas said.

Mark Saucier, a spokesman for the Diocese of Jefferson City, said he doesn't know how the recent court ruling will affect his organization, adding that he hasn't been informed of any pending lawsuits.

"We just don't know, because that's not up to us," Saucier said.

One person in St. Louis has filed a civil lawsuit based on last month decision, but nobody has pursued a case in Boone County.

"I really don't expect it here," county Prosecuting Attorney Kevin Crane said. "In maybe a bigger jurisdiction, that's possible."

Asbee said the state Supreme Court decision would allow people to come forward.

"Now the court rulings are allowing us a door that is ever widening for us to come forward," Asbee said.

Reach Jason Rosenbaum at (573) 815-1724 or jrosenbaum@tribmail.com.