Abuser Becomes Church's Accuser
'Deliver Us' Takes on the Catholic Hierarchy, with a Convicted Priest As Its Key Witness

By Gina Piccalo
Los Angeles Times [California]
June 26, 2006

http://www.calendarlive.com/printedition/calendar/cl-et-deliver26jun26,0,2303300.story

As he describes his pedophilic urges, Oliver O'Grady, a former priest who for about 20 years fondled and raped children from his Central California parishes, stands in a Dublin, Ireland, park smiling, noting casually as a small red-headed boy walks right behind him. He lives nearby, alone and unchecked by police, though O'Grady served seven years in a California prison for sexually assaulting a 9-year-old boy in the mid-1990s. Nearby, a playground is visible.

This is just one of many chilling moments from "Deliver Us From Evil," a new documentary directed by investigative news producer Amy Berg that premiered Saturday to a sellout crowd at the Los Angeles Film Festival and screens again tonight. Chilling too are the reasons that O'Grady agreed to be interviewed on camera: He wants to force L.A. Cardinal Roger M. Mahony and other church officials to acknowledge they knew of his abuse and transferred him to a new parish every time a family complained — allegations that Berg tries to substantiate with victim and police interviews and church correspondence — despite their promises to keep O'Grady away from kids.

"I should have been removed and attended to and [Mahony] then should also have followed up by attending to the people I had harmed," O'Grady tells Berg in the film.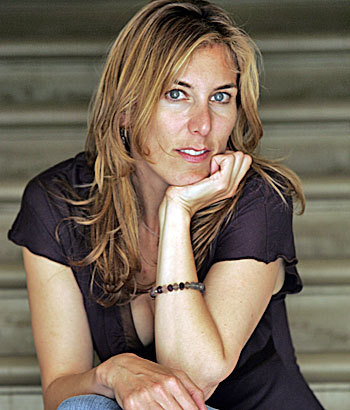 Amy Berg has worked for CBS News and CNN.
Photo by The LAT/Annie Wells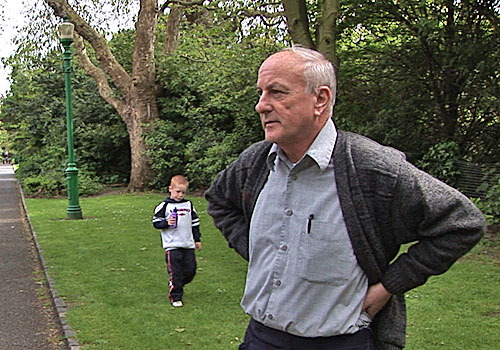 Former priest Oliver O'Grady served seven years for sexual assault.
File photo



"Deliver Us" comes years after the priest sex abuse scandals broke in Los Angeles and other cities, but Berg feels there's too little said about the church's reluctance to take responsibility for the crimes. As an investigative news producer, Berg spent four years on the story for CBS News and CNN Investigations. In her film, she uses personal letters, police reports and as yet unaired deposition footage to suggest Mahony has not been forthcoming and show what she believes is the criminal neglect — what one psychologist from the film called "spiritual abuse" — by Roman Catholic Church officials.

During the last two years, she traveled to Ireland twice to interview O'Grady and followed two of his victims to Rome in their failed attempt to get an apology from the pope. She sifted through hours of videotaped testimony from Mahony and other church officials, footage in which they deny any knowledge of the abuse despite an increasingly thick church file of complaints against the priest. It was just one of many moments during the screening that elicited loud reaction from the audience — in this case, groans.

"Deliver Us" is one of the 15 documentaries the International Documentary Assn. will help qualify for Oscar consideration. There's much interest in Ireland, where O'Grady was born and raised. It will screen at the Cork Film Festival this year, and Berg hopes to bring it to Rome. The last time she spoke to O'Grady, six months ago, Berg said he was terrified of the fallout the film would bring to his life.

During a Q&A session after the screening, the director was asked what reaction, if any, she had gotten from Mahony or the church. "His attorneys came to my attorneys' office and watched it last week," she said. "I was told they were somber when they left."

In the film, Mahony appears in a November 2004 videotaped deposition denying, under oath, any knowledge of O'Grady's crimes, contending he hardly knew the man. Though Mahony hasn't seen the documentary, spokesman Tod Tamberg confirmed that he and attorneys for Mahony and the church viewed it Thursday. Tamberg in a statement said Berg's film "quickly loses its bearing in a squall of anti-church tirades by lawyers who have a huge financial stake in sex abuse litigation against the church." He accuses Berg of staging O'Grady's actions and allowing him "self-serving comments" until "one begins to get the uneasy feeling that the molester-as-master-manipulator is having one last sick and twisted joke at everyone's expense."

Berg says the film is just her way of circumventing the church's stonewalling to get the story out.

"I don't consider myself an activist," said Berg. "I'm not Catholic. And I wasn't raped by a priest. The reason I did this film is that it was one of those stories that every time it was about to air [on TV], somehow the church convinced the lawyers to stall it from airing.... I was interested in that. And the more I researched it, the more I investigated it, the more of a story it was."

Berg lives in a modest Santa Monica apartment with her son Spencer and a little dog named Lucy. One of her Emmys for a CBS-2 segment on extreme sports sits atop a dresser in the center of her living room. On the inside of her front door, a small note reminds her to "pay rent." She's an L.A. native, though reluctant to share too much personal information, she said, so as not to give the Catholic Church any ammunition.

Berg said she realized the story was too big for a TV segment after the L.A. Diocese's repeated resistance to a 12-minute CNN piece in 2004. She got O'Grady's phone number from a researcher for one of the victim's attorneys and cold-called him. He was jovial and candid, she said, and so they spent months talking weekly, conversations that O'Grady let Berg record.

"He seemed to be very upset about the fact that the people who covered up his abuse were still in such powerful positions while he was basically defrocked and abandoned," said Berg.

After initial reservations, O'Grady agreed to go on camera, and in early 2005, Berg went to Ireland, where she spent eight days — six hours each day — listening as he detailed his sexual abuse. In the film, O'Grady appears to be enjoying himself, smiling brightly as he describes confessing to another priest his attraction to children. When it was over, Berg said, the horror of what she'd heard finally hit her.

"The last two days of my trip I stayed in my hotel room in Dublin, and I couldn't get out of bed," said Berg. "I was like achy and sweaty. It was like a physical and emotional breakdown."

Three of O'Grady's victims, Ann Jyono, Nancy Sloan and a young man identified as "Adam," agreed to share their stories on camera.

They describe their families as devout Catholics who trusted O'Grady implicitly. He regularly spent the night with the Jyonos and took Sloan on unsupervised trips. In Adam's case, he became romantically involved with his mother before he began molesting Adam.

"He had total control of us because he was at our school, he was at home, he was at church," said Jyono in the film. "In a Catholic lifestyle, what else is left? What areas of my life was he not at?"

O'Grady's transfers began in the mid-1970s after Sloan's mother confronted Stockton Bishop Joseph Guilfoyle, who is now deceased. Guilfoyle, Sloan said, promised the family he would relocate O'Grady to a monastery, so the Sloans didn't press charges. Instead, O'Grady was transferred to another parish.

Two years later, when Mahony was made bishop of Stockton, another family, identified in the film as the "Howards," threatened to sue the church for O'Grady's abuse of their sons. Mahony has said he had no idea of the nature of the abuse.

"I told him he was to cease and desist any more contact with Mrs. Howard or the Howard family," testified Mahony in November 2004. "He promised to do so, and I never had another report about him and the Howards."

O'Grady was transferred again, this time to Stockton. In 1984, O'Grady's therapist reported him to the Stockton police, alleging sexual contact with a 9-year-old boy. When the police threatened to press charges, Berg's film asserts, church officials promised to relocate O'Grady to a job that kept him away from children.

Instead, O'Grady was transferred to a San Andreas parish where he was the sole priest in charge. At the time, church authorities didn't tell police of the abuse reported years earlier.

Mahony said in deposition footage in the film that he had no knowledge of the incident.

In a March 2005 deposition, Msgr. James Cain, the former vicar general of Stockton, explained the church's reasons for withholding information by saying, "One was a girl. It was inappropriate touching. The other was a boy, [O'Grady] said. So I just didn't hook them up in my own mind."

Cain was asked by the Jyonos' attorney John Manly during the same deposition: "If it had come to your attention that Father O'Grady told your vicar general that he had sexual urges toward a 9-year-old boy or a 10-year-old or an 11-year-old — is that cause to remove him from ministry?"

"No," responded Cain.

Berg tried, without success, for more than a year to get an interview with Mahony. And she said she made it a point not to editorialize, though it's hard to walk away from the film with a positive feeling toward the church's actions.

"Everyone's words speak to their merits and detriments on their own," she said.

The film, which went into the festival without a distributor, had sparked interest by Sunday, Berg said, although no deal had been finalized by press time.