Documentary Details Abuse
Film Provides Chilling Look at Former Priest's Molestations

By Linda Hughes-Kirchubel
Stockton Record
July 1, 2006

http://www.recordnet.com/apps/pbcs.dll/article?AID=/20060701/NEWS01/607010314/1001/NEWS01

Quotes from attorney Larry Drivon, who represented two of Oliver O'Grady's victims and won a multimillion-dollar lawsuit against the Roman Catholic Diocese of Stockton. He called O'Grady's interviews with filmmaker Amy Berg "chilling."

A documentary about Oliver O'Grady, the former Stockton priest who in 1993 was convicted of molesting two children, has won Best Documentary Feature at the Los Angeles Film Festival.

"Deliver Us From Evil," produced by filmmaker Amy Berg, offers a disturbing look into O'Grady's mind through interviews with him given from his native Ireland. It documents his history of abusing children and levels a strong indictment against the Catholic Church hierarchy, claiming it failed to respond adequately to O'Grady's victims.

"I recognize in my life there had been a major imbalance," O'Grady says in the film's opening moments. "I want to promise myself this is going to be the most honest confession of my life."

Officials deported O'Grady to Ireland after his release from Mule Creek State Prison in 2000. He had served seven years of a 14-year sentence issued for his molestation of two young boys for more than 10 years. During his incarceration, his victims, Joh and James Howard, sued the local diocese and won a multimillion-dollar judgment that was eventually reduced to $7.5 million.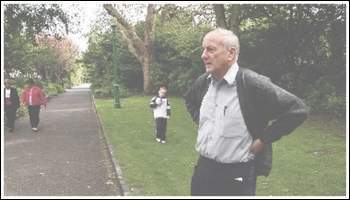 Former Stockton priest Oliver O'Grady visits a public park in Ireland in a scene from the award-winning documentary "Deliver Us From Evil," which chronicles O'Grady's history of abusing children.



Berg's directorial debut weaves the O'Grady interviews among interviews with his victims, their families and church officials.

The film debuted last Saturday at the Los Angeles Film Festival. It is unclear whether the film will be shown in Stockton.

Scenes of O'Grady leaning casually against a park wall as he gazes at Irish children playing innocently on slides, swings and climbing structures are especially chilling. So is his demeanor - eerily pleasant and nonchalant - as he describes his pattern of sexually abusing children in their homes, at private parochial schools and in his office.

"There was a conflict in my mind, yet on the other side there was the urge to be sexual with him," he said about one incident of abuse with a boy. "Looking at his face kind of told me he was a little uneasy about this. ... He may have cried."

Berg, who has worked for CBS and CNN, cold-called O'Grady after an associate slipped her his phone number, according to her publicist, Elisabeth Kasson. Phone conversations led to a trip to Ireland, where she conducted hours of interviews with the ex-priest in which O'Grady discussed Joh and James Howard, now 27 and 30, who he was convicted of molesting, and acknowledged victimizing Nancy Sloan, Ann Marie Jyono and other victims.

O'Grady also said Bishop Roger Mahony and others at the Stockton Diocese should have taken steps against him when they discovered the molestations. On this point, he and the Stockton attorney who represented the Howards in their lawsuit against the diocese agree.

Mahony, who served as bishop of Stockton from 1980 to 1985, has been criticized for failing to respond to complaints against O'Grady. It's a claim that followed him to Los Angeles, where he serves today as cardinal.

"The cover-up becomes the more important message of the film," said attorney Larry Drivon. "We're always going to have pedophiles, unfortunately. Hopefully, we're not always going to have cardinals that cover it up."

"I should have been removed and attended to," O'Grady said. "And (Mahony) should then have followed up and tended to the people that I had harmed. I would have liked if he had done that."

On Friday, Monsignor Richard Ryan, the current vicar-general of the Stockton Diocese, declined to talk about the film or any effect it could have on the local Catholic community. That's because the diocese is still in litigation involving O'Grady.

"It would be inappropriate to make any comments at this time," he said.

The film also shows the impact O'Grady had on his victims' families.

Marie and Bob Jyono described a close relationship with O'Grady while he was serving at St. Anne's in Lodi and in the years after he was transferred. They even paid his bail after he was arrested in San Andreas.

But as news reports filtered more information into the public eye, the couple asked their daughter if O'Grady had ever touched her. Her answer - he had - devastated them.

Bob Jyono's face strains with emotion as he recalls how he demanded to know why she had never told him.

"Her answer to me was that I used to say, 'Anyone who tries to hurt you, I will kill,' " he said, his voice pinched and choked. "Her love for me kept her from telling me. "

Anna Kaplan contributed to this report.

Contact Linda Hughes-Kirchubel at (209) 546-8260 or lkirch@recordnet.com