A Church Re-Educates Itself
Changing Attitudes: The Catholic Church Has Mandated Special Training to Recognize Sexual Abuse and Abusers

By Mark Guydish mguydish@leader.net
Times Leader
July 9, 2006

http://www.timesleader.com/mld/timesleader/14998995.htm

[See other articles in this feature:
- The Sins of Our Fathers, by Dave Janoski, Times Leader (7/9/06)
- The Shame of the Diocese: Allegations? Move Father Caparelli. More Allegations? Move Father Caparelli. Convictions? Keep Quiet, by Dave Janoski, Times Leader (7/9/06)
- Priests Feel Hurt, Angry, Guilty by Association: When Scandal Breaks, Say Innocent Pastors, They and Flock Get Caught in Turmoil, by Mary Therese Biebel, Times Leader (7/9/06)
- Bill Aims to Loosen Limits on Suits: Statutes of Limitations on Sex-Abuse Cases Often Leave Victims with No Options, by Dave Janoski, Times Leader (7/9/06)
- Crimes and Accusations, Times Leader (7/9/06) [summaries, assignments, and photos of accused priests]
- Morning Note from the Newsroom: the Church Series, by Matt Golas, Times Leader (7/11/06).]

It's a sunny spring Saturday in a still sleepy Montrose and Gerard "Father Gerry" Safko flashes a disarmingly warm smile in the chilly basement of the Holy Name of Mary Church rectory. He offers a few quips about a failed turkey hunt before settling into serious business: Child sex abuse.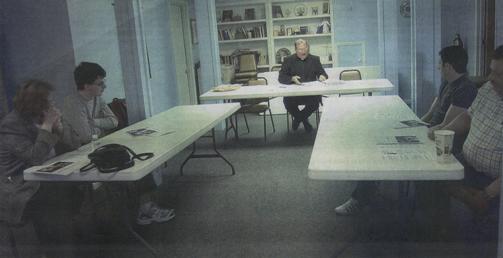 Rev Gererd Safko presides over a VIRTUS training session held at Holy Name of Mary in Montrose in April. While the group was small this time, the program is vast, training most staff and volunteers in the 11-county Scranton Diocese.
Safko comes across as easy going, but he has taken on the heavy task as facilitator, or trainer, for the VIRTUS program, adopted by the Diocese of Scranton in the wake of the priest sex scandals. Every cleric, every employee, every volunteer who deals regularly with children, throughout the 11 county diocese gets some training to recognize suspicious behavior, prevent abuse and report concerns. There is a separate program for Catholic school students.

This is not optional. It is a mandate promulgated by the United States Conference of Catholic Bishops as part of the Charter for the Protection of Children and Young People, enacted in 2002. That makes the Catholic Church a rarity.

By comparison, other organizations often make such training optional. The Boy Scouts of America, for example, have a voluntary online course. The National YMCA provides manuals that local organizations can incorporate into their training.

While the state Department of Education has many safeguards against abuse of minors by teachers – spokesman Michael Storm cited mandatory background checks, mandatory abuse reporting, a ban on hiring teachers convicted of abuse, and a strict teacher code of conduct – the state doesn't expressly require training similar to what the church now calls for.

When the Conference of Catholic Bishops agreed to require the training, it left details up to each diocese. The Scranton Diocese, like others including Philadelphia, opted for the VIRTUS program developed, according to a press release, "by The National Catholic Risk Retention Group, Inc. of Lisle, Ill. a non-profit organization that provides risk control services to one-third of the Catholic dioceses in the U.S."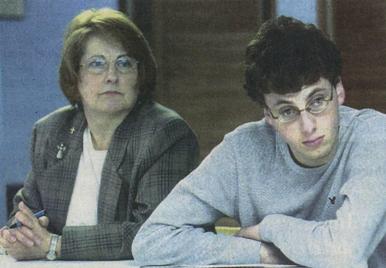 Martina Lingobardo and Jeffrey Keyes take part in a VIRTUS training session held at Holy Name of Mary Parish in April. They agreed that segments of the program about child sex abuse were 'powerful.'
Though trademarked in all capital letters, "VIRTUS" is not an acronym. Rather, the company Web site explains, it is a word that "derives from Latin, and means valor, moral strength, excellence, and worth. In ancient times, virtus denoted a way of life and manner of behavior that always aspired to the highest, most positive attributes of people and aspects of human interaction."

The diocese asks for volunteers, such as Safko, to become facilitators, who go through all-day sessions. "Our goal is to have a broad range of individuals participating, in particular lay people," Diocese Spokesman Bill Genello wrote. "Currently there are two priests, two deacons, several women religious, as well as teachers, school principals, Diocesan personnel, etc." All told, there are 25 facilitators now.

The costs are adding up. In the three years since launching VIRTUS, The Diocese of Scranton has spent more than $314,000 training roughly 13,000 people. That includes paying for about 7,000 of them to register for more training and updates through an online component, and a companion program for children from kindergarten to grade 10.

And there is no end in sight, Genello said. "The program will go on indefinitely."

Why? Safko summed it up to the four people attending the April 29 session, his third so far (a light crowd because it was scheduled for those who had missed earlier sessions): "We are the eyes and ears of the diocese, and of God."

This, he concedes, is a different attitude from the pre-scandal church.

"Years ago, we treated (abuse) like alcoholism, like an addiction," he said, trying to fix it by reprimanding a priest and putting him in another assignment. "It didn't work. So the only option now is whoever is suspected is dismissed, temporarily at first while an investigation continues, then permanently" if the allegations prove true.

"There have been very, very few false reports," Safko said. One study found 5 percent of all abuse reports were falsely made, "And that was by adults. Only 1 percent were falsely made by kids.

"I do know of one case that was a lie. A priest, who was a friend of mine, was accused of fondling a girl," Safko said, adding that this occurred in different diocese. "He told me 'I have no attraction to girls. I have no attraction to boys. I'm a gay man.'" Even so, the accused priest was put through "a barrage of tests" before the charges were deemed unfounded. In the end, "he didn't leave the priesthood because of that. He left the priesthood because he fell in love with another man."
'Those abused as children can become abusers,' Father Gerard Safko tells his trainees during a lesson about how to detect and prevent sex abuse. 'The cycle has to stop.'
Such straight talk peppered the three-hour session. Safko made it clear he believes the only way to prevent abuse is to face its many ugly facets head on. The centerpiece of the training, two videos, reinforced that attitude, featuring abusers discussing their tactics and experts giving stern advice and stark statistics supplemented by Safko:

• The abused often become abusers. "The cycle must stop," Safko said.

• They might start abusing children when they are still children themselves.

• One study of abusers found that 11 percent of all abusers were strangers, 29 percent were relatives, and 60 percent were people known to the victim.

• Of all church-related abuse, about half the cases were committed by volunteers.

• Twenty-one percent of men who molested boys were gay. As Safko later noted, an abusers sexual orientation isn't what compels the abuse. A lack of sexual maturity is the primary culprit for pedophilia.

• Abuse rates in the general population are stark. Estimates run up to one in every 10 males being abused before becoming an adult. For females, the top estimate is one in every five.

• No one is sure how many people are attracted to minors, but estimates for the general population – as well as for priests – range up to 7 percent. Relatively few will actually respond to those impulses and abuse a child.

Abusers in the videos talked glibly of tactics, of how they hung around children, gained their confidence and won the parents' trust. They not only groom the child, one expert warned, they groom the caregiver. They can be personable, even charismatic.

Victims gave bleak accounts of their sagas. "I tried to kill myself when I was 15," one boy said.

"When our daughter was molested, it nearly destroyed our parish," a woman said. "And for a long, long time I lost my faith."

After the first video, Safko sought reactions from his trainees.

"Powerful," replied Jeffrey Keyes from St. John the Evangelist in Susquehanna. "I thought it was very powerful, but disturbing." Others echoed the sentiment.

Safko, who underwent a full day's training to become a facilitator, told them, "My first reaction was that I was angry, and also a little guilty because of the role we all play with children. ... My biggest fear is that we would be afraid to be with children. We can't be afraid to have feelings of love for children, but in a healthy way.

"Children who are not touched develop problems, too."

Safko lost a bit of his ease when he explained the psychology that prompts an adult to molest a child. He hesitated, looking for a clear way to explain a complex concept experts in the videotapes had only touched on. "They are psychosexually … slow … their development has been arrested. They have not progressed into a healthy adult sexuality." That means they are attracted to the lack of physical sexual development in children: the smooth, hairless skin; the softer, younger features.

The second video outlined a five-step plan to prevent abuse.

• Know the signs, including suspicious behavior by adults around kids: Giving inappropriate gifts, touching children excessively, showing more excitement when with children than with adults, ignoring basic rules by inviting kids to their home or other private places, and letting the children do things their parents forbid.

• Control access to children in church settings, starting with mandatory, standardized, written application forms for volunteers and staff, background checks and face-to-face interviews.

• Monitor programs for kids, making sure you know where the child is at all times, restricting access – by both children and adults – to secluded areas. Parents should always feel free to visit a program their kids are in.

• Be aware of what is going on in your child's life. Talk to them and make sure they know they can talk to you, and that you really listen.

• If you suspect something, tell someone. "You don't need proof to give your observations," Safko said. "You are not accusing, you are just pointing out.

"Let the authorities do their jobs. If there's nothing there, there's nothing there. If there is, you prevented something worse. The most important thing is to admit our human frailty."