The Sins of Our Fathers
Sex Abuse: What the Diocese Knew and Didn't Tell You

By Dave Janoski djanoski@leader.net
Times Leader
July 9, 2006

http://www.timesleader.com/mld/timesleader/14998976.htm

[See other articles in this feature:
- The Shame of the Diocese: Allegations? Move Father Caparelli. More Allegations? Move Father Caparelli. Convictions? Keep Quiet, by Dave Janoski, Times Leader (7/9/06)
- Priests Feel Hurt, Angry, Guilty by Association: When Scandal Breaks, Say Innocent Pastors, They and Flock Get Caught in Turmoil, by Mary Therese Biebel, Times Leader (7/9/06)
- Bill Aims to Loosen Limits on Suits: Statutes of Limitations on Sex-Abuse Cases Often Leave Victims with No Options, by Dave Janoski, Times Leader (7/9/06)
- Crimes and Accusations, Times Leader (7/9/06) [summaries, assignments, and photos of accused priests]
- A Church Re-Educates Itself: Changing Attitudes: The Catholic Church Has Mandated Special Training to Recognize Sexual Abuse and Abusers, by Mark Guydish, Times Leader (7/9/06)
- Morning Note from the Newsroom: the Church Series, by Matt Golas, Times Leader (7/11/06).]

For years, Roman Catholics in the Diocese of Scranton didn't know that priests accused of sexually abusing minors continued to preach in their churches, hear their confessions and teach their children.

But their bishops knew.

As early as the 1960s and as late as 2002, the Scranton Diocese knowingly employed priests who had been accused of sexual misconduct, according to court documents and diocesan statements.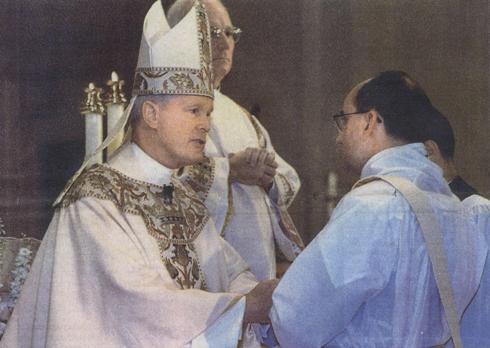 Bishop James C. Timlin ordains Christopher Clay in 1998. Clay, one of at least 25 priests in the Scranton Diocese accused of sex abuse since 1950, has been barred from public ministry. Timlin, now bishop emeritus, has been accused of failing to protect his flock from abusive priests. Times Leader file photo.
A Times Leader investigation, including interviews with alleged victims and a review of eight lawsuits, some of which had gone largely unreported, revealed allegations that church officials disregarded warnings of abuse or merely reassigned accused priests, sometimes with dire consequences.

Bishop Emeritus James C. Timlin – a diocesan official since 1966 – was personally aware during his administration as bishop from 1984 through 2003 that at least five of his priests had been accused of sexual misconduct with minors, according to lawsuits and diocesan statements.

Yet they remained in their parishes and posts, some going on to abuse other children.
What is a tragedy with the Catholic Church is how many cases were terribly mismanaged, where a bishop or religious superior said 30 or 40 years ago, 'OK. You're forgiven. Don't do it again.'
Thomas Plante
Psychology professor at Santa Clara University who has written two books on abuse by priests
In 2002, Timlin removed five priests from active ministry because of a new, nationwide "zero-tolerance" policy adopted by American bishops in reaction to a nationwide wave of abuse allegations. The policy required the removal from ministry of any priest who had been proven to have engaged in sexual misconduct at any point in his career.

In interviews with the Times Leader shortly before the policy was adopted, Timlin maintained it should not be applied to priests who had been accused in the past, received treatment and returned to ministry without further problems.

Such priests were similar to others who had been treated for alcoholism and returned to duty, he said.

In addition to Timlin, at least two other Scranton bishops, both now deceased, were aware of accusations against priests, but allowed those priests to continue ministering to local Catholics, according to lawsuits.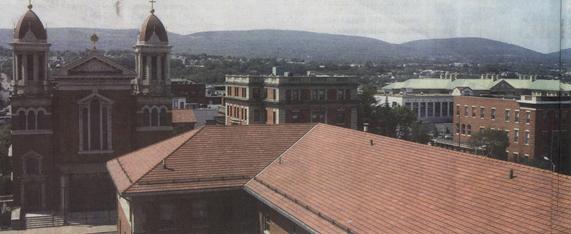 The church hierarchy runs the diocese from a cluster of buildings near St. Peter's Cathedral on Scranton's Wyoming Avenue. The cathedral is at left. Times Leader staff photo / Aimee Dilger.
Timlin, through a diocesan spokesman, declined to be interviewed for this story. In an e-mail message, spokesman William Genello said the diocese would not answer any of the Times Leader's questions about its handling of abuse allegations:

"I must say your approach to this issue is curious – focusing on cases that are decades old and priests who have been deceased for many years? I certainly hope this does not reflect any personal or institutional animosity toward the Catholic Church."

Times Leader President and Publisher Patrick McHugh defended the paper's approach, pointing out that the investigation had uncovered new details of already publicized cases and revealed some cases that had not been reported before.

"While many of the cases and priests cited in the series are indeed well in the past, a clear pattern of actions and behavior has emerged on the part of people whose responsibilities should have led them to act more in the interests of parishioners and those harmed. Local church leaders appear to have failed their flock," McHugh said.

"To suggest any animosity on the part of the Times Leader or its staff is absurd. Many of the most senior managers of the paper, including the editor and me, are of the Catholic faith. This series will stand on its merit."

Numerous accusations

At least 25 priests serving in the Scranton Diocese have been accused of having sexual contact with minors since 1950, according to diocesan reports.

The diocese has never released the names of all of the accused, but has acknowledged sexual misconduct accusations against eight priests whose names became public because they were arrested or sued or because their removal from ministry became public knowledge. The Times Leader has uncovered the names of three more, all deceased.

In 2004, the diocese reported that 25 of its priests were accused of misconduct involving 46 minors between 1950 and 2002. In a press release that year, the diocese said charges against 15 of the 25 priests were "founded," but it did not define the term or describe how a case was determined to be "founded." A diocesan spokesman recently declined comment on the report.

The diocese's data were gathered for a nationwide study commissioned by the U.S. Conference of Catholic Bishops that concluded 4 percent of American priests serving between 1950 and 2002 had been accused of abuse. The percentage in the Scranton Diocese was 2.86, based on the diocese's figures.

The 2004 study, compiled by the John Jay College of Criminal Justice using reports submitted by Catholic dioceses and religious orders around the country, cited other studies to suggest that abuse of minors by priests might be less prevalent than abuse by those in other professions or American adults at large.

"If you take studies of school teachers, that research suggests there's about 5 percent of school teachers who have sexual contact with a minor child," said Thomas Plante, a psychology professor at Santa Clara University, a Jesuit university in California, who has written two books on abuse by priests.

It's the church's mishandling of abuse cases in the past, not the numbers, that has fueled the nationwide abuse scandal, he said.

"What is a tragedy with the Catholic Church is how many cases were terribly mismanaged, where a bishop or religious superior said 30 or 40 years ago, 'OK. You're forgiven. Don't do it again.'

"It's the secrecy. It's the cover-up. It's the leadership making tragic mistakes."

Costly claims

The Scranton Diocese's handling of accusations during the past 40 years has proven costly.

Since 1995, diocesan attorneys have negotiated settlements in at least four cases involving priests accused of sexual contact with minors, at a cost of more than $835,000, the diocese says. Three other suits are ongoing.

Many of the settlement details – and pertinent diocesan documents – remain sealed from public view because of confidentiality agreements between the diocese, other defendants and plaintiffs.
Thom Pesta in the former schoolyard in Luzerne where he says he was fondled by his pastor, Father Lawrence P. Weniger, decades ago. The school, Sacred Heart, has moved to a different location. Times Leader staff photo / Clark Van Orden.
But a Times Leader review of available documents and interviews with victims indicate the Scranton Diocese's reaction to abuse charges has often paralleled that of the Philadelphia Archdiocese, which was the target of a stinging grand jury report last year.

The grand jury, which found 63 priests in the Philadelphia Archdiocese had been credibly accused of abuse, said that diocese covered up abuse allegations, failed to adequately investigate them and kept dangerous priests working in jobs where they had access to more potential victims.

In its investigation of the Scranton Diocese, the Times Leader found:

• In 2000, Bishop Timlin and his then-vicar for priests, Father Joseph R. Kopacz, were informed by other diocesan clergy of suspicions that Father Albert M. Liberatore Jr., a Duryea pastor, was sexually abusing a teenage boy, according to a suit filed in U.S. District Court in Scranton. Liberatore denied the allegations and accused his accusers of misconduct, the suit said. Timlin never brought the allegations to a diocesan review board set up to consider such cases and told Liberatore and the other priests to "put the issues behind them," the suit claims. The victim's family was not told of the allegations and the abuse continued for two years, the suit said. Liberatore was arrested 3 1/2 years later, after Timlin retired, because of information uncovered by a private investigator working for the diocese. Liberatore, who pleaded guilty in the case and was sentenced to 10 years probation, is a defendant in the victim's federal suit along with Timlin, Kopacz and the diocese.

• In 1999, church officials in Minnesota informed Timlin, Kopacz and Auxiliary Bishop Joseph Dougherty of allegations that Father Carlos Urrutigoity, the head of a conservative religious society in Pike County, had engaged in improper conduct with a Minnesota seminarian, according to a federal lawsuit. The diocese later said the facts in the case were inconclusive. Urrutigoity and another priest in the Society of St. John in Pike County, Father Eric Ensey, were later accused of sexual misconduct with a student at St. Gregory's Academy in Moscow, where the society was temporarily housed. Ensey initiated the sexual contact in 1997, when the boy was a 16-year-old junior at St. Gregory's, according to the suit. In December 2001, a former associate of the society publicly revealed the allegations against Urrutigoity and Ensey. They were suspended from ministry by the diocese the following month. The alleged victim from St. Gregory's sued the priests, Timlin and the diocese, among others, in March 2003. The case was settled for $454,550 last year, with the diocese paying $200,000. Timlin's successor, Bishop Joseph Martino, withdrew the diocese's approval for the society to operate here. It has since moved to Paraguay.

• In April 1988, Timlin received anonymous letters alleging a Towanda priest, Father Robert Brague, 46, was involved in a relationship with a teenage girl from his parish, according to Brague's deposition in a civil suit. Brague had initiated sexual activity with the girl in 1987 when she was 17. Brague met with Timlin in April 1988 and denied the allegations. Timlin took no action, Brague testified. Four months later, after the girl became pregnant, Brague admitted to the allegations.

He moved to Florida, where he continued to serve as a priest until his death in 1997. The diocese and Brague settled the victim's suit in 1995. The terms were not disclosed.

• In 1968, Bishop J. Carroll McCormick – and Timlin, who was the bishop's secretary – were informed by a Hazleton police officer that Father Robert N. Caparelli had been accused of molesting two altar boys in the city. Caparelli, who denied the charges, was sent to a Catholic rest home for a month. There he was evaluated by a psychologist who urged the diocese to investigate the allegations further and wrote that if they were true, the priest would probably molest again. Caparelli was quickly reassigned to a Lackawanna County parish and continued to serve in local schools and churches until his arrest on sex abuse charges in 1991, during Timlin's administration as bishop. By then he had molested four more boys, maybe more, according to his diocesan file and lawsuits. In the 1970s, Caparelli admitted to his superior at an Old Forge church that he had groped at least one boy there. It is unclear if that pastor, William Giroux, ever alerted the bishop or other diocesan officials. Caparelli died in prison in 1994, presumably because of AIDS.

• In 1962, a 12-year-old altar boy at St. Therese's Church in Kingston Township, Thomas Harris, told Father Michael Rafferty, a priest at his school, Gate of Heaven in Dallas, that his parish priest, Father Francis Brennan, had fondled and sodomized him, according to a lawsuit. Rafferty met with Harris' parents, but refused to alert then-Bishop Jerome D. Hannan, the suit said. When approached directly by Harris' parents, Hannan assured them Brennan would be "taken care of," the suit said. Brennan was reassigned to a convent, but not punished in any way, the suit said.

He remained an active priest until his death in 1974. At least one other man claims he was sodomized by Brennan at St. Therese's during the same period, when he was 14.

Harris could not be reached for comment.

Rafferty, retiring as pastor of Our Lady of Sorrows Church in West Wyoming, declined comment.

Shroud of secrecy

The Scranton Diocese has consistently fought to keep information on accusations against its priests from becoming public.

In many cases, it has asked judges to seal from public view all or some documents in lawsuits filed by alleged victims of abuse.

"There are confidentiality issues with the records, although plaintiffs are allowed to have them," said James E. O'Brien Jr., a Scranton attorney who represented the diocese in all the lawsuits reviewed by the Times Leader.

"There are accused that have been exonerated. There are some victims that deserve some privacy."

But church critics say such secrecy is aimed primarily at protecting dioceses from legal liability.

David Clohessy, national director of the Survivors Network of Those Abused by Priests, said the 2002 scandal in the Boston Archdiocese, where 141 priests were accused of abuse, was uncovered only because victims' attorneys successfully pushed for court orders to obtain diocesan documents, which were then made public.

"That's what every bishop is afraid of," Clohessy said. "A bishop does not want to take the witness stand and reveal how much he knew and how little he did about these criminals."

In at least one case, the Scranton Diocese offered a cash payment to an alleged abuse survivor in exchange for keeping silent.

William Nothoff says he was forcibly sodomized in the rectory at St. Therese's Church in Kingston Township in the 1960s by Father Francis Brennan, whose alleged abuse of Thomas Harris during the same period is the focus of an ongoing lawsuit.

Nothoff told no one of the abuse for three decades, but he said it contributed to "rough spots" in his life, including substance abuse problems.

In the mid-1990s, Nothoff told his story to a church employee in Arizona, where he lives.

"I was literally falling apart. It felt like a grenade had gone off in my head," he said in a recent phone interview.

The church employee contacted the Scranton Diocese, which began paying $120 per week for counseling for Nothoff and offered him a $5,000 settlement, provided that he never go public with his story.

Nothoff never signed the settlement and didn't take the $5,000. During a 1995 trip to Northeastern Pennsylvania for a family wedding, he gave an interview to the Times Leader, which printed his story, without revealing Brennan's name. The diocese promptly stopped the counseling money, he said.

In an interview with the Times Leader at the time, Monsignor Neil Van Loon, diocesan chancellor in 1995, described the $5,000 offer as an act of "mercy or kindness," because there was no way to prove or disprove Nothoff's allegations.

Van Loon said Brennan "had a good record with nothing to indicate anything but a clean record."

But Van Loon said the diocese was concerned Nothoff might sue, even though the statute of limitations would have expired decades earlier:

"We're not going to waste $5,000 and then have him attempt to sue us. It would be public, we would have to get legal counsel ... and for what end?"

It's unclear if Van Loon or other diocesan officials in the 1990s were aware of the accusations against Brennan allegedly made to Bishop Hannan by Thomas Harris and his parents in 1962.

Van Loon, now a diocesan official stationed near Williamsport, declined comment through a diocesan spokesman.

Trying to help

Some alleged victims of abuse by priests say they aren't interested in suing, but are motivated to go public to protect children from similar abuse.

Thom Pesta said that until the nationwide priest abuse scandal broke in 2002, he thought Monsignor Lawrence Weniger was just a "lone, sick man."

"I always thought it was an isolated event. Then I found out it was not."

Pesta said he and other boys at Sacred Heart School and Church in Luzerne were fondled by Weniger more than 40 years ago. The incidents happened on the playground, in the sacristy and on church grounds, Pesta said.

"We had a little support group. We laughed about it. I don't know if it was because it was funny."

Pesta said he told his parents about Weniger, but they didn't believe him.

"I refuse to believe the bishop didn't find out about this. I find it hard to believe that for all the kids it happened to, this never came out."

Pesta said he believes the incidents contributed to his withdrawn nature as a child and might be one of the reasons he has shunned organized religion as an adult.

"It's not like my world crumbled. But I spent much of my time alone.

"I had led a tortured childhood but the rest of my life was fine."

Pesta grew up to work as a musician and as an operations director at Walt Disney World in Florida. He now works at Guard Insurance and lives in Kingston.

Weniger died in 1972.

When the allegations of abuse by priests in Boston and other dioceses began receiving media attention in 2002, Pesta asked for a meeting with then-Bishop Timlin about Weniger.

In an interview with the Times Leader from that period, Timlin acknowledged there had been allegations about Weniger after his death:

"I knew him, but we never knew anything about this. There have been several people who have accused him. Because of all the publicity, I did talk to somebody about that. I apologized. I never knew anything about it."

Pesta recalls his meeting with Timlin somewhat differently.

"He basically said, 'I'm sorry you left the church.' He was certainly not admitting or denying anything.

"He said what you would expect a politician to say."

THE SERIES

These are times of transition for the Roman Catholic Diocese of Scranton.
The center of gravity in the 11-county diocese – home to 355,000 Catholics – is shifting eastward to the fast-growing Poconos. While many churches in Luzerne and Lackawanna counties have been forced to close or merge because of shrinking congregations, others are being revitalized by an influx of Hispanic parishioners.
The number of priests has declined by half since 1960, adding more pressure for consolidations and closings and expanding the roles of lay church volunteers.
Catholic parents who grew up in an era of inexpensive and thriving elementary and secondary schools now find their choices limited, as the diocese closes school after school, citing financial pressures and declining enrollments.
Also, the diocese's leadership finds itself confronted with allegations that it mishandled sex abuse charges against some of its priests, with victims' advocates calling for legal changes that could open the diocese to increased liability.
Today, the Times Leader begins a four-part series on a church challenged.
Today: The Scranton Diocese stands accused of not doing enough to protect parishioners from abusive priests.

Next Sunday: The dwindling number of priests puts more pressure on those who remain and provides new possibilities and responsibilities for lay volunteers.

Sunday, July 23: Falling enrollment and financial pressure have whittled away at the diocese's school system, and more school closings are likely.

Sunday, July 30: What will the diocese of the future look like?
LEARN MORE
• For more information on the issue of sexual abuse by priests, go to the following Web sites:

www.snapnetwork.org: Survivors Network of Those Abused by Priests

www.usccb.org/nrb: U.S. Conference of Catholic Bishops National Review Board

www.bishop-accountability.org: A large collection of documents related to abuse by priests

www.virtus.org: National Catholic Risk Retention Group Inc.

www.dioceseofscranton.org: Diocesan site contains information on programs to prevent abuse


---
Times Leader Associate Editor/Investigative Dave Janoski may be reached at 829-7255.