Pastor Has Faith in His Legacy
He Has Departed South Salem for Portland Cathedral

By Thelma Guerrero
Statesman Journal
July 11, 2006

http://159.54.226.83/apps/pbcs.dll/article?AID=/20060711/RELIGION/607110302/1092

After 12 years at the pulpit in South Salem, Father George Wolf had said goodbye to his flock at Queen of Peace Catholic Church.

Wolf, 55, officiated his last Mass at Queen of Peace on Sunday.

The clergyman is being relocated by the Archdiocese of Portland as part of church policy, which limits a priest to no more than two six-year terms at a specific parish.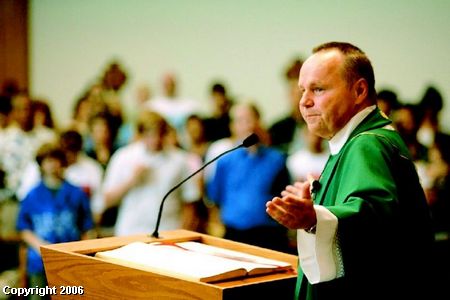 Father George Wolf presides over his final official Mass as the pastor of Queen of Peace Catholic Church. He was reassigned to a church in Portland.
Photo by Imothy J. Gonzalez/Statesman Journal


"I deeply regret that I have to leave," Wolf said, "but, at the same time, I'm enthusiastic about this new challenge."

The priest has been reassigned to the Cathedral of the Immaculate Conception in Portland, the seat of the diocese. He started there Wednesday.

Carla Moyer and her family have been members of Queen of Peace for 30 years.

"What a gift he has been in our lives," Moyer said about Wolf. "He has influenced all of us with his gentle nature, his good humor."

Moyer said her family won't soon forget the priest they have come to know simply as Father George.

"I had teenagers when he first got here," Moyer said. "He's just wonderful with that age group."

For Luis Blanco, who has been a parishioner at the church since moving to Salem from his native Costa Rica in 1996, Wolf was like the shepherd who gathered the lambs in his arms.

"For me, it was hard to move away from my home country," said Blanco, who now is a U.S. citizen. "I left my family and friends and my church, but when I came to Salem and to Queen of Peace, I found a loving community, and behind this community was Father George.

"He has made Queen of Peace a community where everyone feels welcomed."

Wolf was born to Erwin and Anne Wolf on May 21, 1951, in Chicago. The former accountant was ordained as a Catholic priest in 1980.

After serving as the pastor at three other churches, including one in Illinois, Wolf took over as pastor at Queen of Peace on July 1, 1994.

During his tenure, Wolf worked to plug a disconnect between the community and immigrants, mostly Hispanics.

He lobbied but did not succeed in implementing a Spanish-language Mass at Queen of Peace.

"I still believe that will happen," he said.

Forty-eight percent of Catholics in western Oregon are Hispanic, and of the 148 parishes and one seminary, 58 offer Spanish-language Masses, church officials said.

In Salem and Keizer there are four Catholic churches, three of which offer Spanish-language Masses.

Of the four churches, Queen of Peace has "the smallest percentage, about 5 percent, of Latinos," Wolf said.

The priest recently reflected on his accomplishments as pastor at the South Salem church.

Wolf said he's proud of the church programs created under his leadership, but he's most proud of Flor y Canto, an educational program he started in 1996. The program provides legal assistance to indigenous people in Oaxaca, Mexico, and helps them build communities and cooperatives with neighboring villages.

Also while at the church, Wolf supported an ongoing 20-year sister-parish program between Queen of Peace and seven parishes in the capital city of Oaxaca.

He's not sure what will become of the program after he leaves.

"My hope is that it will continue," Wolf said.

As a priest, Wolf has enjoyed a number of perks; for example, being invited to a home-cooked meal or being a part of major life events in parishioners' lives, such as births, baptisms, first holy communions, confirmations and marriages.

But he also has faced challenges.

"Keeping hopeful during a time when priests are sexually abusing children and the aftermath of that has been the greatest challenge for me," he said. "People trusted these men, these priests."

A series of allegations of sexual abuse of children by Catholic priests has led to some successful prosecutions and has placed the Catholic Church under a perpetual cloud of suspicion.

"Ultimately, the church bears responsibility to the victims," Wolf said, "and I think this diocese is sincere in trying to arrive at a just settlement despite limited resources."

tguerrero@StatesmanJournal.com or (503) 399-6815