Former Priest's Sentencing Postponed
Herek's Request for New Trial under Consideration

KETV
July 13, 2006

http://www.ketv.com/newsarchive/9513145/detail.html

Omaha, Neb. -- An Omaha priest won't be back behind bars -- at least not yet.

Daniel Herek was to be sentenced on Thursday, but a judge has put the sentencing on hold while a request for a new trial is considered.

Herek is appealing convictions for lewd conduct and indecent exposure stemming from an incident at the Crossroads Mall last September.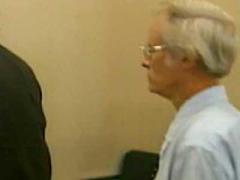 Herek's Request Considered


Herek's lawyer said the prosecutor didn't give Herek a chance to review some new evidence before it was presented at the trial. Attorney Michael Bianchi said some new evidence presented at trial that he wasn't aware of could have cleared his client. Bianchi also said that wasn't fair, and he wants another chance to convince the judge he's innocent.

The key witness identified Herek as the man who exposed himself in the parking lot. Police testified that they checked out a partial license plate number from a car Herek was allegedly driving. That plate number led them to a car owned by someone other than Herek.

Herek's lawyer said that evidence raised doubt in Herek's guilt, but since police didn't report it, he didn't have a chance to check it out before trial.

"It's inertia," Bianci said. "You got the force going all in one direction, and this poor guy -- because he's been lambasted and scarlet-lettered -- all of a sudden now that's the target."

Herek was convicted in the 1990s of molesting an altar boy.

City prosecutor Marty Conboy agreed that police should have released details about the car before the trial, but he said it would not have changed the guilty judgment.

"Had it produced anything of value, I'm sure we would have been given a report, but when it was a lead that led nowhere, I suppose you can understand why they would cross that off the list and move on," Conboy said.

Police interviewed the owner of the car and discovered he was at work at the time of the incident.

The judge has taken the request under advisement. A decision could come next week about whether a new trial will be granted.