Sex Abuse Scandal, Lawsuits, Calls for His Job Abounded, but He Remained Quiet, Defiant

By Brooks Egerton
The Dallas Morning News
July 14, 2006

http://www.dallasnews.com/sharedcontent/dws/dn/religion/stories/
071406dnrelgrahmannabuse.1ae0ac7.html



[See also Dallas Bishop to Offer Resignation, by Jeffrey Weiss and Brooks Egerton, Dallas Morning News (7/14/06).]

The Catholic Church's sex scandals surrounded Bishop Charles Grahmann from his first days in the Dallas Diocese to his last.

They fueled a long line of lawsuits, legal payouts, flirtations with bankruptcy, criminal investigations and high-powered calls for the bishop's resignation. The scandals also exposed misconduct by some of his closest allies, damaged lives, divided parishioners and occasioned a rare public split in the church's hierarchy.

Bishop Grahmann survived it all, quietly but defiantly, insisting that he had done his best.

"I guess they decided that if they forced him out, it would look like the people who were publicly calling for his resignation won," said the Rev. Thomas Doyle, who once worked at the Vatican's U.S. embassy but has since become a fierce critic of the church's leadership. "That is something the Vatican never tolerates – the lay people appearing to get their way."

To be sure, Bishop Grahmann inherited many of his problems. And, unlike other bishops around the country, he didn't make a habit of transferring abusive priests from parish to parish.

He did, however, have a hands-off management style that allowed trouble to fester.

Consider the Rev. Justin Lucio, who, shortly before Bishop Grahmann took over in 1990, was removed from parish leadership. Among the reasons: Two young Mexican men said the priest had pressured them into having sex with him, using promises of immigration aid or threats that he would turn them in to authorities.

Yet Bishop Grahmann – who publicly championed the plight of immigrants – let Father Lucio run a ministry for immigrants, without oversight. This continued even after the priest testified, while suing a parishioner for slander in 1991, that he sometimes touched Latino worshippers' genitals when they sought health advice.

All this stayed under wraps until 2003, when The Dallas Morning News found records of the lawsuit while reporting on financial irregularities in Father Lucio's ministry. A spokesman said at the time that Bishop Grahmann hadn't known of the 1991 testimony, although a senior aide testified in the case.

Then there was the Rev. Rudolph Kos. He was a child molester who'd been working in Dallas-area parishes for nearly a decade when Bishop Grahmann took over, and his personnel file was full of warning signs – including reports that boys had long been spending the night with him.

Bishop Grahmann never read the file, according to his own testimony in a subsequent civil lawsuit against the church over Father Kos. He allowed the priest to keep running a parish until 1992, even as he received more warnings and the abuse continued. One victim committed suicide that year.

The bishop said last week that he moved as quickly as he could against the priest.

The Kos lawsuit stretched from 1993 to 1997, and the case gradually uncovered evidence that Bishop Grahmann and his predecessors had left other known or suspected abusers on duty, too. The case culminated with a sensational 11-week jury trial, findings of gross negligence and conspiracy, and the largest clergy-abuse verdict in history – nearly $120 million, later cut to about $31 million.

In 1998, the year after the civil trial, the defrocked Mr. Kos was criminally convicted of child sexual assault and sentenced to life in prison. By 1999, police had arrested another Dallas priest, the Rev. Emeh "Anthony" Nwaogu; he was sentenced to prison for molesting a girl. Civil litigation later produced testimony that church leaders had ignored prior complaints that he'd been sexually harassing women, although it wasn't clear whether Bishop Grahmann was alerted.

Some of Father Kos' victims sought private meetings with the bishop after the civil trial and didn't get them, although the bishop issued a general apology at a Mass. His former top aide, the Rev. Robert Rehkemper, later gave an interview blaming victims and their parents for the abuse.

Susan Koons, the jury forewoman, has vivid memories of Bishop Grahmann's courtroom demeanor.

"It looked like he was bored to death and thought he was above it all," she said. "I don't know how you can be in that much denial and have that much evidence."

In 2002, Bishop Grahmann was publicly criticized by a fellow bishop for refusing to remove a prominent priest caught in a sex scandal.

In that case, a man accused the Rev. Ramon Alvarez, rector of the Cathedral Shrine of the Virgin of Guadalupe, of groping him during a blessing. Diocesan officials said Father Alvarez admitted "inappropriate contact" with the man and had previously been counseled about "boundary issues."

That prompted a News editorial calling for Bishop Grahmann's resignation.

After the editorial ran, some prominent lay Catholics started a petition drive urging the Vatican to replace Bishop Grahmann.

The bishop's supporters launched a counter-petition urging him to stay. Leaders of this drive included Father Alvarez, who earlier this year was removed from his cathedral job for undisclosed reasons, and the Rev. Matthew Bagert, a close Alvarez associate who was suspended last year after being arrested on child pornography charges.

Dallas County District Attorney Bill Hill launched a broad investigation of diocesan officials in 2005, in part because of the Bagert case, and also because of a News report that a priest accused of sexually harassing several boys was still in ministry despite a letter to the bishop outlining the allegations. No charges resulted from that investigation. A judge recently dismissed the case against Father Bagert because of a violation of evidentiary rules.

Church settlements with sex abuse victims over the last decade have topped $45 million, and several cases are pending. In June, the Rev. Richard E. Johnson, pastor of St. Patrick Catholic Church in Lake Highlands, one of Dallas' largest parishes, lost his job after diocese officials verified an abuse allegation.

Staff writer Jeffrey Weiss contributed to this report.

E-mail begerton@dallasnews.com




July 15, 1931: Charles Grahmann is born in Hallettsville, Texas.

March 17, 1956: He is ordained to the priesthood in San Antonio.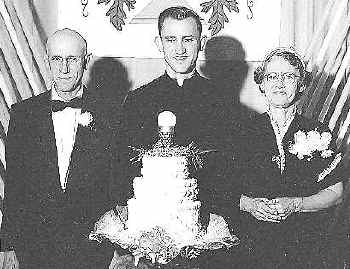 Charles Grahmann's parents helped celebrate his ordination in March 1956 in San Antonio. He was made a bishop in 1982.
Photo by The Catholic Diocese of Dallas Archives


1964: He is appointed priest secretary to Archbishop Robert E. Lucey of San Antonio.

May 29, 1982: He is installed as bishop of Victoria, Texas.

March 1989: He is elected president of the Texas Conference of Churches for a two-year term.

Dec. 11, 1989: He is appointed coadjutor to the bishop of Dallas.

July 14, 1990: He is installed as bishop of Dallas.

June 5, 1992: The Rev. Robert Williams sends a 12-page letter to Bishop Grahmann, recounting dozens of times that the Rev. Rudolph Kos had boys spend the night in his room.

July 1992: Bishop Grahmann tells Father Kos to "Stop. Don't have the little boys overnight. I'll move you if you do."

1993: Bishop Grahmann receives a letter from a lawyer, with three sworn statements from boys, stating that the Rev. William Richard had been sexually harassing several boys at a Dallas Catholic high school and a Plano church.

1994: Father Richard is transferred from the high school to Rockwall, where he succeeds a priest who had molested a girl and been sent to an out-of-state treatment center.

1995: After the diocese receives reports of misconduct during the 1960s by the Rev. Patrick Lynch, Bishop Grahmann grants the priest early-retirement benefits based on a heart condition – which already had been treated successfully with a single angioplasty and an overnight hospital stay, according to church records.

July 16, 1997: Bishop Grahmann appoints a nine-member "crisis management team" to respond to concerns raised by the sexual abuse civil trial of Mr. Kos, now defrocked.

July 24, 1997: Finding that the diocese committed "gross negligence" and concealed information, jurors awarded 11 plaintiffs $119.6 million, the largest judgment ever in a clergy sexual molestation case.

Dec.3, 1997: Bishop Grahmann undergoes an arterial bypass.

January 2000: Bishop Joseph Galante moves from Beaumont to Dallas to become coadjutor bishop.

November 2002: Bishop Galante says he's been unable to persuade Bishop Grahmann to remove the Rev. Ramon Alvarez from the Cathedral Shrine of the Virgin of Guadalupe after Father Alvarez acknowledges "inappropriate contact" in 1991 with a Houston-area man.

Nov. 16, 2002: The Dallas Morning News publishes an editorial that begins, "For the good of the Catholic Diocese of Dallas and the 800,000 worshippers whom he leads, Bishop Charles Grahmann should resign."

June 26, 2003: More than three dozen prominent laypeople begin a Web petition campaign seeking Bishop Grahmann's resignation.

Aug. 14, 2003: Supporters of the bishop collect more than 12,000 signatures, countering the call for his resignation.

March 23, 2004: Bishop Galante leaves to head the diocese of Camden, N.J.

June 2005: Dallas County District Attorney Bill Hill announces that he will not bring charges against Bishop Grahmann and other Catholic leaders over their handling of sexual misconduct allegations.

Sept. 11, 2005: Bishop Grahmann dedicates a 224-foot bell tower at the downtown cathedral, the crowning touch to a restoration of the century-old sanctuary.

July 15, 2006: Bishop Grahmann will turn 75, the mandatory age for a bishop to submit his resignation to the Vatican.


Over the past decade, the Catholic Diocese of Dallas and its insurers have paid more than $45 million to victims of sexual abuse. Cases are pending or expected from accusers of the following men, none of whom still have church jobs:

• The Rev. Thomas Behnke

• The Rev. Michael T. Flanagan

• The Rev. Richard E. Johnson

• Ex-priest Rudolph Kos

• Former child-care worker Julio A. Marcos

• The late Rev. Henry McGill

• The Rev. Kenneth Roberts

• Former child-care worker Patrick Willhoite