Former Margate Priest Charged in Sex Abuse Case Allowed to Rent Apartment

By Tonya Alanez
Sun-Sentinel
July 25, 2006

http://www.sun-sentinel.com/news/local/southflorida/sfl-725
margatepriest,0,4631710.story?coll=sfla-home-headlines

FORT LAUDERDALE — A retired priest from Margate who is accused of molesting, drugging and raping a boy on Tuesday was given permission to move into an apartment of his own while he awaits trial in the case.

Broward Circuit Judge Susan Lebow on Tuesday approved Neil Doherty's request to move from a sister's home in Palm Beach County to an apartment of his own at the The Moorings in Lantana.

Last March, Lebow granted Doherty $70,000 bond on the condition that the 63-year-old surrender his passport, stay away from children younger than 18, and not enter the city limits of Margate. He also must wear an electronic monitoring device.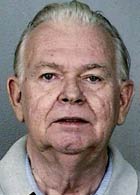 Neil Doherty
Photo by The BSO



Doherty, a former priest at St. Vincent's Catholic Church in Margate, was arrested in January and faces eight counts of sexual battery, lewd and lascivious acts and molestation.

Trial is pending. Conviction on the sexual battery charges carries a mandatory minimum 25-year sentence and up to life.

Last week, the Archdiocese of Miami agreed to settle six separate sexual abuse cases accusing a number of its former clergy members, including Doherty.

The church agreed to pay out a combined $750,000 to the unidentified victims in the six cases, said Miami-based attorney Jeffery Herman. It is unclear the total number of victims who were involved in the lawsuits.

Doherty has been accused in several civil lawsuits of drugging and raping young boys in incidents dating to 1973. In one case, Broward prosecutors could not file criminal charges because the statute of limitations had expired.

The allegations of a Broward man, now 20, are at the heart of the current criminal case against Doherty and span seven years, with the last incident in 1999.

Tonya Alanez can be reached at tealanez@sun-sentinel.com or 954-356-4542. Ihosvani Rodriguez contributed to this report.