Butler Co. Priest Suspended
Accuser Claims 'Sexual Overtones' in the 1970s

By Dan Horn
Cincinnati Enquirer
August 19, 2006

http://news.enquirer.com/apps/pbcs.dll/article?
AID=/20060819/NEWS01/608190358/1056

The Archdiocese of Cincinnati suspended a Butler County priest Friday because of an accusation that he acted inappropriately with a teenaged boy in the 1970s.

The Rev. David F. Reilly, pastor of St. Aloysius parish in Shandon, is accused of having improper contact with the boy while he was an associate pastor at Our Mother of Sorrows in Cincinnati.

Church officials said the accuser, now an adult, claims Reilly's behavior had "sexual overtones." They would not describe the accusation.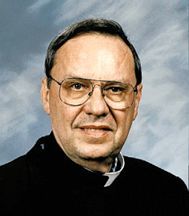 The Rev. David F. Reilly



Reilly could not be reached Friday.

Church spokesman Dan Andriacco said the priest acknowledged contact with the boy but denied it was inappropriate.

"He disputes some details of the accusation," Andriacco said. He said the accuser was 13 or 14 years old at the time.

Reilly, 63, is on paid leave and is barred from presiding at Mass or performing any other priestly duties.

Under church law, a priest is suspended if church officials determine the accusation against him has a "semblance of truth."

The archdiocese reported the accusation to Hamilton County prosecutors and hired a private investigator, Andriacco said. When those investigations are complete, the archdiocese's Child Protection Review Board will recommend action to Archbishop Daniel Pilarczyk.

Pilarczyk could reinstate Reilly or refer the case to the Vatican, which could impose tougher penalties, including permanent removal from the priesthood.

Reilly was ordained in 1975 and Our Mother of Sorrows in Roselawn was his first assignment. He later worked at St. Mary parish in Oxford, St. Teresa of Avila in Price Hill and St. Bonaventure in South Fairmount.

Reilly is the 12th priest the archdiocese has suspended because of allegations of misconduct involving children. Five others have either been permanently removed from the priesthood or defrocked by the Vatican.

E-mail dhorn@enquirer.com