Ochoa Felt He Did Nothing Wrong, Priests' Lawyer Says
Attorney Gives Account of Sonoma Fugitive's Meeting with Bishop on Sex Abuse Case

By Martin Espinoza
The Press Democrat [Santa Rosa CA]
August 23, 2006

http://www1.pressdemocrat.com/apps/pbcs.dll/article?AID=/20060823/NEWS/608230303/1033/NEWS01

Even after fugitive priest Xavier Ochoa was stripped of his duties by Santa Rosa Bishop Daniel Walsh, Ochoa believed he had done nothing wrong and would be reinstated, says an attorney representing two Sonoma priests with knowledge of the sex abuse case.

"Ochoa was extremely upset and felt that the bishop had overreacted," attorney Dominic Sposeto wrote in statements delivered to Sonoma County sheriff's investigators and the District Attorney's Office.

Sposeto represents the Rev. Frank Epperson, who along with the bishop and other diocese officials are the focus of a criminal investigation into whether they violated state law by failing to immediately report suspicions of child sexual abuse by Ochoa.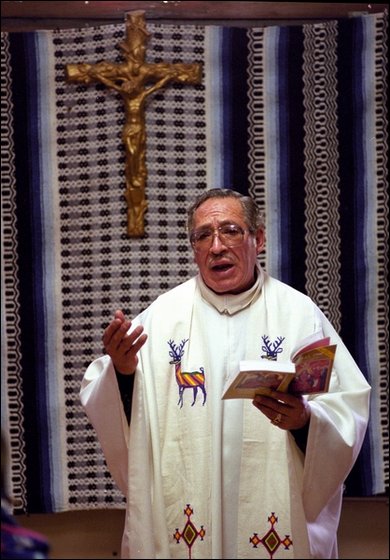 The Rev. Xavier Ochoa Said to be upset that bishop "overreacted"
Photo by The Courtesy




WHERE IS HE?
Investigators believe the Rev. Xavier Ochoa fled to Mexico around May 6, and his wherabouts are currently unknown.

Ochoa faces 10 felony counts related to child sex abuse, and a federal arrest warrant has been issued for unlawful flight.


Sposeto said he also represents the Rev. Michael Kelly, pastor of St. Francis Solano Church in Sonoma, where Ochoa led Latino parishioners. Kelly was informed of Ochoa's admissions before the diocese reported them to authorities, Sposeto said.

The documents present the lawyer's account of the church's dealings with Ochoa, as explained to him by Epperson, the associate pastor at St. Francis Solano. Sposeto says Epperson had no knowledge of sexual improprieties before Ochoa's admission to Walsh on April 28 at a meeting attended by Ochoa, Walsh, Epperson and Monsignor James Pulskamp, the diocese vicar general.

The documents paint a different picture of Ochoa, one of a priest who came forward not because of a guilty conscience, but because he suspected people were out to get him.

"Ochoa firmly believed that he had done nothing wrong and indicated to Fr. Epperson that he would like to explain the matter to the bishop," Sposeto wrote.

At the meeting Ochoa told Walsh that he jokingly offered a boy $100 to strip for him and that he had kissed boys on the lips, according to court records. At the meeting, Ochoa was relieved of his duties and later shared his disappointment with Epperson.

"Ochoa was extremely upset," Sposeto wrote, "and felt that the bishop had overreacted and was hopeful that he might be reinstated."

Two days later, on April 30, Walsh relayed a message to Ochoa through Epperson that Ochoa would be reported to law enforcement agencies. Two days after that, on May 2, a report was filed with the Sheriff's Department.

Ochoa is believed to have fled to Mexico on or about May 6.

"Ochoa felt that the bishop's conduct was unfair and unnecessary," Sposeto said.

The subsequent investigation by sheriff's deputies led to far more serious allegations and culminated in the filing of 10 felony counts and one misdemeanor count of child sex abuse involving three alleged victims. Sposeto said he released the letters he wrote for Epperson and Kelly to show that his clients are not guilty of violating mandatory reporting laws for suspected sex abuse.

"Ochoa mentioned certain circumstances of his relationship with a male boy who strip danced in his presence," Sposeto wrote. "Ochoa explained that without ever having touched the young male, Ochoa sent him home and later that same day explained to the boy's family what had occurred, the family seemed unconcerned and said that sounds like the boy. He also indicated to Fr. Epperson that there were certain other instances of contact with a young male in Mexico and one in Napa, both many years prior to his coming to St. Francis Solano."

In a recent public statement, Walsh apologized for the delay and said he would accept any punishment if found guilty of violating state mandatory reporting laws.

State law requires clergy members and others to report abuse "immediately or as soon as practicably possible" by phone and to follow up by fax or e-mail within 36 hours.

Epperson could not be reached Tuesday for comment. Sposeto said he has advised his clients not to speak to the media.

Asked if Epperson should have reported Ochoa on April 27, the day before the two met with Walsh, Sposeto said, "Hell no, he didn't know enough to report it."

"Epperson acted as conscientiously as anyone could imagine," he said.

The Sheriff's Department said its investigation into whether Walsh and other church officials violated mandatory reporting laws for child abuse will be complete by the end of this week.