Priest Who Molested Teen Is Released from Jail

By Todd C. Frankel tfrankel@post-dispatch.com
Post-Dispatch [St. Louis MO]
August 30, 2006

http://www.stltoday.com/stltoday/news/stories.nsf/stlouiscitycounty
/story/C9384F5C5634D302862571DB0018341C?OpenDocument

After serving a three-year term for molesting a teenager, the Rev. Bryan Kuchar was released from St. Louis County Jail early Wednesday morning.

Kuchar, 40, was moved to "a monitored environment at a facility outside the immediate St. Louis metropolitan area," said Tony Huenneke, a spokesman for the St. Louis Archdiocese.

Kuchar will reside at the undisclosed facility until the Vatican decides whether to grant the archdiocese's request to laicize, or defrock, Kuchar. The request, made in May 2004, has been met by silence.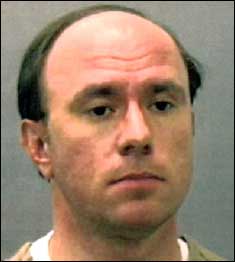 Bryan Kuchar
Photo by The Handout



Kuchar, who has maintained his innocence, has been fighting the move. His attorneys did not return calls Wednesday.

The church is paying for Kuchar's stay at the facility, but the priest is not otherwise being paid, Huenneke said.

Kuchar was found guilty in 2003 of molesting a 14-year-old boy in 1995. The priest was serving at Assumption Catholic Church in south St. Louis County. He was sentenced to three years in jail.

The group Survivors Network of those Abused by Priests has asked the archdiocese to continue seeking out potential sexual abuse victims of Kuchar.

Huenneke said the archdiocese urges anyone "who may have been hurt by Bryan Kuchar" to contact the church or law enforcement authorities.