$17 Million Settles 10 Abuse Cases
Archdiocese Will Sell Cousins Center; Insurance to Pay Half

By Tom Heinen theinen@journalsentinel.com
Milwaukee Journal Sentinel
September 1, 2006

http://www.jsonline.com/story/index.aspx?id=489857
[Note from BishopAccountability.org: For more information on the Widera case with links to Milwaukee archdiocesan documents see Second Chances: Confidential Diocesan Records Show Church Leaders Repeatedly Allowed Known Pedophiles to Return to Ministry, by Rachanee Srisavasdi, Andrew Galvin, Tony Saavedra, and Chris Knap, Orange County Register (5/18/05); and Orange Diocese Gives Details on Sex Abuse: Documents Show How Officials Covered For, Transferred and Even Promoted Pedophiles, by William Lobdell and Jean Guccione, LA Times (5/18/05).]

The Archdiocese of Milwaukee has averted the possibility of bankruptcy and reached settlements totaling $16.65 million with 10 victims of clergy sexual abuse whose lawsuits were heading for trial in California, according to the archdiocese and attorneys representing all but one of the victims.

The archdiocese will pay $8.25 million, slightly less than half of the settlement, with insurance covering the remainder.

Proceeds from the expected sale of the Cousins Center in St. Francis and other archdiocesan properties, plus the liquidation of some short- and long-term investments, will pay for the settlement, archdiocesan officials said.

No parish property will be affected, they added.

The cases involved sexual abuse of children and youths committed decades ago in California by two Wisconsin priests whose detailed histories of sexual abuse were kept secret when Milwaukee archdiocesan officials facilitated their transfers to California.

Although Wisconsin Supreme Court decisions have blocked virtually all sexual-abuse lawsuits against religious institutions here, two factors paved the way for the lawsuits in California. The California Legislature approved a one-year window for such lawsuits to be filed there, no matter how long ago the abuse occurred. Also, the California Supreme Court ruled that the Milwaukee Archdiocese could be sued by a sexual abuse victim in that state, and the U.S. Supreme Court declined to consider blocking that decision.

Reached Tuesday

The settlement was reached Tuesday after a two-day, court-ordered mediation overseen by Judge Charles McCoy, supervising judge for the Los Angeles Superior Court. The first of the pending cases had been scheduled for trial Nov. 6.

Milwaukee Archbishop Timothy M. Dolan participated in the marathon negotiations on McCoy's recommendation and met with six victims and some spouses. He described the experience as "very moving."

"Even the plaintiffs' attorneys, who were obviously not the kind of people I'd be sitting down with for Thanksgiving dinner, they were very grateful that I was there, and they expressed that," Dolan said.

Asked about the archdiocese's liability if the cases had gone to trial, Dolan said the financial impact could have been "towering." The cases were "particularly hideous," and the plaintiffs' attorneys were seeking civil and punitive damages, he added.

Dolan said he had several goals: to treat victim-survivors with reverence and attentive listening; to protect the financial resources of the archdiocese and the charities and services they fund; and to keep the cases from going to court, both for the good of the archdiocese and to avoid putting victims through that.

"I had another goal, to really close this chapter in California," Dolan said. "That's been hanging over us for a long time, and that's been haunting me. It's been like handcuffs. Finally, I had the gritty goal of making sure the insurance providers stepped up to the plate."

Weakland spared, Isely says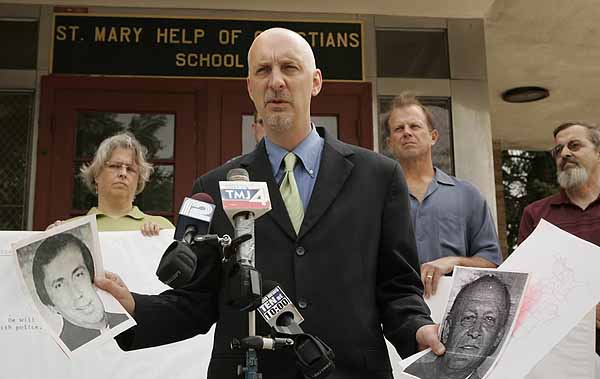 Peter Isely, Midwest director for Survivors Network for those Abused by Priests, holds photos of Franklyn Becker (left) and Siegfried Widera, former priests named in abuse suits settled by the Milwaukee Archdiocese this week.
Photo by Rick Wood


Peter Isely, Midwest director of the Survivors Network of those Abused by Priests, saw the California settlements as a way for the archdiocese to avoid having retired Archbishop Rembert G. Weakland have to reveal more details about his actions and those of other church officials in depositions or courtroom testimony if the cases had gone to trial.

"Courts in Wisconsin are helping the bishops of Wisconsin to completely evade their liability and responsibility for the rape of children in our state," Isely said.

A pending lawsuit the archdiocese filed against numerous insurance providers to make them accept some financial responsibility was resolved during the settlement, Dolan said.

"There's a sense of relief that those goals were accomplished. I don't want to hide the fact that this will entail sacrifice from the archdiocese; we're talking about $8 million. But I'm also relieved that those goals and other goals I had before me have all been met. Even though it will be a severe sting to the Archdiocese of Milwaukee, we still do have the financial integrity and vitality and ability to do the works of charity and service that people want us to do."

Dolan commended

California attorney Katherine Freberg, who represented eight of the victims, commended Dolan for his participation and said an important part of the settlement was an agreement to release archdiocesan records in the cases, some of which were previously released in California.

But Freberg also said that her clients and victims in Wisconsin were calling on Dolan to support pending legislation in Wisconsin that would allow a one-year window for lawsuits to be filed here against religious organizations.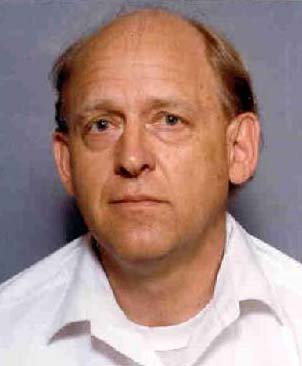 Siegfried Widera. The implicated priest killed self in Mexico as police closed in.



"It is indeed ironic that the eight California victims of Siegfried Widera can receive fair compensation for their injuries, while others are left to deal with the horrors of childhood sexual abuse alone," Freberg wrote in a prepared statement. "This anomaly is solely dependent on the happenstance of where they were abused."

Dolan said the archdiocese's independent mediation process has helped victims. He also noted that the church is not alone in its protections under the law. There are statutes of limitations and caps on damages for sexual abuse lawsuits involving public schools, municipalities and state government, according to Dolan and Jerry Topczewski, his chief of staff.

Won't support legislation

"As grateful as I am for her kind words, I would not support that rollback (to allow lawsuits on old cases)," Dolan said. "I just don't think it's accurate to hold up what's being done in California as a model. I think the constitutional protections we have in Wisconsin have got to be preserved."

Dolan acknowledged that the individual monetary settlements reached so far with more than 100 victims through the archdiocese's voluntary mediations were much smaller than the California settlement payments.

"I hear that from others, even people who are high on our voluntary mediation can still be critical about the amount," Dolan said. "And there's no denying that if you do the arithmetic.

" . . . What do I say to that? First of all, we listen to the victim-survivors, who tell us always, always, that this isn't about money. They expect reverence and attention, a spiritual component, a pastoral side. As relieved as I am about California, that was all about money, and I don't know that that's the best. . . . Is this a great example that this ends up being a great debate between lawyers?"

Freberg said that her clients will receive $13.3 million from the Milwaukee Archdiocese and an additional $15.5 million from an earlier settlement with the Diocese of Orange in California.

All eight of her clients said they were sexually abused by the late Father Siegfried Widera in the late 1960s, 1970s and early 1980s while they ranged in age from 8 to 16. A victim represented by a different attorney also named Widera in his lawsuit.

The tenth victim said in his lawsuit that he was abused by Franklyn Becker, an archdiocesan priest who was later laicized.

In 1973, while an associate pastor at a Port Washington church, Widera pleaded guilty to sexually assaulting a 14-year-old boy in Fredonia and was sentenced to three years' probation. He was subsequently transferred to other parishes in southeastern Wisconsin, where additional complaints of sexual abuse of minors surfaced but were not made public.

When Widera sought to transfer to the Diocese of Orange in 1976, the Milwaukee archdiocese sent a letter of recommendation that noted that he previously had a "moral problem having to do with a boy" but that he posed "no great risk."

Jumped to death

Widera, who later left the priesthood, committed suicide in 2003 by jumping from the balcony of a Mexican hotel as police were closing in on him after an extensive manhunt.

Widera had been on the run for nearly a year. He was facing four counts of enticing a child and five of indecent behavior with a child in Wisconsin's Walworth County. In California, prosecutors had issued a warrant for his arrest on 33 felony counts of child molestation.

Jeff Anderson, a Minnesota attorney who is known nationally for his handling of sexual abuse lawsuits, represented the plaintiff who said he was abused by Becker. Anderson said his client received $2 million in the settlement with the Milwaukee archdiocese.

Earlier this week, a Wisconsin appeals court upheld a Milwaukee county judge's decision to dismiss four lawsuits against the archdiocese - three alleging sexual abuse by Widera and one by Becker, all in Wisconsin - on the grounds that the statute of limitations had expired. Anderson said those cases would be appealed to the Wisconsin Supreme Court.



Related Documents
• News release from Archdiocese
• News release from the abuse survivors group SNAP

'A particularly difficult time for victims in Wisconsin'
Wisconsin victims of clergy sex abuse gathered outside a West Allis Catholic church Friday morning to point out the disparity between the California law and that in Wisconsin, where court rulings have protected the church from similar legal action.

Peter Isely, Midwest director of the Survivors Network of those Abused by Priests, noted that at least one Wisconsin victim was abused by Widera after the abuse in California.


"No Wisconsin victims were a part of the California settlement," Isely said from the steps of Mary Help of Christians Catholic Church. "In California, every victim of childhood rape by a priest or religious was able to exercise their rights as a citizen and seek justice in the courts. Wisconsin is the only state in the U.S. that provides a complete and total legal shield to every bishop and clergy responsible for sex abuse."

"This is not a time to celebrate," Isely said. "No one is happy or gleeful in Wisconsin or in California, but this is a particularly difficult time for victims in Wisconsin."

Marie Rohde