Metro Group Wants Church Abuse to Stop

KSTP [Minnesota]
September 4, 2006

http://www.kstp.com/article/stories/S18570.html?cat=1

Their message is simple, stop the abuse.

Sunday a Twin Cities group reached out to those who they say were victimized in a Twin Cities church.

Allegations of abuse at St. Michael's Church in Anoka have been around for nine years, but a group of advocates say the church has not addressed them. Sunday they took it upon themselves to spread the word.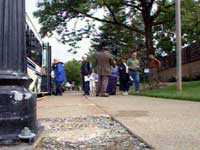 "we're trying to help some people who may have been hurt here growing up."

Bob Swiderski knows there are more victims, after morning mass Sunday he tried to reach out to find them.

"I just feel it's important for to publicly talk about it," he said.

Swiderski wants to talk about Michael Bik, who taught at St. Stephens Catholic Church between 1971-1972. Bik is accused of sexually abusing children. The accusations have been around for the past nine year but the church has done nothing, Swiderski says.

The abuse accusations happened long before Father Mike Van Sloan arrived at St. Michael, but now that it's part of a public conversation it's also part of Van Sloan's problem.

"Our heart goes out to the victims and our heart goes out to the family's and we want to be able to learn from the mistakes of the past," Van Sloan said.

Swinderski hopes just mentioning the allegations will help somebody who is holding a secret.

Swiderski says Bik is still a priest at St. John's Abeey in Collegeville, Minn.,

Bik has never been charged with a crime but as of Sunday he is on restriction with the church because of the allegations.