Jailed Milford Priest Facing Additional Sex Abuse Charges

By Brandon Lausch
Courier News
September 7, 2006

http://www.c-n.com/apps/pbcs.dll/article?AID=/20060907/NEWS/609070305

A former Milford priest convicted of sexually assaulting a child is facing a new set of charges for similar offenses, Hunterdon County Prosecutor's Office officials said Wednesday.

The Rev. John M. Banko, who is serving 15 years at the Adult Diagnostic and Treatment Center in Avenel, has been indicted on one count of first- degree aggravated sexual assault and one count of second-degree endangering the welfare of a child.

The indictment comes after the Diocese of Metuchen provided authorities with information that was not immediately specified by the prosecutor's office. The indictment, however, claims Banko sexually assaulted a child younger than 16 between Sept. 1, 1994, and May 15, 1995, while Banko was serving as pastor at a church not named by the prosecutor's office.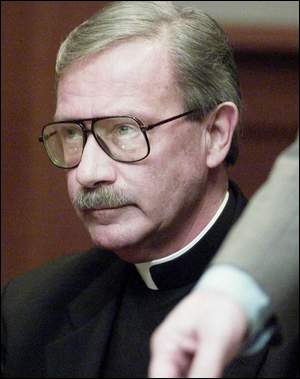 The Rev. John M. Banko, facing new set of charges



If convicted of the new charges, Banko faces up to 30 years in prison and fines of $350,000.

Joanne Ward, spokeswoman for the Diocese of Metuchen, which encompasses more than 100 parishes in Middlesex, Somerset, Hunterdon and Warren counties, said a letter explaining the new charges would be read to parishioners this weekend.

In a prepared statement Wednesday evening, the diocese said the underlying allegations against Banko were first reported to the Diocese of Metuchen. Then, in accordance with the diocese's long-standing protocol, the allegations were immediately referred to the Hunterdon County Prosecutor's Office.

"The diocese will continue to cooperate with the prosecutor's office and trusts that, ultimately, justice will prevail," the statement said.

Banko was removed from ministry April 6, 2000, at which time he was prohibited from exercising priestly ministry, the diocese said.

Prosecutor J. Patrick Barnes was not immediately available for comment.

Known to parishioners as "Father Jack," Banko was convicted in December 2002 of molesting a former altar boy on two consecutive Sundays after Mass at St. Edward the Confessor Roman Catholic Church in Milford from September 1993 to September 1994.

During the jury trial, Banko testified in his own defense and maintained his innocence during sentencing before Superior Court Judge Anne R. Bartlett.

Testimony during the trial included the recollections of a 39-year-old Baltimore man who told the court Banko molested him repeatedly during a 10-year period starting around 1972. Two other men said Banko took them to upscale restaurants, where he often offered them alcohol, and that they would play racquetball with him before bathing nude in a hot tub at a health club.

Both men testified they stopped contact with Banko after the pastor grabbed their buttocks. One of the men testified he was befriended by Banko as a teenager attending St. Charles Borromeo Church in Montgomery, where Banko was pastor from 1982 to 1989.