Priest Arraigned on Sex Charge

By Sam Hemingway
Burlington Free Press
September 12, 2006

http://www.burlingtonfreepress.com/apps/pbcs.dll/article?
AID=/20060912/NEWS01/609120317/1009/NEWS05

St. Albans -- The Rev. Stephen Nichols, 46, of Lyndonville, pleaded not guilty Monday to a felony charge of fondling an 18-year-old man in Richford last year after buying him beer at a restaurant and pool hall in Canada.

Nichols was released on his own recognizance after being charged in Vermont District Court with one count of lewd and lascivious conduct. According to a police affidavit, he has contended the alleged victim was the sexual aggressor in the incident.

Nichols, who is on leave from his priestly duties pending the outcome of the criminal case, declined comment as he left the court house accompanied by his attorney, Mark Kaplan of Burlington.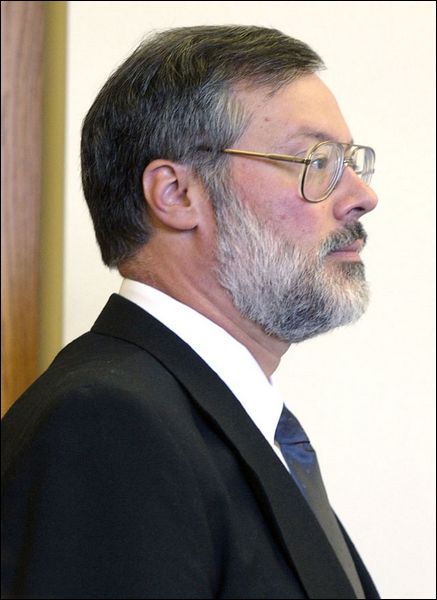 Rev. Stephen Nichols, a Roman Catholic priest at St. Elizabeth's Church in Lyndonville, is charged with lewd and lascivious conduct Monday in Vermont District Court in St. Albans.
Photo by The STINA PLANT, St. Albans Messenger



The brief proceeding was attended by Bishop Salvatore Matano, several priests and an employee of the statewide Catholic Diocese. Matano said last week the diocese is not providing legal help to Nichols.

According to the affidavit, Nichols first befriended the alleged victim in 2003, while the teen was working at a St. Johnsbury restaurant frequented by Nichols. As a matter of policy, the Free Press does not disclose the identity of alleged victims of sexual abuse without their consent.

The affidavit said the teen told Nichols he was considering converting to Catholicism. On the teen's 18th birthday in February 2005, and again on April 21, 2005, Nichols took him to Canada, treating him to dinner and drinks and taking him to a casino, a microbrewery and an adult bookstore.

The alleged fondling incident occurred after a night of drinking at a pool hall during the second visit to Canada. After arriving at a home in Richford that Nichols co-owns with another priest, Nichols twice fondled the teen and offered to perform a sex act on him, but the teen rebuffed the priest's advances, the affidavit said.

The next day, Nichols tried to persuade the teen not to tell anyone what had occurred the night before, the affidavit said.

"Nichols went on to tell (the victim) not to mention his name and not 'confess' what had happened," the affidavit said. "Nichols also made an offer of money." The teen told police investigators that he told Nichols he did not want money.

The incident came to light when, according to Matano and police, the diocese received information about it from an anonymous phone caller in August 2005. The diocese did its own investigation and, four months later, contacted the Attorney General's Office to report what it had found.

According to the police affidavit, Nichols told diocesan investigators and several colleagues and parishioners of his, including Vermont State Police Lt. Ed Ledo, that the teen had tried to instigate the sexual activity.

"A short time later, the 'kid' came to see Nichols ... and asked Nichols how much his life was worth and he wanted money to keep his mouth shut," according to the affidavit.

Assistant Attorney General Cindy Maguire, speaking with reporters on the courthouse steps following Nichols' arraignment, chided the diocese for not reporting the incident sooner.

"We're happy that the church did make the referral," Maguire said. "The timing of that was delayed, which I don't think is a good practice for any organization."

Matano, who convened a news conference last week to confirm the allegations against Nichols and the diocese's efforts to investigate it, said Monday he would not comment further on the case.

"I've said all I could say," Matano said. "Now this is a matter for the courts to decide."

Maguire also disclosed Monday that the teen told the St. Johnsbury barracks of the Vermont State Police about the incident only days after it occurred but said the barracks did not act on the information.

Instead, Maguire said the St. Johnsbury barracks told the teen to take the report to the barracks in St. Albans because it has jurisdiction for criminal complaints originating in Richford.

"It would have been a better situation if there had been communication between St. Johnsbury and St. Albans," Maguire said. She did not think the reporting delays hampered the police investigation and is not aware of any other allegations against Nichols.

"We don't know of any other victims," she said. "If there are some, we would like to know about them."

Nichols, who was put on a leave of absence in April, was the parish priest at St. Elizabeth Church in Lyndonville and Our Lady Queen of Peace Church in Danville.

Judge Ben Joseph, who handled the Nichols' arraignment, is also the presiding judge for 23 civil suits pending against the diocese in Chittenden County Superior Court. The suits were filed by men who alleged that, as altar boys years ago, they were molested by Catholic priests in Vermont. One of the cases settled for $965,000 in April.

Contact Sam Hemingway at 660-1850 or e-mail at shemingway@bfp.burlingtonfreepress.com