In Sex Abuse Case, Priest's Old Letter Could Be Pivotal

By Michael Luo
The New York Times
September 14, 2006

http://www.nytimes.com/2006/09/14/nyregion/14priest.html?_r=2&
ref=nyregion&oref=slogin&oref=slogin
Monsignor Kavanagh's letter (pdf)

For years, the letter sat in an attaché case in the study of the family's home. For the parents who received the letter and had once trusted their teenage son with the priest who wrote it, it was too important to throw away, but too upsetting to reread.

Only when Daniel Donohue, the teenage son who grew up to be a conflicted adult, decided several years ago to come forward to accuse the Roman Catholic priest, Msgr. Charles M. Kavanagh, of touching him in a sexual manner on at least two occasions, did his parents dig the letter out again. By then, it was yellowed and creased but contained what they thought was proof that the priest had acted inappropriately with Daniel.

"It lay in there for years and years and years," Jack Donohue, Daniel's father, said yesterday.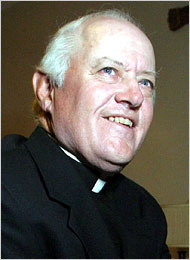 Msgr. Charles M. Kavanagh Photo by Chester Higgins Jr./The New York Times


Earlier this week, Daniel Donohue, now 42, married with four children and living in Portland, Ore., flew to New York City and turned the letter, which was addressed to his parents, over to officials at the Archdiocese of New York. The officials had been asking him for the letter, Mr. Donohue said, in preparation for a church trial that is expected later this year in which Monsignor Kavanagh, now 69, who had risen to become the archdiocese's chief fund-raiser before he was suspended in 2002, faces the possibility of being removed from the priesthood.

A copy of the letter, which was given to The New York Times by Mr. Donohue, highlights the potential shades of gray in cases like these. Monsignor Kavanagh's supporters, after having portions read to them, argued that it proved what he has said all along; that he had an emotionally intimate relationship with Mr. Donohue, but that he never sexually abused him.

"He has never denied having a close affectionate relationship with this man," said Ann Mandt, Monsignor Kavanagh's sister. "He has consistently adamantly denied that he sexually abused him and, when it goes into a court, he will be found innocent."

Mr. Donohue and his parents disagreed with the priest's supporters, saying that although the letter does not get into the details of alleged instances of molestation, it does show a man with a guilty conscience, who knew he had crossed the boundaries of proper behavior.

"This is a sick man, a disturbed man," Jack Donohue said.

Daniel Donohue said in an interview that the four-page letter, typed and single-spaced, was sent to his parents several months after he broke off contact with Monsignor Kavanagh while attending a college seminary. The letter is full of emotionally laden language expressing how much the priest loved their son, and was written after the young man had broken off contact. It is filled with misspellings.

"Here was the closest human relationship, and the deepest spiritual relationship of my life, and, without a word spoken, any listening or dialogue, I was told that I don't exist any more," Monsignor Kavanagh wrote to the parents.

Later in the letter, Monsignor Kavanagh defended himself from allegations of "touching" that Daniel Donohue had accused him of in a letter to the priest earlier that year.

Monsignor Kavanagh tried to explain the physical relationship: "Dan and I used to hold hands and embrace each other often. It wasn't planned, but just became something we did. We would put our arms around each other and say how much we cared for and loved each other."

"I never touched Dan or, He me, genitally, and I never saw it in terms of sexual activity. I had tried to tell him when we talked about it back then, that there was a difference between gestures of intimacy between close firends and sexual activity that was sinful."

But Monsignor Kavanagh appeared to regret the events: "Those moments must have been very confusing and threatening and very unfair to someone I care for so much. I should have known better and never allowed anythig like that to surface."

He went on: "When I look back on those moments, I see the danger there, but i dont see myself as sick or wierd or cruel. I've been a priest for twenty years and lived a caring and open ministry, and been faithful. I feel good about much of the struggle. When Dan rushed into my life I let him closer than anyone else."

Supporters of Monsignor Kavanagh said yesterday that he could not personally comment on the case because of Vatican rules for secrecy. The case is to be heard by a panel of canon law judges.

When Monsignor Kavanagh and Daniel Donohue developed their close relationship two decades ago, the teenager was a gifted student and athlete at Cathedral Preparatory Seminary, located at that time in Manhattan, where the monsignor served as rector and spiritual director. In time, the charismatic priest would become the teenager's teacher, rector, spiritual director and confessor.

But the Donohues, who were active in the archdiocese, became alarmed by the amount of time that the priest seemed to be spending with their son and what they perceived as his possessiveness.

Later, when Mr. Donohue moved on to the college seminary in Douglaston, Queens, in 1982, every time the parents went to visit him, they would invariably find Monsignor Kavanagh there as well. "Dan was saying, 'I can't get rid of him,' " Jack Donohue said. " 'He's hounding me.' "

The letter arrived at the Donohue home in Peekskill, N.Y., just before Christmas, 1984. The events alluded to in it, Daniel Donohue said, are the same ones he later contacted the archdiocese about to accuse Monsignor Kavanagh of wrongdoing.

The first involved a time when the student said he was lying on the rector's couch and the priest came over and lay down beside him, leaned his weight against him and rubbed his face back and forth against his.

The second occurred when the rector took a group of boys with him to an anti-abortion rally in Washington. The priest and student stayed in one hotel room but slept in separate beds. In the morning, Mr. Donohue said, the priest jumped into bed with him, wearing only his underwear, and snuggled up behind him. "Somebody knocked," he said. "He jumped out of the bed."

Two sexual abuse experts who reviewed copies of the letter provided them by The Times were divided in their assessment.

A. W. Richard Sipe, a former Benedictine monk who has written several books on priests and sexuality in the Catholic Church, said the letter bore the markers of other sexual abuse cases in which inappropriate behavior is cloaked in spiritual piety. Any person with common sense, he said, would consider the behavior egregious.

"The young man perceived it under all the 'spiritual talk,' " he said. "He was sexually assaulted."

But Dr. Frederick Berlin, associate professor of psychiatry at Johns Hopkins Medical School and a consultant on the National Conference of Catholic Bishops' ad hoc committee on sexual abuse, said that although the letter clearly indicated that proper boundaries between a priest and a student were breached, he did not see anything more sinister.

"I didn't see anything in the letter that I thought was sexual," he said. "What I did see was a spiritual adviser who was trying also to be a friend and have his own personal needs a part of this, making it hard to function in a professional way."
---

Multimedia
Monsignor Kavanagh's letter (pdf)