Trinity Retreat Will No Longer House Suspected Abusers

By Judy Silberstein
Larchmont Gazette
September 19, 2006

http://www.larchmontgazette.com/2006/articles/20060919trinityretreat.html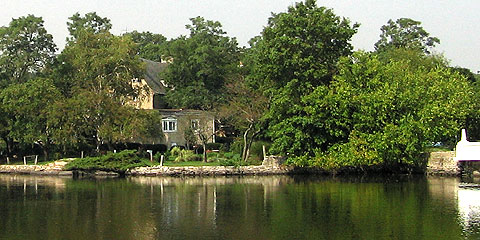 As seen from across the Premium Mill Pond, Trinity House Retreat was founded 32-years ago in a home donated by Dr. Herbert Conway.


(September 19, 2006) Priests alleged or found to have sexually abused a minor will not be housed at Larchmont's Trinity House as part of the New York Archdiocese Shepherd's Program or any similar program, according to Joseph Zwilling, spokesperson for the Archdiocese. In the wake of recent media coverage about the Shepherd's Program and resulting community concern, the one priest temporarily housed at Trinity House is no longer there and is instead being housed at a medical facility under close supervision. (See: Two Accused Priests Enter Trinity House Retreat.) The only other priest in the program scheduled for Trinity House has chosen its other option, leaving the priesthood.

In further response to neighbors' concerns, Father Gene Fulton and Father Benedict Groeschel, Trinity House director and associate director, hosted a meeting at the retreat on Sunday, September 17. Among the topics discussed were whether known or suspected sexual abusers had been sent to the retreat in the past and how to assure that abusers would not be sent there in the future.

"It was a very good meeting – people were frank and honest," said Father Groeschel, the next day. He also voiced his regret: "I wasn't thinking how people would be distressed by this program -- I should have been more sensitive."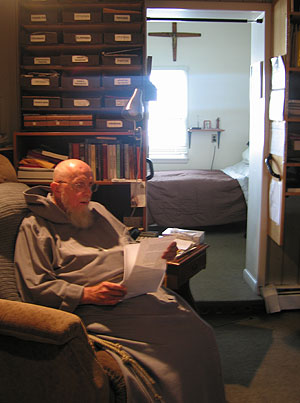 Father Groeschel responds to questions in the study of his residence carved out of the garage at Trinity Retreat House.


"We got our feelings out on the table," said Nancy Dyer, one of around twelve parents who had earlier conveyed concerns to the archdiocese directly and through Mamaroneck Town Supervisor Valerie O'Keeffe.

Going forward, the parents have asked for a letter stating, among other reassurances, that the archdiocese would not send someone to the retreat with "any allegation" of sexual abuse. This language goes beyond a September 15 letter from the archdiocese that refers to not sending individuals with a "substantive allegation." Father Groeschel contacted the archdiocese to help produce a new document, but according to Mr. Zwilling, reached on Thursday afternoon, "The archdiocese has not decided if there is a need for an additional letter."

"We're just hoping to keep the peace and not have anyone at Trinity House who would sexually abuse anyone under the age of 18," said Ms. Dyer, a parishioner of St. Augustine who was "born, bred and raised" in Larchmont and has two children under age 11.

"If you see any priest here now, he is as chaste as Sir Gallahad," said Father Groeschel. "For the most part, priests who come here are on their annual four-day retreat - a time of spiritual renewal, days of prayers" and religious seminars.

Current Case - Past Cases?

Prior to the meeting, Father Groeschel had provided both current and historical context in a telephone conversation. The one priest sent to Trinity from the Shepherd's Program, "Was not accused of anything with a child – it was an impropriety with a woman of marriageable age, and he denied that. He was never accused of any sexual impropriety," said Father Groeschel. The woman was "17 and three-quarters," he clarified later.

"By no means, under any circumstances, would I accept anyone who is a danger to the community," said Father Groeschel, who has a doctorate in clinical psychology and has been at Trinity House for 32 years, since being asked by Cardinal Terrence Cooke to serve as its first director. A founding member of the Franciscan Friars of the Renewal in 1987, he has developed considerable local, national and even global renown through his writings and regular appearances on television and at lectures and conferences. (See: Cablevision Looking Into Scheduling of Father Groeschel Show.)

"People have this image of pedophiles grabbing children off the streets – in a million years, I would never let a person like that come here," he stressed.

He noted that many priests are falsely accused of abuse. "Usually there is a process – one that is very doubtful – when there is a 'credible' accusation, meaning he was there at the time and the accuser is not mentally ill," he said. "You have to understand – if someone accuses you, you are off the job immediately, disgraced, out of a job and out of a place to live," he added later.

Asked if, over the years, there were ever priests who had molested children at Trinity House, the 73-year-old priest paused to search his memory. "There were a couple of border line ones years ago – that was before this whole thing blew up – but they were in no way dangerous."

In a later conversation, Father Groeschel amended that assessment and provided details on three individuals who had been at Trinity House in the past and who he had discussed in a 2003 article that appears on various websites (Father Benedict Groeschel Responds to his Critics). One was Father Morgan Kuhl, who in 2002 pleaded guilty to sexually abusing a teenager in 1999 and was provided with a supervised residence at Trinity House, on and off, during the period that his case was being heard.

In a second case, Father Richard T. Brown, "it was the slightest thing," touching a young girl on the leg, "and he reported himself," to the Bishop of Dallas, said Father Groeschel. Father Brown left Trinity House approximately five years ago, and now lives a strict, penitential life in a hermitage.

Another was Rev. James T. Hanley, who according to articles reprinted on BishopAccountability.org, admitted to abusing "about 12 boys from 1968 to 1982. Rev. Hanley's admissions entered into an eventual $5 million settlement between the Diocese of Paterson and 27 plaintiffs claiming abuse, mostly by Rev. Hanley.

Rev. Hanley was at Trinity House more than 20 years ago. ""When Hanley came here, he lied to us, later the truth came out," said Father Groeschel. "Hanley was a disturbed man, actually manic depressive." (See: From psychiatric unit, onetime priest reaping pain of child sex abuse cases.)

Parents in the Sunday meeting also raised questions about these three cases and about the possibility of others that were not mentioned online.

"Trinity House sees one or two individuals a year – at the most three, who the church has taken off the job because of accusations or possible accusations of improper behavior," estimated Father Groeschel. The behavior ranges from sexual impropriety [not necessarily abuse] to fiscal mismanagement.

"Trinity will continue to offer assistance to priests with personal struggles that have nothing to do with accusations of sexual impropriety," he added. "Remember, a priest doesn't have a family" to help him deal with depression or other troubles.