Robinson Benefit Ad at Church Raises Ire; St. Hedwig Member Protests to Diocese

By David Yonke
Toledo Blade
September 20, 2006

http://toledoblade.com/apps/pbcs.dll/article?AID=/20060920/NEWS10/609200445

Mike Drabik, a longtime member of St. Hedwig Catholic Church on Lagrange Street, could not believe his eyes when he picked up the church bulletin Sunday.

Listed between announcements for a polka night and a prayer service was an item from "Friends/Supporters of Fr. Robinson" announcing a chicken-dinner fund-raiser for Gerald Robinson, the Toledo priest convicted in May in the ritual murder of a nun 26 years ago.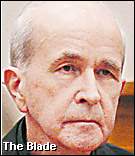 Robinson


"I was very, very offended by seeing that in the bulletin," Mr. Drabik, 50, said last night.

On Monday, he fired off an e-mail to Bishop Leonard Blair saying the bulletin item was "inappropriate" and "appears to give a semblance of sanctioning to and a proclamation of this priest's innocence."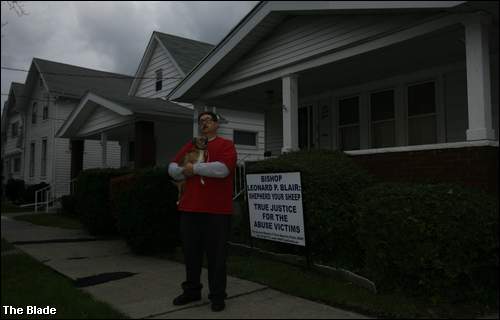 St. Hedwig parishioner Mike Drabik protested notice of the fund-raiser for Gerald Robinson in the church bulletin.
Photo by The Blade / Amy E. Voigt


The Rev. Michael Billian, episcopal vicar for the diocese, responded the same day by e-mail, stating that "the bishop's office and the Diocese of Toledo did not grant permission for this advertisement to be placed in parish bulletins. In fact, the contrary is true. We have told parishes NOT to advertise this event."

Robinson, 68, was arrested in April, 2004, and convicted May 11 in Lucas County Common Pleas Court for the murder of Sister Margaret Ann Pahl in the chapel at Mercy Hospital in April, 1980.

The priest, who was barred from ministry after his arrest and subsequently retired, is serving a 15-years-to-life sentence at Hocking Correctional Facility in Nelsonville, Ohio, where he was transferred after serving three months at Lebanon Correctional Facility.

Robinson filed an appeal in June and his supporters are selling $15 chicken dinners to raise money for his defense fund.

Perrysburg attorney John Donahue is representing Robinson before the Ohio 6th District Court of Appeals in Toledo.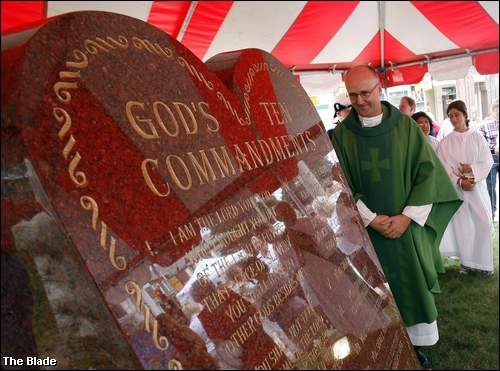 The Rev. Marek Ciesla



Mr. Donahue could not be reached for a comment yesterday.

Mr. Drabik said that in addition to the church bulletin, a flyer for the fund-raiser was posted on a bulletin board in the back of St. Hedwig.

"I was even more offended because the flyer was above one for a Right to Life event," Mr. Drabik said.

Robinson served at St. Hedwig from 1964 to 1969 and again from 1972 to 1973. St. Hedwig and its twin parish, St. Adalbert, serve the Lagrinka Polish neighborhood.

Robinson is of Polish heritage and speaks Polish.

"I'm of Polish descent and my people get very tribal in their ways," Mr. Drabik said.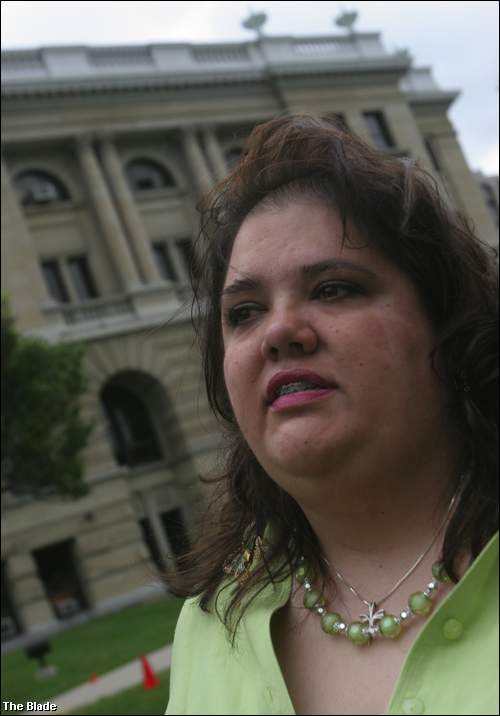 Claudia Vercellotti wants the church to be more forceful in restricting Robinson backers.



"I think some of them accept the fact that Robinson committed murder, but feel he's part of our tribe so we have to protect him."

The Rev. Marek Ciesla, pastor of both St. Hedwig and St. Adalbert parishes, did not return phone calls yesterday.

The church secretary said she did not want to comment on who put the notice in the bulletin.

Claudia Vercellotti, local co-coordinator of the Survivors Network of those Abused by Priests (SNAP), urged Bishop Blair and Father Billian to be more forceful in barring Robinson's supporters from using the church to raise money for the convicted killer.

"Some people will never believe that a priest could harm a child or kill a nun unless they hear it from the priest or the bishop," she said.

"Absent of a clear message, people are left to find meaning and answers on their own," Ms. Vercellotti said.

Contact David Yonke at: dyonke@theblade.com or 419-724-6154.